6 "I Have A Dream" Quotes That Are So Important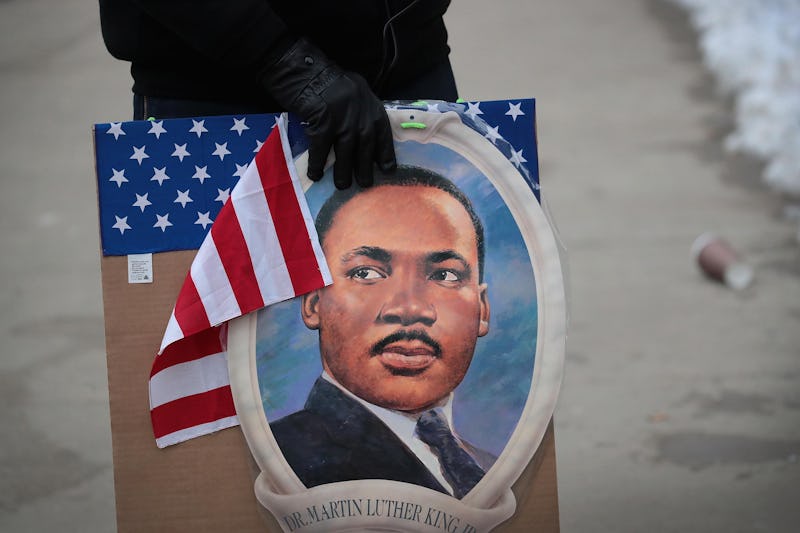 Scott Olson/Getty Images News/Getty Images
Martin Luther King Jr. is one of the most powerful and inspiring men and social activists in our history. And, nothing demonstrates his incredible insight and influence like the many impactful quotes from his "I Have a Dream" speech.
As you already know, Jan. 18 is Martin Luther King Jr. Day, and there's really no better time to recognize and reflect on his many contributions to American history. However, one look at some of the biggest headlines over the past year, and it's evident that we all still have a lot to learn from his wisdom — even long after he's gone.
While it seems difficult to even believe, race is still an issue in our society today. Social inequality is still present. We're all familiar with Martin Luther King Jr.'s iconic speech at the Lincoln Memorial in 1963 — but, did we really listen?
So, in honor of man who deserves endless recognition and for a world that could still stand to learn a little something from his vision, I've pulled together six of the most powerful quotes from his famous "I Have a Dream" speech. Read through them, and let the words really resonate. Because, yes, we've made some progress on Martin Luther King Jr.'s dream — but we still have a ways to go.
1. "But we refuse to believe that the bank of justice is bankrupt. We refuse to believe that there are insufficient funds in the great vaults of opportunity of this nation. And so, we've come to cash this check, a check that will give us upon demand the riches of freedom and the security of justice."
2. "Now is the time to lift our nation from the quicksands of racial injustice to the solid rock of brotherhood. Now is the time to make justice a reality for all of God's children."
3. "Let us not seek to satisfy our thirst for freedom by drinking from the cup of bitterness and hatred. We must forever conduct our struggle on the high plane of dignity and discipline."
4. "I have a dream that one day this nation will rise up and live out the true meaning of its creed: 'We hold these truths to be self-evident, that all men are created equal.'"
5. "I have a dream that my four little children will one day live in a nation where they will not be judged by the color of their skin but by the content of their character."
6. "With this faith, we will be able to hew out of the mountain of despair a stone of hope. With this faith, we will be able to transform the jangling discords of our nation into a beautiful symphony of brotherhood."
Images: Getty Images