'The Boy' Could Be The Creepiest Movie Of 2016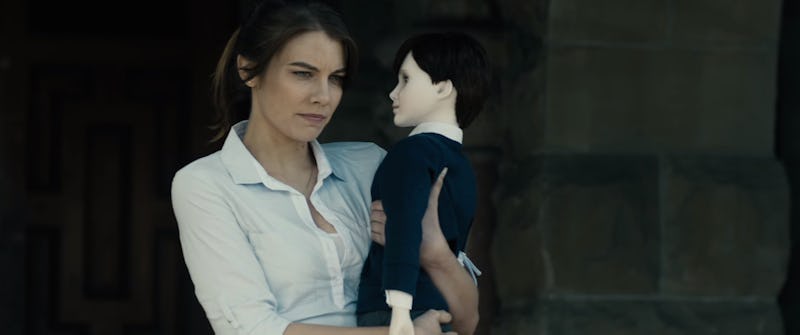 If you enjoy the spectacle of scary dolls, then you're definitely going to want to check out The Boy, which is already one of the most anticipated horror films of the year. If the trailers for the movie are anything to go by, theatergoers are in for plenty of thrills, as just when you thought you saw it all, The Boy ups the creep factor with a bizarre twist on the usual genre expectations of a doll that comes to life. Horror has always been known for introducing cute but deadly objects, with previous films like The Conjuring, Saw, and Annabelle (not to mention Chucky, about a serial killer doll) using dolls in horrific ways. And those films all spawned follow-ups, so it's likely that a sequel for The Boy will happen, too.
Commercially and creatively, it would be crazy to miss out on such a lucrative opportunity, as ahead of its Jan. 22 release date, The Boy is already proving popular with audiences. If anything ensures that a movie gets a sequel, it's box office success, and the fan hype building around The Boy has been no less than spectacular. According to Variety, The Boy is tracking as STX Entertainment's strongest film to date across social and digital platforms, and based on the film's publicity and exposure so far, the horror film may provide its studio with its biggest opening weekend to date.
As if The Boy's fanbase wasn't enough to spark rumors of a sequel, its spooky storyline and trailer that offers enough chills to get you hooked on unlocking a dark deep mystery has the film begging for a follow-up. The film stars Lauren Cohan (The Walking Dead) as Greta, a young American woman who takes a job as a nanny for a wealthy couple leaving on a prolonged vacation. So far, so good. But then Greta discovers that the family's 8-year-old is actually a porcelain life-sized doll named Brahms that the parents have raised just like a real boy, as a way of coping with the death of their real son (also named Brahms). Sound freaky enough for you?
It gets crazier. As if caring for a doll like a real child wasn't weird enough, the real twist is that there are strict rules that must be obeyed. According to the trailer's voiced-over nursery rhyme, "Follow his rules or end up dead." So far, five key rules that have been revealed include 1) No boyfriends; 2) Dress him every morning at 7 a.m.; 3) Kiss him good night; 4) Never leave him alone; and 5) Never go in the attic. When Greta fails to be comforted after being told by the couple that if she loves Brahms, he will love her back, she starts breaking the rules — and scary sh*t starts to occur like clockwork. The doll has a spine-chilling habit of moving around on his own, starting off in one place but ending up in another. After enlisting the help of a delivery boy played by Rupert Evans — weren't you listening, Greta? No boyfriends! —they both uncover the horrifying mystery behind the family and their son. The Boy is a horror flick, for sure, but it also seems to be a nightmare about over-possessive children. Yikes.
With so many questions needing to be answered, I'm definitely looking forward to being seriously unnerved by The Boy upon its release.