Lace Made A Hard Decision On 'Bachelor'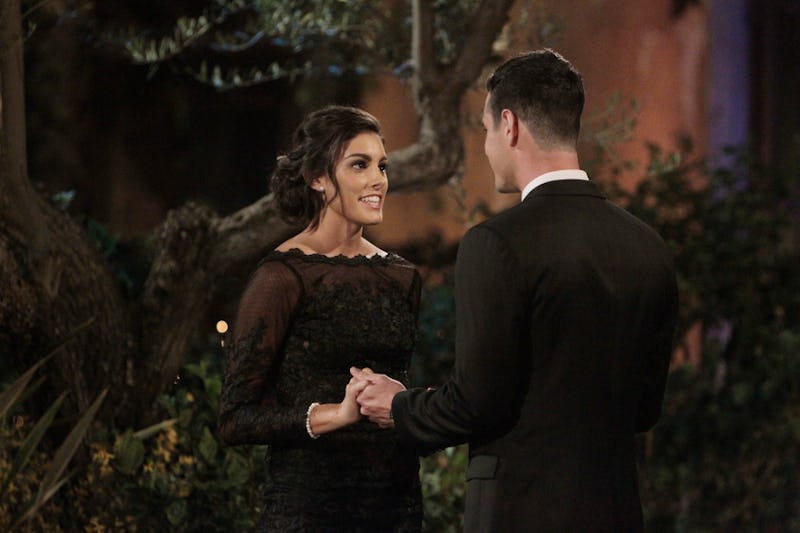 I was all but convinced that Lace was the Bachelor villain this season, and we all know that ABC likes to keep those around for awhile because they obviously make good TV. But after Monday night's episode, I'm willing to admit I'm wrong. In a pretty shocking turn of events, Lace decided to go home on The Bachelor before the rose ceremony even began, and her choice was definitely a brave one — even though she clearly had a lot of feelings for Ben. This episode was a total emotional roller coaster, and Lace taking herself out of the running for that coveted final rose was definitely something I never would have expected.
When Lace got up to pull Ben aside, the other women thought she was going in for the kill. Instead, she explained to him that the whole Bachelor process has made her realize a lot of things about herself, mostly in that it's shown her that there are some things she needs to work on. As she told Ben, she thinks she should figure out how to love herself before she can love anyone else, which means that the timing just isn't right for them to fall in love.
It was really surprising to hear from Lace, but awesome to find out that she had become so aware of her actions and where she might have done things wrong. She admitted that she wasn't proud of some of the things she's done since her whole Bachelor journey began, and that takes guts.
Lace, I officially give you credit for your decision. It can't be easy to pack your things and leave such a gorgeous house, handsome guy, and awesome opportunity in the name of self improvement, so it just shows how strong Lace is for doing it. Hopefully, this decision is one that she won't regret, and that she really will be able to figure out all those things she feels like she needs to. And after how catty everyone has been acting lately, maybe her former Bachelor roommates can take a few lessons from her?
Image: Rick Rowell/ABC