Lace Has Been Busy Since 'The Bachelor' Ended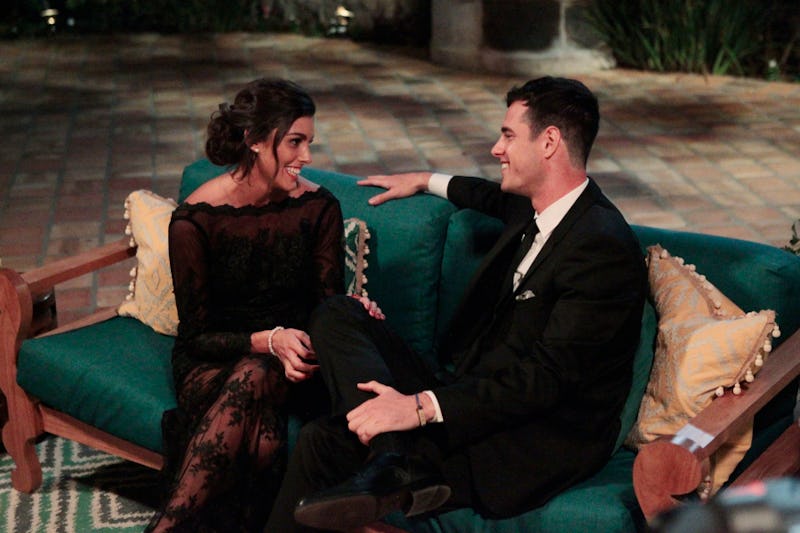 Now that we're into the full swing of things on ABC's The Bachelor, fans have a pretty good idea of who they want to root for — whether it's the single mom who wants to find love, or the confident news anchor who left her job looking for something more. Or maybe you're rooting for the girl that got a little too drunk on the first night and is just looking for redemption in the eyes (and maybe some eye contact) of this season's Bachelor, Ben Higgins. If you're a fan of this particular contestant, you may be wondering: What has Lace Morris been up to since The Bachelor ?
She has so far been a bit of a mystery on The Bachelor; at first Lace seemed to be the season's villain. Then in episode 2 she needed to make sure everyone knows she is "not crazy," which showed a different side to her but not necessarily one that was more positive than Week 1. However, even though Lace has generated some strong reactions within Bachelor Nation fans — whether you love her, hate her, love to hate her, or hate to love her — I think we should catch up with Lace to see how she's living life post-Bachelor.
She's Rooting for Denver
Since Lace hailed from Denver, Colorado just like the Bachelor himself, it seemed like it could give her a leg up on the competition. But, since The Bachelor filming wrapped, it seems Lace has been rooting on the Denver Broncos — without Ben.
She's Hanging Out With Her #BachelorFam
Of course, Ben isn't the only member of Bachelor Nation that currently lives in Denver, and it seems lace has reconnected with fellow Season 20 contestants Amber James and Leah Block as well as Jillian Anderson, who appeared on The Bachelor Season 19/Bachelor in Paradise Season 2, and JJ Lane, Ben's fellow contestant from the last season of The Bachelorette. Apparently, Denver has a decent group of Bachelor alums and they all hang out with their #BachelorFam.
She's Poking Fun At Herself
It's no secret that Lace became the butt of plenty of jokes after her appearances in both Episodes 1 and 2 of Season 20, but she's taking it in stride and even manages to poke fun at herself. If you ask me, that's not a bad quality to have.
She Discovered Her Celeb Lookalike
Although Bustle claimed Lace is a doppelgänger of Gotham star Morena Baccarin, apparently Bachelor fans have decided her celebrity lookalike is Saturday Night Live star Cecily Strong. Does this mean we'll get a Bachelor sketch on SNL with Strong as Lace? I hope so!
She's Heading To Bachelor in Paradise
That's right, Lace has already been confirmed for Bachelor in Paradise . For its first two seasons, Bachelor in Paradise has picked contestants from the most recent seasons of both The Bachelor and The Bachelorette — even though it may spoil whatever show is currently airing. Of course, in the case of Lace and Ben, the possibility of them overcoming obstacles and living happily ever after seemed like a long shot anyway, so maybe this isn't such a big spoiler.
So, if you're a fan of Lace and will be missing her once her run on The Bachelor ends, don't worry! She'll be back soon enough when we see her in Paradise!
For everything Bachelor Nation, follow our Bachelor fan page on Facebook.
Images: Rick Rowell, Craig Sjodin/ABC