9 Fiction Books To Try If You Love Nonfiction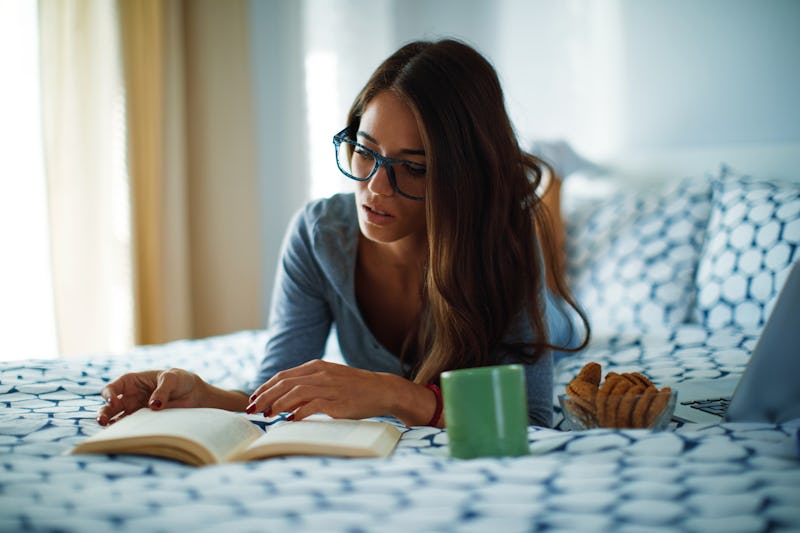 A genre full of compelling stories and inspiring characters, it isn't surprising how many people love nonfiction, myself included. If you're among the masses who call it your favorite genre, you might be tempted to dismiss any other reading material, but no matter how devoted you are to memoirs, biographies, and true crime, there are plenty of fiction books for nonfiction readers, too.
I get it: Nonfiction is the best, and it ranks among my favorite kind of books, too. No matter what kind of mood I'm in, whether I'm reading on the beach or on my lunch break, there's always a moving memoir or real life mystery to immerse myself in, and it's hard to look elsewhere for reading material when everything I want, nonfiction can give. It's well researched, detailed-oriented, and often emotional, but for all the same reasons you love nonfiction, you can love fiction books, too.
From historical fiction to sci-fi and fantasy to novels inspired by real events, fiction novels have the power to be just as engrossing, just as intricate, and just as stirring as the most unbelievable true story. If you like nonfiction — and come on, who doesn't? — then here are nine fiction books you will absolutely love, because the truth is, genre isn't everything.
Based on the real life murders of several women at the hands of a con man that rocked a small West Virginia community, Jayne Anne Phillips's Quiet Dell is a mesmerizing read about loneliness, obsession, and truth. Exciting and romantic, there's enough "ripped from the headlines" details in here to keep nonfiction lovers turning the pages.
If you're a die-hard nonfiction reader ready to dabble in something new, there's no better place to start than with biographical fiction, like Therese Anne Fowler's Z: A Novel of Zelda . It is based on extensive research about Zelda Fitzgerald, her husband, F. Scott Fitzgerald, and the other movers and shakers during the Jazz Age. Thoughtful and inspired, Zelda herself would have approved.
3. Dune by Frank Herbert
Science fiction and nonfiction may appear to be on opposite sides of the genre spectrum, but the two have one major thing in common: attention to detail. It's this shared characteristic that will make nonfiction readers love Frank Herbert's ambitious sci-fi epic, Dune . A centuries long history of a vast interstellar empire filled with exhaustive detail and extensive world building, Dune reads like a fantastic history that nonfiction lovers will eat it up.
From its meticulously crafted story line to its engaging characters, historical fiction combines all the best characteristics of fiction and nonfiction, and there's no better example than Robert Harris's highly celebrated novel. An engrossing thriller about politics, spies, wrongful imprisonment, and national scandal, An Officer and a Spy is a must-read novel for those who normally read nonfiction.
5. The Scottish Prisoner: A Novel by Diana Gabaldon
Even if you don't read fiction, you've probably heard Diana Gabaldon's name before, but it's time you added her to your "Authors to Read" list. Celebrated for her compelling characters and intricate storytelling, all of Gabaldon's Outlander books should be in your TBR pile, but for an introduction to this immersive world, The Scottish Prisoner is a great place to start.
Click Here To Buy
Travel back to Victorian England amidst the Yorkshire moors, and watch the Brontë sisters come to life in Sheila Kohler's fictional biography, Becoming Jane Eyre . Intimate and inventive, this historical fiction novel just may inspire more fiction reading (hint: Jane Eyre).
If you like nonfiction, then you've probably read your fair share of World War II books, but there's nothing brings the complicated and very human history of it to life quite like Anthony Doerr's 2014 novel. All the Light We Cannon See is an emotional exploration of two very different people's lives and the effect the war had on them, but it's also an accurate account of some of the most important events of the time. History and nonfiction buffs, this one is for you.
I know, it's like to no-nos in one: a book for young readers and a fiction book, but stay with me. Christopher Paul Curtis's The Watsons Go to Burmingham is an important, profound, and ultimately charming book worth looking at. A poignant account of one of the country's darkest moments, this middle grade reader is more than appropriate for adults — even those who prefer nonfiction.
One of the most widely studied and discussed literary figures in the world, William Shakespeare's life is still shrouded in mystery. In The Tudor , author Andrea Chapin tries to recreate a critical time in the poet and playwright's life: the time he spent with his muse. An imaginative and spellbinding novel, this novel offers new insights into Shakespeare's life that history and literature fans will love pouring over.
Image: Fotolia