Meet Two Of The Powerball Winners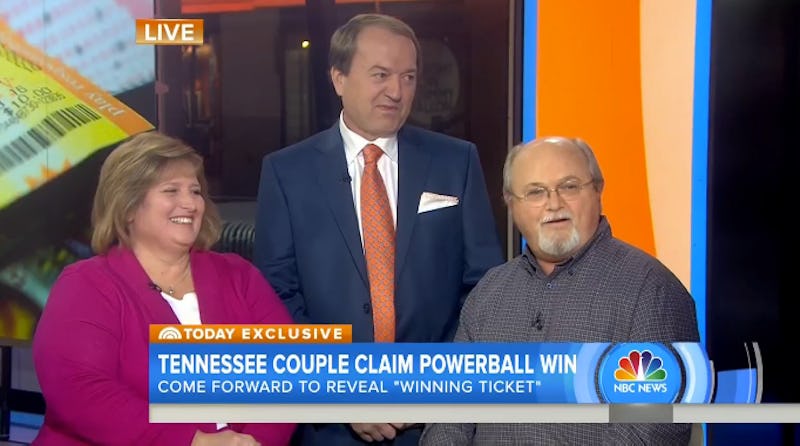 Last week, three winning tickets were announced for the historic $1.5 billion Powerball jackpot. On Friday, the owners of one winning ticket stepped forward to reveal their identities. Powerball winners John and Lisa Robinson appeared on TODAY on Tuesday to talk about how winning one-third of the record-shattering $1.5 billion jackpot has changed their lives. Despite their newfound millionaire status and the perks it's already come with, the Munford, Tennessee, couple are remaining their grounded selves and proving what true wealth means.
After realizing that they were holding one of the winning tickets, which they bought one block from their home at Naifeh's Food Market in Munford last Wednesday evening, John and Lisa Robinson sent copies of their tickets to NBC before appearing on the TODAY show. Though they were excited to share their experience with viewers, the couple, who have two children, were also hesitant. "Now I'll be nervous because everybody knows," John told TODAY. While it goes without saying that winning $533 million (before taxes) will have an unimaginable impact on their lives, the couple aren't going to let the money change who they are:
We're common people. We're just like y'all are.
Amazingly, John and Lisa say they will keep their jobs even though they could easily retire now and live comfortably. Lisa, who works in a dermatologist's office, told TODAY, "I'll be there Monday" after making her announcement last week. John, who works at a maintenance distribution center, also plans on going back to work this week.
Just how are the Robinsons able to remain so grounded? John offers an explanation:
I got my wife on my arm, what more could I ask for?
Clearly, the massive fortune can't touch what the couple already have, which is priceless. They've even said that they plan on staying in their family home in Munford.
This humble attitude towards winning the lottery could be the key to the couple's long-term success. Judging by the stories of several past winners, many of which perpetuate the notion of a lottery curse, those who spend their money recklessly and lavishly are far more likely to end up broke in just a few years.
However, John and Lisa have indulged a little so far. They've enjoyed a private tour of Elvis's Graceland mansion in Memphis and had the opportunity to meet Randy Owen, the lead singer of the band Alabama, at the Country Ball, a charity event for St. Jude's Children's Hospital.
Besides the Robinsons' ticket, two other winning tickets were sold: one in in Chino Hills, California, and another in Melbourne Beach, Florida. The winners of those tickets have not come forward yet.
Images: TODAY/NBC