20 Accessories For Devoted Cheese Lovers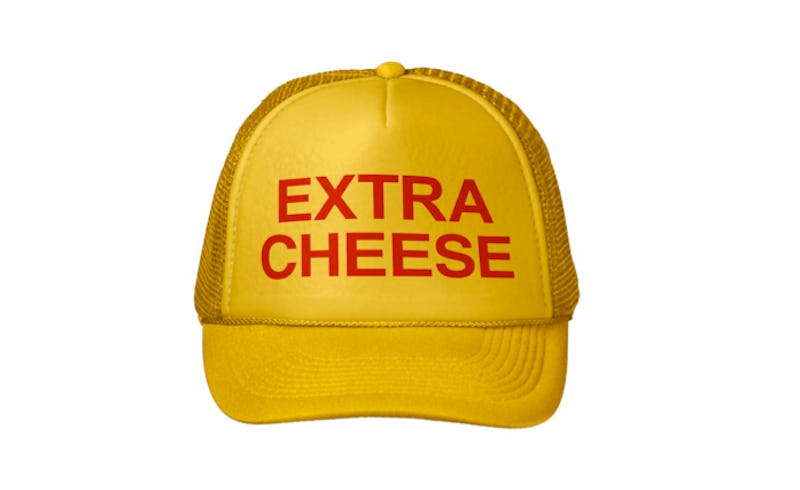 Jan. 20 marks National Cheese Lovers Day, and it's time to celebrate your passion for cheese and all the varieties you love most. While it's a given that you'll be celebrating with cuts of Camembert, bites of brie, and slices of Swiss, consider also celebrating in style (and with the right equipment for the ultimate cheese consumption) with these 20 National Cheese Lovers Day accessories that will make any cheese lover's heart melt.
Whether you accessorize by donning socks and a trucker hat that can only be described as "cheesy" or adding a little bling to the hands that are divvying up the burrata, these on-theme getups promise to have you party-ready in the cheesiest way. Once you have your look on lock, make sure you're stocked up on everything you need (beyond the cheese) to savor your slices whether you're throwing a party or working on your night cheese solo. On this special day, upgrade your cheese eating experience with a funky grater, fondue for two, and all the tools you'll need to put together a knock-out cheese board. Whatever your plans for National Cheese Lovers Day, go above and beyond with top selections of your favorite cheese and all the accessories that make celebrating that much more fun.
1. Cheese Doormat
Welcome any visitors with this wonderful wedge that keeps the dust out and brings fellow cheese lovers in.
Cheese Door Mat, $36.00, Fancy
2. Cheese Ring
Show the world your commitment with this beautiful touch of bling.
Cheese Ring, $60.00, Nylon
3. Cheese Wheel Poster
Must-have wall art for any die-hard cheese lover, this poster charts 65 cheeses from around the world "forming a cornucopia of cheese that range from the mild to the stinky and the rock hard to silky smooth."
The Charted Cheese Wheel Poster, $29.99, Pop Charts Lab
4. Loudspeaker Cheese Grater
Turn up the fun with this cheese grater made for shredding hard and soft cheeses while delivering the look of a retro speaker.
Loudspeaker Cheese Grater, $20.00, Dot & Bo
5. Swiss Cheese Luggage Tag
For cheese lovers on the go, this customizable luggage tag has you ready for mile high cheese loving.
Yellow Swiss Cheese Texture Tag For Bags, Zazzle
6. Cheeseburger Socks
While these babies will do nothing to curb your cravings, they will be a feast for your feet.
Burger Ankle Songs, $8.00, Living Royal
7. Grilled Cheese Crop Top
Get geared up in some delicious grilled cheese, minus the grease.
Grilled Cheese Crop Top, $19.99, Fancy
8. Extra Cheese Trucker Hat
Top off your look with this telling trucker hat, available in a variety of colors.
Extra Cheese Trucker Hat, $15.80, Zazzle
9. Macaroni & Cheese Bandages
Look forward to your next minor booboo with these comfort food bandages.
Macaroni & Cheese Bandages, $5.95, Archie McPhee
10. Say "Cheese" Camera Slicer
Say "cheese" and have it delivered. This stainless steel and plastic cheese slicer is modeled after a vintage Polaroid for some picture-perfect slicing action.
Say Cheese Camera Slicer, $10.00, Fancy
11. Grilled Cheese Maker
Perfect your grilled cheese assembly skills with this cast aluminum and stainless steel device that promises delectable results.
Grilled Cheese Maker, $24.99, Uncommon Goods
12. Wine And Cheese Tool Kit
If you're looking to throw together a little party in honor of the holiday, make sure you're equipped with this wine and cheese tool kit. The Brooklyn-made drawstring satchel is full of everything you need for some quality wine and cheese tasting.
Wine & Cheese Tool Kit, $21.00, Dot & Bo
13. 'The Little Book Of Cheese Tips'
Study up on this mini manual of "tips on how to buy, store, slice, serve, and cook with cheese."
'The Little Book Of Cheese Tips' by Andrew Langley, $4.95, Amazon
14. Gold Cheese Spreaders
Be the hostess with the mostess with these chic gold cheese spreaders.
Gold Cheese Spreaders, $49.00, West Elm
15. Chalkboard Cheese Markers
These signpost-shaped markers are just what you need for guests to navigate your spread. Jot down the names of your selections using chalk.
Set of 6 Chalkboard Cheese Markers, $12.95, Crate & Barrel
16. Cutting Board
Take the guess work out of your cheese spread with this easy-to-navigate board.
The Hostess Cutting Board, $74.00, Lulu & Georgia
17. Fondue For Two
Warm up the evening by way of melted cheese with this handsome fondue pot made for two.
Fondue For Two, $29.99, Uncommon Goods
18. Cheese Stickers
Get crafty on your planner, phone, or whatever else you choose with these cheesy stickers showcasing scrumptious sketches of brie, cheddar, and blue cheese.
Cheese Platter Sticker Sheet, $4.00, Etsy
19. Cheese Storage Paper
When the party's over, wrap it up with this professional-grade cheese storage paper used by "the finest cheese purveyors." The French-made paper keeps your favorite slices fresher longer for extended enjoyment.
Cheese Storage Paper, $9.00, Formaticum
20. Cheese Bracelet
This antique silver plated bracelet complete with ceramic charms is the ultimate friendship bracelet to honor your truest love.
Cheesy Bracelet, $55.00, Nylon
For more ideas, check out Bustle on YouTube.
Images: Zazzle (2), Fancy (3), Nylon (2), Pop Charts Lab, Dot & Bo (2), Living Royal, Archie McPhee, Uncommon Goods (2), Amazon, West Elm, Crate & Barrel, Lulu & Georgia, Etsy, Formaticum