Dudley From 'HP' Is Unrecognizable These Days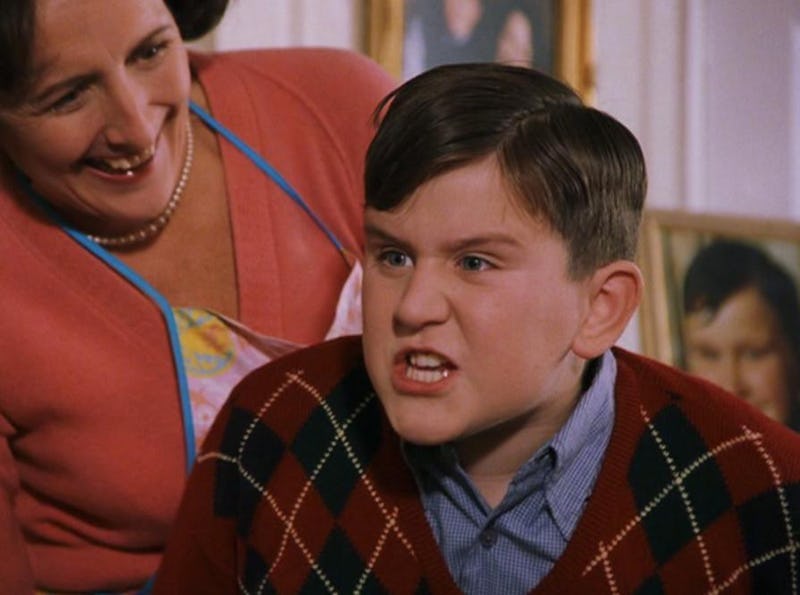 Dudley Dursley. Ugh. Did anyone ever care for the wretched cousin of Harry Potter? Not only was he beyond spoiled by his parents, Petunia and Vernon Dursley, but he was a bully who repeatedly tortured Harry. I guess you could say Dudley didn't know any better, because his parents set an extremely poor example of how to treat others, especially when it came to Harry. That said, Dudley really was the worst most of the time. Speaking of the youngest Dursley, what happened to the actor who played Dudley in the Harry Potter movies?
Well, kind of like his HP character, Harry Melling likes being in the spotlight — on stage, that is. After the Harry Potter movie franchise came to an end, the now 26-year-old actor starred in quite a few projects, including BBC's Merlin and Just William. However, it seems that Melling has found a love with the theater.
As he told Digital Spy in 2014, "I come from quite an actor family so I definitely grew up watching theater from a young age, and always knew there was something magical about that. And always knew that I wanted to be involved in that."
He added, "But saying that I think that screen work is equally as magical, but just in very different ways really. At the moment I've done theater after theater. Certainly in the last two years. But that's not a kind of 'I'm never doing a screen again!' That's just the work that's become more available that I've been interested in."
He definitely has, because Melling has been part of several stage productions, including Hand to God , William Shakespeare's King Lear in New York (alongside Frank Langella), and The Angry Brigade. He even wrote and starred in his very own play, peddling, in New York and London.
Since he is so devoted to the stage, will fans ever see Melling back on the big screen? "I'd love to get back in front of a camera and doing that medium as well," he told Digital Spy. "Because it's so different. I think often you find actors that do one of them always want to go back to the other."
Even though Melling isn't as popular as some of the other HP stars, like Emma Watson, Rupert Grint, or Daniel Radcliffe, he is clearly a huge success in the theater world. Plus, he's happy with his life and loves being able to go out in public without being recognized or getting berated for playing Dudley.
"I'm aware of them [his HP co-stars] and I'm very happy they're doing what they're doing but I wouldn't compare myself to them," he told The Economist in 2015. "I don't feel jealousy or anything like that really, because they're just different situations. I'm not one of 'the three' [Watson, Grint, and Radcliffe], so I'm not going to be in that position, but equally, that allows me to get on the Tube."
Because he's now an adult and his outward appearance has changed (like Matthew Lewis, aka Neville Longbottom), people don't notice him so much. "That's another blessing," he told Digital Spy about not being recognized as Dudley. "Particularly that person, because it wouldn't be the funnest of people hanging around you all the time. So it's nice to go on a tube and not be recognized, and potter about London without people shouting rude things at you. So that's a really good thing."
Basically, Melling is nothing like Dudley. Thank goodness, or I'd be seriously disappointed.
Images: Warner Bros.; Giphy