I Got Lip Fillers & This Is What Happened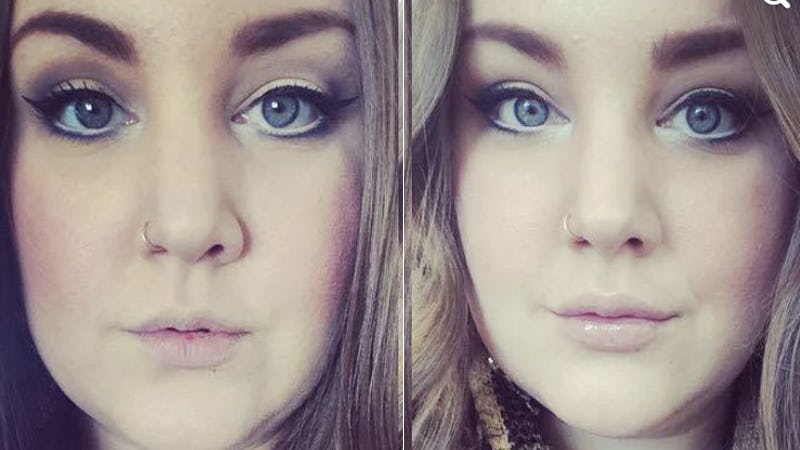 For the past few years, I have been toying with the idea of getting lip fillers. It was something I had seen both celebrities and friends do (with some seemingly successful, lovely results) and always wanted to try the procedure out for myself and my thinning pout. After some careful research and a lot of self-reflection, I confidently decided to go for it.
When it comes to talking about cosmetic surgery, some people practice "my lips are sealed" secrecy. Many don't want to expose themselves to the harsh judgement of society — a society that happens to be absolutely obsessed with cosmetic surgery while simultaneously being judgmental of it. Just take a look at all the backlash both Lana Del Rey and Kylie Jenner received after folks started accusing them of having undergone cosmetic treatment.
Despite being scrutinized by the Internet, Jenner actually admitted to having lip fillers. And her admission sends an interesting message to the world: That no matter how attractive someone may be perceived as, everyone has their own insecurities. When it comes to the world of beauty, I also prefer the "loud and proud" method of sharing all of my personal experiences in the hopes that others may benefit from them.
I'll be the first to admit that I've become a little insecure about my lips in the last few years. It wasn't that I ever thought my natural lips made me "ugly" or "less attractive." On the contrary, I sort of liked them. They've been a crucial part of my face my entire life. A face I have grown to respect, admire, and love (just as I respect, admire, and love the rest of my body).
But as I began to age, I noticed they started to look, well, a little lackluster. A person's lips naturally get thinner and less plump as they age. And when I looked in the mirror one day and saw my aging lips smiling back at me (top lip, where are you?), I wont lie: A little part of me freaked out. I wanted my young, plumper pout back. Knowing that achieving this was possible with the help of lip fillers, I began to consider it very seriously. I've always been one of those women who has to at least try something to see if it's for me. So trying lip fillers for the first time was just like trying out any other beauty routine. It served the same purpose, after all: To help enhance one's physical appearance. Lip fillers consist of hyaluronic acid and naturally break down within the skin over a period of several months, eventually leaving no trace of the filler. So if they ended up being not for me, it was comforting to know that the fillers would fade over time and I wouldn't be stuck with them forever.
As someone who identifies as body positive, I've always been supportive of anyone who has wanted to get any procedure done, regardless of their reasons. There's no judgement on my end — just a wish of confidence and happiness. Whether you are getting Botox, learning how to contour, or simply going from blonde to brunette, I'm all for it. Part of being body positive is respecting other people's bodies and their decisions about those bodies.
After speaking with friends who also had the procedure done and doing significant research, I knew what to expect, and I finally made the appointment to get my own lip fillers. I couldn't have been more excited. Despite the filler's temporary nature, the results are almost immediate, with a little bruising, tenderness, and swelling of the lips that might last a few days.
It was also absolutely crucial for me to have someone qualified do the procedure. Filler injections are offered at spas, beauty salons, and doctor offices alike, and some aestheticians may offer the procedure as well. You really want to make sure that the person performing the injections is qualified to do so and that you have access to medical help, should anything go wrong. Legal licensing for administering dermal fillers varies from state to state, so do your research when deciding on who you want to perform your injections, and make sure they are medically licensed to do so. I went to an actual cosmetic clinic, where I had a plastic surgeon consult with me beforehand, and a Certified Aesthetic Nurse Specialist (who had over 1,000 hours of experience) perform the actual procedure.
My lips right before getting the procedure.
When I sat down to discuss what I was looking for, I explained that it was very important for me to still have my lips. I wanted to look like me. Giant lips are totally OK for some people if that's their preference, but I hoped for something a little more subtle — to enhance what was already there.
We decided to only use half a syringe (the nurse informed me that the average person uses a full one) of Teosyal in order to plump up my lips a little (without really changing their overall look), but other products such as JUVÉDERM and Restylane are also popular. Before the nurse began, she first disinfected my lips, then rubbed a little topical numbing gel on them. After the numbing set in, she then injected mostly my top lip with a few injections (and yes, it hurts a little, but beauty is pain sometimes, after all), then passed me the mirror. The results were instant. When I looked at my reflection, I was absolutely ecstatic. Those were my lips, looking very much the same as they had before age took away some of my collagen.
My lips visibly swelled a little for three days after the procedure. They felt a little sore, but I wasn't in much discomfort for the most part. I had a bit of the duck lip thing going on while my lips were swollen, but that went down shortly thereafter too. You might also notice some little bumps inside your lips (you can feel them, but you shouldn't see them), which are just little bits of the fillers. I was told by the nurse that these bumps end up gradually dissolving after a month or so (depending on the person and how they metabolize the filler).
In total, the half syringe of Teosyal ran around $300, and will last six months (or more, depending on how fast your body metabolizes the filler). That's a cost of about $50/month, which is about the same price as getting fake nails put on, and is a lot cheaper than getting your hair done at most salons I've ever been to.
At the end of it all, I was extremely happy. The results were subtle, but also visible enough that I could tell something had changed. Most people didn't even notice when they saw me, although I did have a few friends comment on how "lovely my lip gloss looked." When I finally revealed to my friends and family that I had it done, everyone was incredibly supportive.
Cosmetic procedures aren't for everyone, and I must take the opportunity to express that I don't believe anyone ever needs to have them done in order to be beautiful. You are always going to be beautiful, no matter what you do, or don't do.
According to the JUVÉDERM site, this procedure is relatively safe for most people (when administered by a qualified medical professional, of course), but there are always risks involved. Some people may have allergic reactions, the possibility of infection does exist, and on rare occasions, a blood vessel can become injected accidentally and cause complications. This is why it is so important to consult with a physician when you are considering having dermal fillers, and make sure the one administering it is highly trained and qualified.
But for those of you who have been wanting to try lip fillers (and are aware of the risks), I would highly suggest that you go for it. If all goes well, at the end of the day, they are temporary. So if they ends up not being for you, you aren't trapped. This was something that I had wanted to try for a while, and honestly, now I'm absolutely hooked. Getting lip fillers will likely be a regular part of my beauty routine and physical upkeep moving forward. I love the way they give me that little extra boost of confidence, while still looking like myself.
All in all, I give lip fillers my kiss of approval.
Want more body positivity and empowerment? Check out the video below, and be sure to subscribe to Bustle's YouTube page for more!
Images: khaleesidelrey/Instagram; Courtney Mina