9 Hacks For Keeping Your Face From Getting Shiny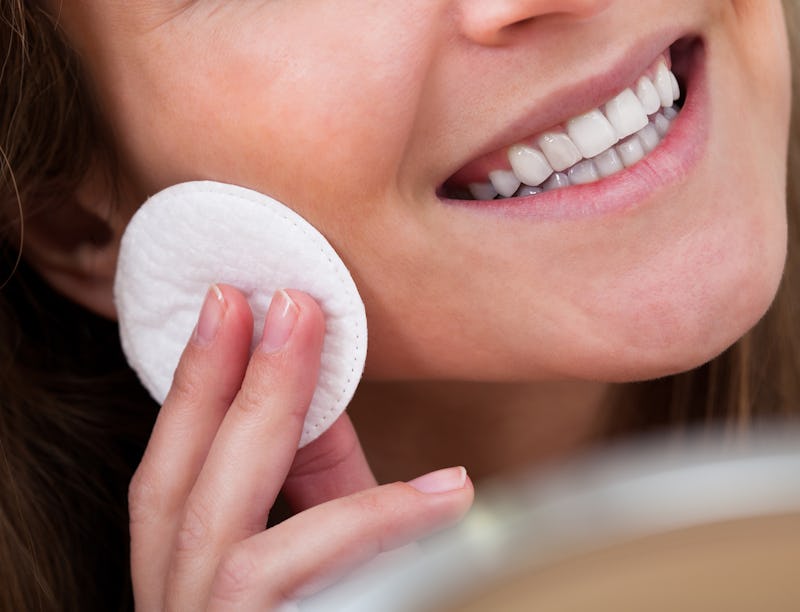 I think everyone on the planet has at some time suffered from a shiny face. Even celebrities like Ellie Goulding admit they deal with shine from time to time, and it's nothing to be embarrassed about. Luckily, these nine hacks to keep your face from getting shiny will teach you how to prevent and control grease when you feel some shine coming on.
For me, shine can come on anytime, anywhere, and it often comes when I least expect it. According to Stylecaster, cocktails and spicy food can exacerbate shiny skin because they dilate your blood vessels and therefore cause you to sweat. As a hot sauce addict who enjoys the occasional glass (or two) of wine, I knew I couldn't avoid those two aspects of my life. So, I had to learn how to keep my face from getting shiny in the first place, then how to fix it if it did get shiny in public.
Luckily, it's the winter, and you likely deal with shine less than in the summer, when it feels like no matter what you do, your face will end up greasy. But going between the freezing outdoors to overheated buildings can cause you to sweat, and that definitely leads to shine. Here's how to prevent and control it.
1. Find A Toner You Love
Pixi Glow Tonic, $30, Amazon
This little potion is the first step to combatting shine. It'll soak up grease and even out skin's pH, so you'll get less shiny to begin with.
2. Don't Choose The Wrong Cleanser
Cetaphil Skin Cleanser , $13, Amazon
Sometimes harsh cleansers can cause your skin to dry out, which leads it to overproduce oil to make up for it. That's a recipe for a shiny face, so choose something simple and gentle like Cetaphil.
3. Avoid Heavy Overnight Creams
Clinique Turnaround Revitalizing Serum , $58, Sephora
These are a little too heavy for people prone to shiny faces. Stick to a hydrating serum, which soaks into your skin more easily.
Oil-Free Moisture Broad Spectrum SPF 35, $7, Amazon
This is a natural solution to an oily face. Stick to a cleanser that's marketed as oil-free.
Korres Pomegranate Mattifying Primer , $33, Sephora
I'm obsessed with my matte primer because it instantly sucks up grease from my face. Gross analogy, I know, but it totally works.
Maybelline Fit Me Matte + Poreless Foundation, $13, Amazon
Again, dewy skin is a good look, but you can achieve it with strategic highlighter. Instead, stick to oil-free face makeup.
Sunforgettable Loose Mineral Sunscreen , $57, Amazon
I love this product for two reasons. One, it allows me to get a (very important) midday reapplication of SPF and two, it helps tone down shiny skin.
Clean & Clear Oil Absorbing Papers, $5, Amazon
You knew this would be on here, right? Blotting papers can be your best friend. In a pinch, people swear by Starbucks napkins or (unused) toilet seat covers as an alternative.
9. Don't Underestimate A Good Face Mask
Fresh Umbrian Clay Mattifying Mask , $33, Nordstrom
Shiny skin is often asking for something, so exfoliating then applying your favorite face mask can be a good way to give skin some TLC when it needs it.
Shiny skin probably isn't in this past, but with these tips it'll be a problem you can solve.
Want more beauty tips? Check out the video below, and be sure to subscribe to Bustle's YouTube page for more hacks and tricks!
Images: Fotolia, Courtesy of Brands