20 Easy Recipes To Make For The Super Bowl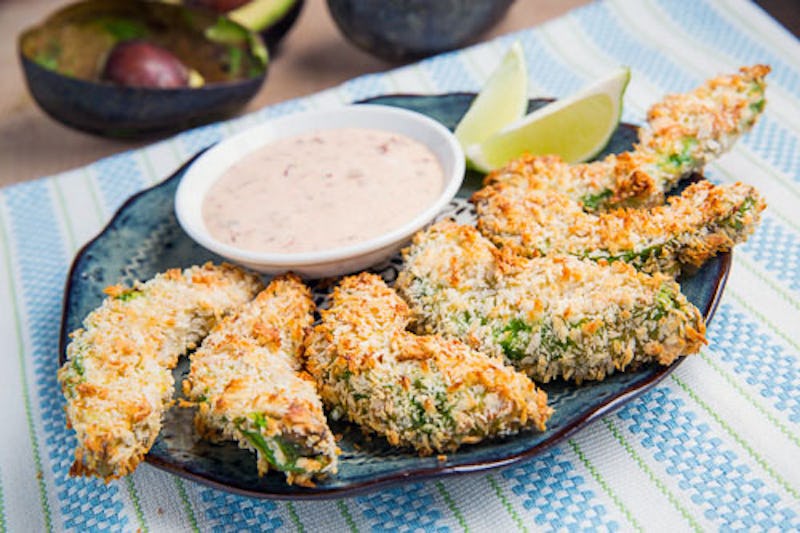 Whether you are rooting for the Carolina Panthers or the Denver Broncos in the Super Bowl this year, one thing everyone can agree on is that no game day party is complete without some delicious and easy Super Bowl recipes. The Super Bowl is one of those semi-awkward sporting events where, if your eyes aren't glued to the football game, you're literally just there for the food, beer, and the Doritos commercials. Personally, I fall in camp "snacks and commercials," so I always appreciate when my fellow partygoers come up some creative snacks to make. So, before you go buy a sad, pre-packaged jar of salsa or dry chicken fingers from your local grocery store, consider these out-of-the-box alternatives.
These Super Bowl snacks are not only easy to make, but everyone will sing your praises as party snack queen — and really, is there anything better? From beer bacon cheese dip to chorizo-stuffed mushrooms to avocado deviled eggs with pomegranate and bacon, there is something on this list for every kind of Super Bowl snacker. If you want to score the winning touchdown in everyone's book (see what I did there?), try one of these 20 easy Super Bowl snack ideas.
1. Peanut Dipping Sauce
Upgrade your basic ranch dip with this Thai-inspired peanut sauce from Cookie and Kate.
2. Bacon-Wrapped Tater Bombs
Bacon and potatoes... need I say more? Whip up this savory combo from Damn Delicious.
3. Taco Dip
This taco dip from Damn Delicious packs a yummy punch, and takes practically zero effort. Win!
4. Crispy Baked Avocado Fries
These avocado fries from Closet Cooking are like guacamole, but crunchy and portable. Score!
5. Sweet And Sour Meatballs
The flavor combo of these meatballs from Against All Grain are a touchdown for your taste buds.
6. Pulled Pork Nachos
These pulled pork nachos from A Spicy Perspective blow traditional chips out of the water.
7. Chicken And Mozzarella Sliders
This recipe from The Kitchn tastes like an Italian panini, but is perfect for game day.
8. BBQ Jalapeno Popper Dip
Feeling spicy? Try this fiery dip from My Baking Addiction.
9. Teedo's Famous Salsa
No Super Bowl party spread would be complete without this salsa from A Table for Two.
10. Avocado Deviled Eggs With Bacon And Pomegranate
I know these avocado deviled eggs from A Spicy Perspective sound super weird, but they're a killer sweet and salty combo that will be a fan favorite.
11. Dark Chocolate Cherry Cupcakes
These cupcakes from My Cup of Cake taste like chocolatey cherry soda. In other words, they are delicious.
12. BBQ Chicken Cornbread Pie
If this savory cornbread pie from A Table for Two is wrong, I don't want to be right.
13. Creamy Crawfish Dip
Looking at this recipe from The Kitchn seriously makes me crave seafood — and it's friendly for pescatarians!
14. Beer Bacon Cheese Dip
Beer, bacon, and cheese? Talk about a crowd-pleasing snack from Foodie Crush!
15. Pepperoni Pizza Twists
These pepperoni pizza twists from Mom on Timeout are the grown-up version of pizza rolls.
16. Sweet And Spicy Snack Mix
Upgrade your boring party mix with this sweet and spicy version from My Baking Addiction.
17. Vidalia Onion Dip With Bacon Crumbles
French onion dip is so five minutes ago. Try this dip idea from The Kitchn to replace it.
18. Salted Almond Peanut Butter Fudge
No game day would be complete without a sweet and salty treat (no rhyme intended) — try this healthier fudge from Oh She Glows.
19. Chorizo And Cheese-Stuffed Mushrooms
Salt lovers, rejoice! This cheesy, meaty, and mushroom-y trio from A Spicy Perspective will be your jam.
20. Chocolate Shortbread Cookies
These cookies from Natasha's Kitchen would be even cuter if you used white chocolate dyed with your team's colors.
For more ideas, check out Bustle on YouTube.
Images:Cookie and Kate, Damn Delicious, Closet Cooking, Against All Grain, A Spicy Perspective, The Kitchn, My Baking Addiction, My Cup of Cake, A Table for Two, Foodie Crush, Oh She Glows, Natasha's Kitchen