17 Valentine's Day Cookies That Are Perfect Treats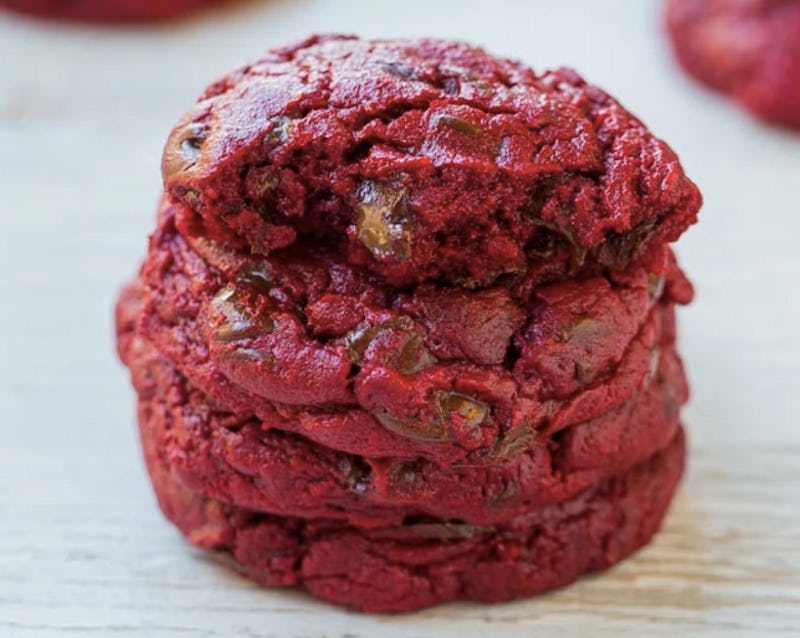 Nothing says love to me like giving your sweetie a freshly baked box of cookies. These Valentine's Day cookie recipes are the one gift that you can't go wrong with this year.
Remember Valentine's Day when you were a kid? You would trade Valentines with everyone in the class, and spend the whole day playing games, devouring candy, and wondering who your secret admirer could be. Those were the days, right? Nowadays there's so much pressure to pick the perfect gift for your significant other, and all that hype ends up making it a little lackluster when the big day rolls around. Instead of busting out flowers, chocolate, and a ridiculously expensive piece of jewelry, isn't it about time you changed the game?
Baking cookies is the way to anyone's heart, trust me. Even if they say they don't want anything for Valentine's Day, an afternoon of your time making any one of these Valentine's Day cookies will be well worth the effort. I think it's high time we started saying I love you with baked goods instead of cliché cards, don't you? So bring on the flour, sugar, and chocolate, because this holiday is going to taste extra sweet this year.
1. Soft M&M Chocolate Chip Cookies
These soft cookies from Averie Cooks will melt your sweetie's heart the moment they take the first bite. They're like pillows of chocolaty love.
2. Sweet on Sugar Cookies
Nothing says adorable on Valentine's Day like these perfectly iced sugar cookies from Foodie Crush.
3. Chewy Nutella Sugar Cookies
If your boo loves Nutella, chewy Nutella cookies from Crepes of Wrath are going to get you major bonus points in the love department.
4. Snickerdoodle Cookie Bars with Pink Vanilla Cream Cheese Frosting
Thick, chewy, and frosted with a cream cheese frosting that already has me swooning. Averie Cooks nails Valentine's Day sweet treats on the head with this one.
5. Homemade Fortune Cookies
Give your significant other the gift of a lovey-dovey fortune tucked inside one of Mel's Kitchen's fortune cookies. Takeout ain't got nothing on you.
6. Chocolate Sugar Cookies
Sugar cookies are a classic, but where's the chocolate? Brown Eyed Baker brings the chocolate in these chocolate sugar cookies, and I couldn't be happier about the cookie makeover.
7. Valentine Italian Cookies
Share the recipe that Italians have been passing down for generations with these Italian cookies from Bake Love Give. It's hard to top years of tradition, and the big batch means you can stash some away for yourself.
8. Chocolate Dipped Salty Shortbread
Get a little fancy with your cookie flavors with a touch of salt from A Spicy Perspective's shortbread cookies. These decadent cookies will have your boo picking their jaw up off the floor.
9. Red Hot Sugar Cookies
Time to bring the heat and get your sizzle on with these red hot cookies from Confessions of a Cookbook Queen. Any cinnamon lover will swoon over these bad boys.
10. Cream Wafer Sandwich Cookies with Strawberry Buttercream
I am a firm believer that a good buttercream frosting can turn any frown upside-down. Give your person a reason to smile from ear to ear with these perfectly pink sandwich cookies from A Farmgirl's Dabbles.
11. Red Velvet Thumbprints with Marshmallow Frosting
If you're trying to show your sweetie how they've swept you off your feet, give them a dozen of these red velvet cookies from How Sweet It Is. The marshmallow frosting will have them floating on cloud nine.
12. Confetti Cookie Sandwiches
Stuffing festive Valentine's Day cookies with chocolate ganache? Pure genius from The Little Epicurean. Chocoholics like myself won't be able to stop after just one.
13. Red Velvet Gooey Butter Chocolate Chip Cookies
Overindulgence is in with Averie Cooks' red velvet gooey butter cookies. I can almost taste the buttery softness right now.
14. Valentine Linzer Hearts
Got a gluten-free eater for a boo this Valentine's Day? Give them a cookie that doesn't taste like cardboard. Gluten Free Canteen packs the flavor with these precious cookies.
15. Red Velvet Whoopie Pies
It's been way too long since I've enjoyed a sweet, pillowy whoopee pie. Brown Eyed Baker has me drooling over these festive whoopee pies.
16. Itty Bitty Valentine Chocolate Chip Cookies
Cuteness will get you everywhere, my friend. That's why these can't-stop-at-just-one tiny cookies from Bake Love Give will get you oodles of love and devotion.
17. Lemon Honey Cookies
Get their heart pumping with these classic heart-shaped cookies from The Little Epicurean this Valentine's Day. The lemon honey flavor is just the right classy touch to blow those store-bought cookies out of the water.
It's time to get your bake on, and let that flour fly with all the love in the world.
For more ideas, check out Bustle on YouTube.
Images: Averie Cooks; Foodie Crush; Crepes of Wrath; Averie Cooks; Mel's Kitchen; Brown Eyed Baker; Bake Love Give; A Spicy Perspective; Confessions of a Cookbook Queen; A Farmgirl's Dabbles; How Sweet It Is; The Little Epicurean; Averie Cooks; Gluten Free Canteen; Brown Eyed Baker; Bake Love Give; The Little Epicurean