Forget Barbie, Here Comes Toy Engineer GoldieBlox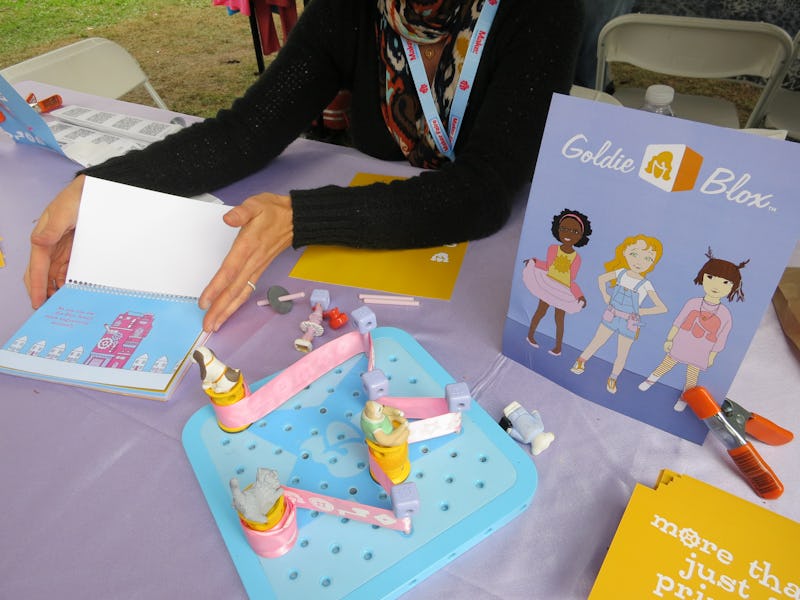 Girly construction toys seem to be trending right now. As a child, I spent endless hours playing with my brother's Legos. I'm sure if GoldieBlox had been around back then, I would have been all over it. Luckily for all the little girls out there, this new line of building toys is hitting Toys 'R' Us shelves nationwide.
GoldieBlox is a toy company founded by engineer Debra Sterling. The company launched last February with its first (and so far only) product, GoldieBlox and the Spinning Machine, which combines a storybook, small construction set, and figurine. "GoldieBlox offers a much-needed female engineer role model who is smart, curious and accessible," says a blurb on the toy's website.
Sterling wants to get girls interested in STEM (science, technology, engineering, math) fields from an early age. Right now, 89 percent of the world's engineers are male. "We are now just one tiny box in a sea of pink plastic princesses…we have our work cut out for us," the founder wrote in an e-mail to the SFGate .
To advertise its Toys 'R' Us debut, GoldieBlox came up with an awesome video where young girls sing a cover version of Queen's hit song, tweaked to say "more than a princess, we are the champions." The video shows two girls building add-ons for their bike and skateboard before joining dozens of other little ladies to storm the Barbie-filled aisles of a toy store, demanding something other than pink. Stealing your brother's Legos might just be a thing of the past.