21 Deliciously Healthy Chocolate Recipes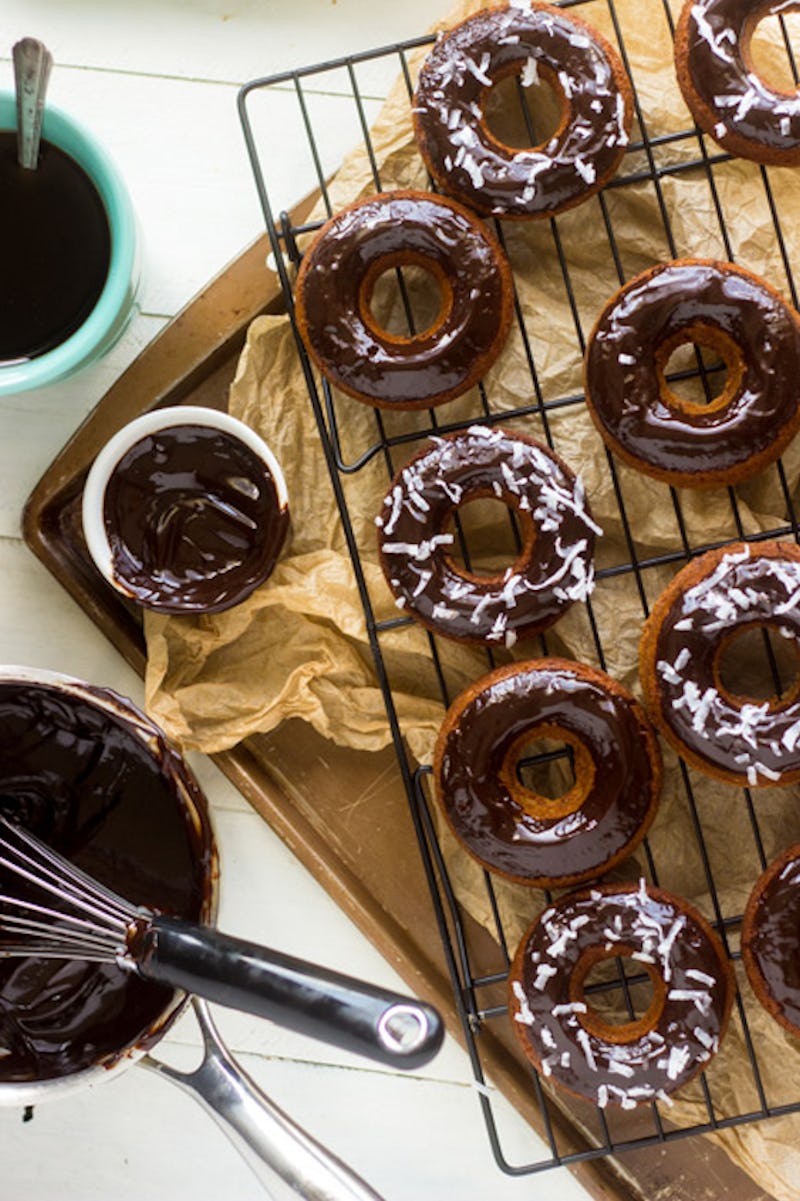 One of the most popular new year resolutions is to eat a balanced, wholesome diet. But when you have a sweet tooth, it can be tricky to find healthy chocolate recipes to satisfy your cravings. I mean, let's face it... everything always seems better when it's dipped in chocolate. The struggle is most definitely real.
Thankfully, the foodie world is extremely clever when it comes to upping a recipe's nutritional value. It all comes down to taking out the bad stuff: preservatives, artificial food coloring, and sugar. LOTS of it. Instead, these ingredients are replaced with healthier alternatives. Examples include avocados, olive oil, and coconut milk — all of which happen to be full of healthy fatty acids. Score.
That's just the beginning, though. Ingredients such as chia seeds and oats can bring in amazing texture and nutrients to chocolate desserts. Meanwhile, fruits add natural sweetness and vitamins. The best part is that using these healthier ingredients doesn't have to be rocket science. Sticking to that resolution may be easier than you think.
To get you started, here's a mouthwatering list of 21 healthy chocolate recipes ready for your lovin.' I'm betting that you'll never look at average desserts the same way again.
1. Healthy Dark Chocolate Oatmeal Cookie Bars
Half Baked Harvest pegs these oatmeal cookie bars as "idiot proof." Even if you're terrified of the kitchen, you now have exactly zero excuses to not make them.
2. Olive Oil Chocolate Chip Cookies
A list of chocolate recipes wouldn't be complete without chocolate chip cookies. And thanks to olive oil and The Crepes of Wrath, you can take on this traditional favorite sans butter.
3. Grapeseed Oil Chocolate Chip Cookies
The good-for-you oily fun doesn't stop there. In this tutorial, Cookies and Cups demonstrates how to use grapeseed oil in chocolate chip cookies. Hello, vitamin E and good-for-you fats!
4. Vanilla Chai Earl Gray Chocolate Banana Muffins
Between the sweetness of the banana and light tea flavors, this recipe by Half Baked Harvest will be your new favorite morning treat. Because it uses coconut oil and chia seeds, these babies are bursting with healthy fats, antioxidants, and fiber.
5. Flourless Chocolate Cookies
Cookies minus the flour? Oh yeah, it's a thing. Gluten-free eaters will adore this one. Visit The Crepes of Wrath to take it on.
6. Green Chocolate Cherry Smoothie
A homemade green smoothie is one of the easiest ways to fuel up on all the healthy goodness. Try this smoothie recipe by The Crepes of Wrath to make a wonderfully chocolatey version.
7. No-Bake Chocolate Peanut Butter Snack Bites
Featuring a nutritious melody of rolled oats, almonds, flaxseeds, and chia seeds, these snack bites by How Sweet It Is require zero baking time. There are even chocolate-covered sunflower seeds involved. Swoon.
8. Vegan Brownies
These brownies by Pastry Affair get their fudgy texture from none other than creamy avocados. Even if you don't eat a vegan diet, these babies are perfect for when you're out of eggs.
9. Chocolate Avocado Pudding
Apparently, avocado goes really well with chocolate. This pudding recipe by How Sweet It Is proves that eating chocolate can be pretty darn healthy.
10. Dark Chocolate Honey Almond Butter
Sweeten up your favorite foods with this almond butter recipe by Dessert Now, Dinner Later. It uses coconut butter as a base, automatically making it one thousand times healthier than commercial store-bought peanut butters.
11. Dark Chocolate Trail Mix Bites
Looking for a quick and healthy snack to cure that sweet tooth craving? These bites by Dessert Now, Dinner Later are made with just two ingredients: dark chocolate and ready made trail mix. Done and done.
12. Whole Wheat Chocolate Raspberry Cheesecake Bundt Cake
Equal parts cheesecake and bundt cake, this amazing concoction is made with whole wheat flour. Even the ganache is made with Greek yogurt, honey, and coconut oil. Good Life Eats is brilliant.
13. Chocolate-Covered Grape Skewers
If you're going to cover something in chocolate, might as well make it a serving or two of fruits. These grape skewers by How Sweet It Is is a wonderful example.
14. Baked Almond Joy Doughnuts
If you're a fan of Almond Joy candy bars, you'll adore this recipe by Good Life Eats. Because they're baked — not fried — they are so much healthier than your traditional doughnut.
15. Chocolate-Dipped Nuts
These chocolate-covered nuts by Good Life Eats may be the sweetest way to get in a generous helping of omega-3 fatty acids and fiber. Both are excellent for heart health, so eat up!
16. Whole Wheat Triple-Chocolate Banana Bread Muffins
This ain't yo momma's banana bread, guys. In this tutorial, Good Life Eats shows you how to use over-ripe bananas and Greek yogurt to make this delectable dessert.
17. Dark Chocolate Blueberry Muffins
Made with whole wheat pastry flour, dark chocolate, and blueberries, these muffins by How Sweet It Is just made brunching so much cooler.
18. Chocolate Banana Pops
The easiest of all easy recipes. This awesome snack by Good Life Eats is excellent for when you're in the rush, or craving something sweet.
19. Chocolate Zucchini Bread
If the thought of zucchini bread makes you cringe, try this chocolate version by Your Cup of Cake. It's a great way to sneak in some veggies for the picky eaters in your life, too.
20. Homemade Chocolate Syrup
Because everyone needs chocolate syrup in their life. And thanks to Mel's Kitchen Cafe, you can make your own version, free of preservatives and unnecessary food dyes.
21. Healthy Chocolate Cherry Muffins
Sometimes, you just need a classic, traditional muffin. In this recipe, Food Fanatic shows you how to make a healthy version complete with a cherry burst of flavor.
For more DIY inspiration, check out Bustle on YouTube.
Images: Half Baked Harvest; The Crepes of Wrath; Cookies and Cups; Half Baked Harvest; The Crepes of Wrath; The Crepes of Wrath; How Sweet It Is; Pastry Affair; How Sweet It Is; Dessert Now, Dinner Later; Dessert Now, Dinner Later; Good Life Eats; How Sweet It Is; Good Life Eats; Good Life Eats; Good Life Eats; How Sweet It Is; Good Life Eats; Your Cup of Cake; Mel's Kitchen Cafe; Food Fanatic