EL James Has A Question For Marlon Wayans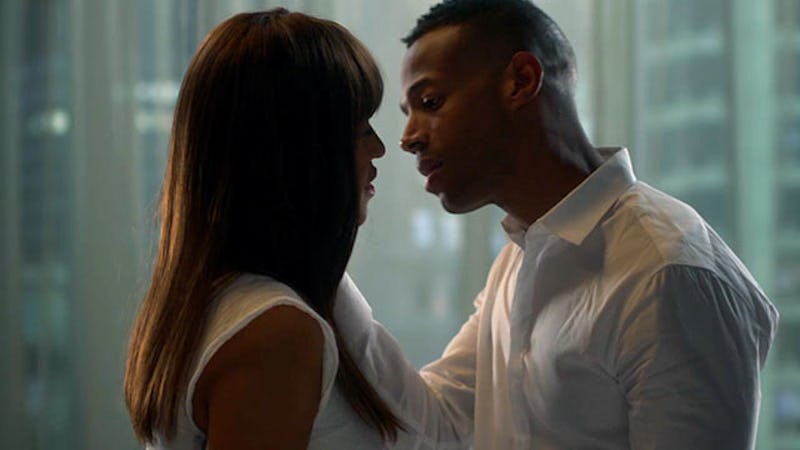 If imitation is the sincerest form of flattery, what does that make parody? Well, first of all: parody has been a career-maker for actor/writer/comedian Marlon Wayans. Wayans co-wrote and stars in the the comedy Fifty Shades Of Black , a hot comic take on the BDSM romance series that swept book clubs around the world. Wayans spoofs the unconventional love story of mousy student Anastasia Steele and stoic businessman Christian Grey in Black much in the same way he took on the late '90s slasher movie boom in the Scary Movie series. Being lampooned is a sure sign that you've made it, so the author of the original Fifty Shades Of Grey trilogy must be flattered, right? What does EL James think about Fifty Shades Of Black ? Bustle reached out to a representative of James for comment but has yet to hear back.
Still, Fifty Shades Of Black isn't the first effort to add some levity to the Grey saga. Fifty Shades parodies are all over YouTube; a musical comedy version ran off-Broadway; I myself own a very sexy cookbook titled Fifty Shades Of Chicken (by "F.L. Fowler," obviously). But Black is the first wide-release feature film to take on EL James' work. Where Scary Movie pokes fun at conventions of the horror genre, Black leans heavily on one piece of source material. (Expect to see passing references to other movies too, though. Christian's ill-fated Magic Mike routine is the highlight of the trailer.) In a Facebook Q&A with fans back in November, Wayans revealed that he had met EL James, and that she had just one question about the film:
I think parody is one of the hardest genres to try and concept and people take it for granted, it takes a lot of time and a lot of work. You have to look at it from a different lens, like a fisheye lens. I ran into EL James and she asked me if it's offensive, and I said no. She might not like one joke in the movie but I think she will enjoy the rest.
Clearly, Wayans doesn't think of Black as being a cheap shot to an immensely popular series. In an interview with Comedy Hype, the actor even refers to the movie as "an homage" rather than a spoof. "It's not about bashing the movie," Wayans says, but about adding in the jokes that the originals "left on the table." (Including one that the actor is guessing EL James won't be happy with.)
I'm interested in the word that Wayans claims James used in their encounter. "Offensive" is such a subjective term, and could mean any number of things. Was the author questioning whether the movie would be offensive to her, as the author of the original novels? Or was she referring more to gross-out comedy and Black's script hitting outside of her comfort zone as a viewer? Either way, it's amusing that the author who brought dom/sub culture to your mother-in-law's living room bookshelf is asking.
If set reports from the Fifty Shades Of Grey movie are to believed, EL James is an author who likes to keep a tight hold on her work. The Hollywood Reporter ran a few articles in February logging the clashes between James and Fifty Shades director Sam Taylor-Johnson. "She would be the first to say as well that it was not easy," the director said of their collaboration. ("People are going to butt heads, and that is exactly what happened," James said in an appearance on MSNBC, as reported by THR.) Even the process of creating a loyal adaptation of the book wasn't a pleasant experience for EL James, so sitting back and watching Wayans's version of the story might be even tougher. Or maybe the comedic distance will allow her to see Fifty Shades Of Black as the actor wants it to be: a well-intentioned homage to a worldwide phenomenon.
Image: Open Road Films