10 Super Bowl Recipes For Panthers Fans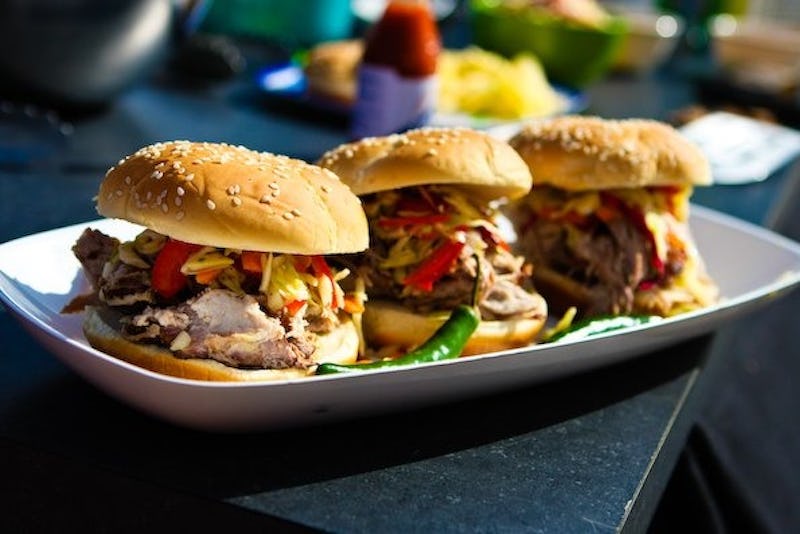 Now that your hometown Carolina Panthers are officially playing in the Super Bowl, you can really start planning your menu for what could potentially be the most important Super Bowl party of your entire life — or maybe Cam Newton is the face of a dynasty, and we'll have to come up with a dozen new blue foods next season. Either way, it's almost time to get cooking up some Cackalacky Panthers Super Bowl recipes. And you should probably figure out your menu soon — you know how long your granddaddy cooks his pork butt (if you don't, the answer is about three times longer than it would take to binge watch the entirety of Making A Murderer... aka a ridiculously long time).
If any team's fandom in the whole NFL knows how to make some serious game day chow, it's Panthers fans. Seriously, y'all can fry up some chicken in a cast iron skillet with one hand while making the world's most delicious barbecue sauce with the other. And although blue foods are slightly more difficult to come by than, say, any other color in the spectrum, we've got a healthy smattering of blue snacks as well as some country favorites to round out your feast, even if you've moved thousands of miles away from the South like me, or noted Panthers fan Stephen Curry.
Ever heard of Denver-style barbecue? I think not. So grab yourself a bowl of pickles, and let's get hungry.
1. Southern Sweet Tea
Though you probably already knew this, the first thing you're gonna need to kick off your Panthers party is a big jug of sweet tea. The generous people at The Kitchn will show you the way, if you're not sure how to make it yourself.
2. Skillet Fried Chicken
Skillet fried chicken is so good. There's really not that much more to say about it than it's the pinnacle of junk food, the weaknesses of many-a Panthers fan (me), and something Southern people (me) are really, super good at making at home. Head on over to I Am A Food Blog for a backstage pass to the magical performance art of fryin' up some finger lickin' good fried chicken.
3. Blue Cornbread Muffins
Here's our first blue food — it's cornbread made from delicious blue cornmeal. Just make sure you don't fill up on the whole basket with the side of salty honey butter from A Cozy Kitchen. It will be tempting, but there's just so much more to eat!
4. Homemade Blue Potato Chips
I mean, they're sorta purple, but some people call them "blue potatoes," so I'm gonna roll with it. Homemade chips are about a million times easier than you'd think, if you've never made them before, so I recommend giving it a try ASAP, as it'll save you from eating a bunch of unnecessary oil and preservatives. Green Kitchen Stories will show you the way!
5. Bacon Blue Cheese Dip
Bacon and blue cheese... get it? This dip from The Kitchn is tailor made to be scooped by the blue potato chips that you're gonna be super proud of. The combination will create the perfect pre-game snack while your guests wait for the main event/dish.
6. Blue Marshmallow Popcorn
You'll need something to stress eat in case Peyton Manning gets hot or something. Have these blue marshmallow popcorn bites from Something Swanky ready to rock for just such an occasion.
7. Black Eyed Peas & Collard Greens
Who says these two foods are only good luck if you eat them on New Years?! Throw a little luck the Panthers' way with a hearty side of black eyed peas and collard greens from Making Thyme For Health.
8. Carolina Pulled Pork Sandwiches
You didn't think this list would end without the delicacy that is Carolina barbecue, did you?! Break out these bad boys at halftime and showcase the beauty of what happens when you cook pork for 30-some-odd hours. Steamy Kitchen has your guide to greatness on this one.
9. Blue Velvet Cake
Dessert is a blue velvet cake topped with delicious cream cheese frosting brought to you by the culinary brain trust at Adventures In Cooking. This cake will also make a gorgeous centerpiece for your game day spread.
10. Chocolate-Covered Strawberry Footballs
These little guys from Domestic Fits are adorable, so you can't not have them. That would be crazy.
Go Panthers!
For more ideas, check out Bustle on YouTube.
Images: The Kitchn (2); I Am A Food Blog; A Cozy Kitchen; Green Kitchen Stories; Something Swanky; Making Thyme For Health; Steamy Kitchen; Adventures In Cooking; Domestic Fits