We've Seen JoJo's 'Bachelor' Date Before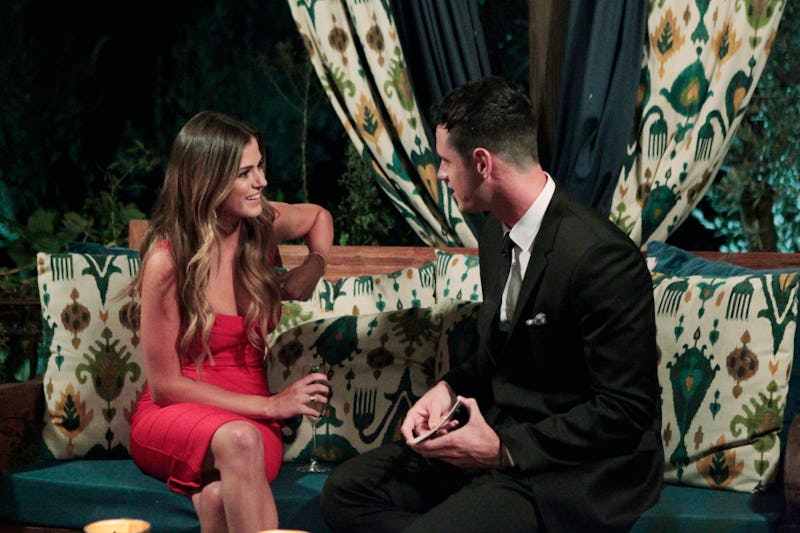 Another week on The Bachelor, another one-on-one date. Frankly, I'm just waiting for the two-on-one date, because that's where that things get really dramatic. In the meantime, I'll try and get excited about Bachelor contestant JoJo, who was the recipient of Ben Higgins' very first Las Vegas date card. What could they be doing this time? Card sharking? Human roulette wheel? Nope. Sorry to say, Bachelor fans, but I couldn't shake the feeling that JoJo and Ben's one-on-one date was a total Bachelor cliche.
It all started like this — romantic drink overlooking the Las Vegas Strip, where JoJo and Ben gaze into each other's eyes and JoJo tells him that she's the happiest girl in the world. I mean, at this point they're like six minutes into the date, so JoJo must be pretty easy to please. Then that familiar sound comes rustling in — the sound of a chopper. Come on, Ben! A helicopter? Next, they get in the helicopter (after blowing the table and everything else on that roof to bits), kiss a lot while in the chopper, and go to dinner (which we know they don't eat). JoJo is in a wonderful jumpsuit, and she tells Ben that she's excited to be there with him but she's been hurt before, you know? He says he is glad she's here, JoJo gets a rose, and the world doesn't end. Oh, there are also fireworks over the Strip. End date.
After 20,000 seasons of the show, I am assuming that the producers of The Bachelor have run out of date ideas, because we've seen this date already. It was probably the most clichéd date that The Bachelor has ever done. Not that Ben and his date always have to go squid fishing in Borneo, but I was hoping for a little bit more for a nice girl like JoJo. She deserves more than a copy of the same date that you went on last season, Ben! And, so do all of the other women on the show. Oh, and for that matter, the viewers. Let's get back to the most dramatic dates in the history of The Bachelor, please!
For everything Bachelor Nation, check out Bustle's newest podcast.
Images: Rick Rowell/ABC