How To Get Rid Of Frizzy Hair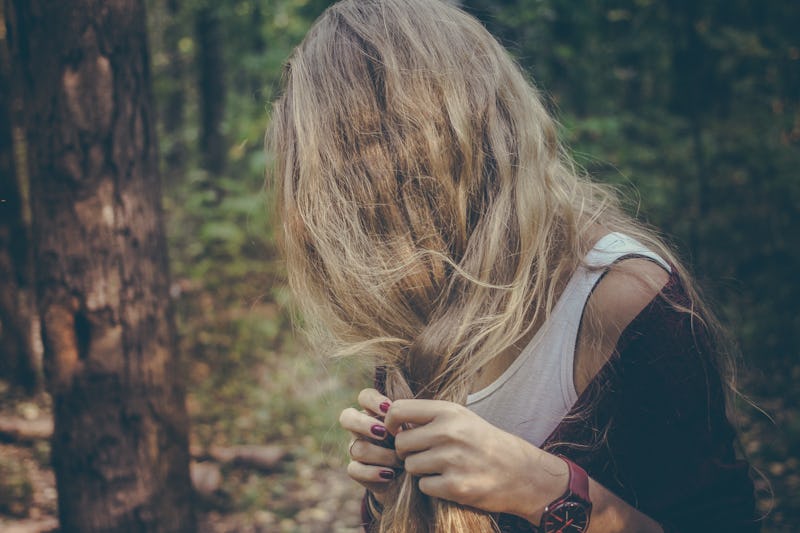 You woke up with five minutes to spare, and unfortunately, your hair looks like you stuck a finger in a light socket. Frizzy hair is all to common in the dry winter months, but if you experience it all the time and are completely fed up, here's how to get rid of frizzy hair for good.
In case you haven't already figured it out, dry, matted, and damaged hair causes frizz. According to WebMD, frizzy hair is actually damage to the outer most part of your strands — the cuticle. The cuticle is comprised of thousands of tiny shingles, and when they are lifted and peeled away from the strand, you get poof, according to Seventeen. Big hair, and yes you do care.
To ensure your hair doesn't result in tons of frizz, it's important to protect the cuticle of your strands by choosing the right products, tools, and cuts that won't damage and peel away the shingles. You should also do your best to protect your hair from sun exposure, wind damage, and extreme temperatures when possible. (That means skiing or running outdoors, guys.) Doing so not only improves the frizz, but protects and prolongs blowouts and color.
Below is a simple three-pronged approach to combatting out of control, dry, and frizzy hair. If you stay intentional about the stylists, tools, and products you use, you can significantly decrease your bad hair days while growing thicker, healthier, and most importantly, smoother hair ASAP.
The Cut
Stay away from razors! Explicitly ask your stylists to not use them. "A razor can slide down the shaft and shred the ends, creating split ends and a plethora of frizz," said celebrity stylist Mark Townsend to Harpers Bazaar . "And never let your ends get over-layered. A bit of bluntness keeps frizz in check."
Xtava Allure 2200w Professional Ionic Ceramic Hair Dryer, $42, Amazon
Opt for ionic hot tools like blow dryers and straighteners. These quickly break up water molecules, so you can use a lower heat setting and dry or straighten faster, minimizing cuticle damage.
Aquis Lisse Luxe Microfiber Hair Towel, $21, Amazon
Instead of using a towel, try a microfiber towel (or a t-shirt) to pat dry your hair. The tiny loop fibers pull and tug at damaged strands, while a towel is gentle.
SHINING ARMOR Renewing Treatment Oil, $18, Esalon
It's also important to find a leave-in treatment oil that complements your hair's needs. While conditioners sit on top of the hair and weigh it down, dry oils absorb into the cuticle.
Want more beauty tips? Check out the video below, and be sure to subscribe to Bustle's YouTube page for more hacks and tricks!
Image: Pexels