14 Sustainable Valentine's Day Gift Ideas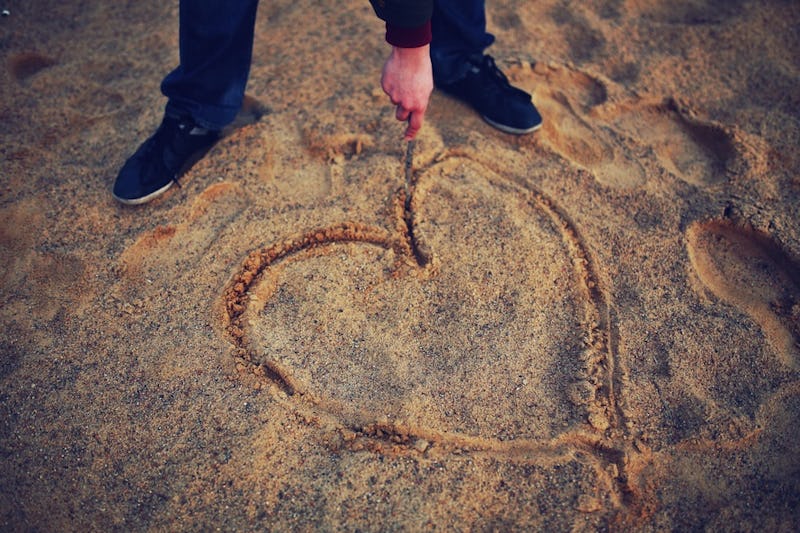 Valentine's Day may be a consumerism-driven holiday, but that doesn't mean you can't still celebrate love in a conscious way that minimizes both your conceding to commercialism as well as your carbon footprint. If you're set on keeping things green amongst the sea of red and pink, here are 14 sustainable Valentine's Day gift ideas. While the "Hallmark Holiday" may encourage spending silly amounts on chocolates, greeting cards, and candlelit dinners, simplify your approach in an authentic way that not only has a better impact on the earth but also promises a more romantic and memorable experience.
The best gifts come from the heart, and when they're handmade or non-material, they're showing love to Mother Nature too. Spend Valentine's Day sustainably by committing to creating by hand instead of checking out at a store. Bake your own batch of Valentine treats, then take a cue from yesteryear, and bring back the romance of a handwritten love letter. Make the day about experiences rather than things, and turn up the heat in the kitchen with a cooking class or in the bedroom with a couple's massage. If you are purchasing gifts or edible indulgences, make sure they're just as friendly to the earth as they'll be to your partner with a little background research. Shop from companies that are celebrated for their sustainable practices and find presents that recycle, repurpose, or restore. You'll find added romance in the non-commercial approach, whichever route you choose for keeping things a little greener this Valentine's Day.
1. Skip The Store-Bought Card
When it comes to showing your sweetheart how you feel, put it in your own words with a handwritten love letter. The impact will be so much greater when you put pen to paper, and you won't be guilty of reducing Valentine's Day to a greeting card holiday.
2. Treat Them With Fair Trade Chocolate
Chocolates are a Valentine's Day staple, but that doesn't mean you have to settle for a mass-produced box of mystery chocolate. Seattle's Theo Chocolate spices things up with flavors that are a little outside the ordinary, like "Red Hot Cinnamon Crunch" and "My Cherry Baby," and on top of it all are organic, soy-free, Fair Trade, and Non-GMO Project certified.
Theo Chocolate, Prices Vary, Theo
3. Give Living Plants
Instead of a bouquet of fresh cut flowers, consider giving your significant other a potted plant that's just as beautiful but will last much longer. The gesture can signify the longevity of your love, and the enjoyment will be lasting. For those not born with a green thumb, succulents are always a fun alternative to flowers. If you want to stay classic, gorgeous floral options are also available potted, like orchids, lilies, and azaleas.
4. Pour Some Wine Or Bubbly You Can Feel Good About
Just as we should be concerned about what goes into our food, we should also consider the origins of what we drink. When it comes to wine production, sustainability is all about living lightly on the land and good farming practices. Before you choose a bottle to enjoy this Valentine's Day, do a little research to see which wineries are working hard to deliver a delicious product without compromising on wholesome practices. Self-taught winemaker Charles Smith has been lauded for his artisan approach, which includes hand-picking grapes and fermenting with naturally occurring yeasts.
Secco Pinot Noir Rosé; The Velvet Devil Merlot, $12, Charles Smith
5. Have A Handful Of Hearts That Grow
Conversation hearts are practically synonymous with Valentine's Day, but this year give a handful that says something more. These heart seed bombs will sprout into a beautiful bed of wildflowers, with Baby's Breath, cornflower, poppies, and daisies.
Heart Seed Bombs Shape Plantable Set Of 25, $12, Etsy
6. Keep It Clean
If you want to treat your main squeeze to a little extra loving, keep it clean with a handmade organic option. There are tons of great finds in this category on Etsy, to give or just enjoy together. In addition to vegan soaps you can find perfumes and cologne and all-natural candles.
Lavender Oatmeal Vegan Soap, $5, Etsy
7. Give A Recycled Gift
For crafty knick knacks, artsy touches, or unique jewelry, look for recycled options by artisans. You can often find these at local markets or craft fairs, and online retailers like Eco Artware showcase the work of independent artists who work with recycled, natural, and sustainable materials.
Record Label Coasters (Set of 6), $20, Eco Artware
8. Upcycle What They Already Own
Make it even more personal with a gift that repurposes something that already belongs to your loved on. Project Repat specializes in turning old t-shirts into handcrafted quilts, so old concert tees or sports team jerseys can be preserved forever while also keeping you cozy.
T-Shirt Quilt, $75, Project Repat
9. Plant A Tree
If you're looking for an activity that gets the two of you outdoors while also getting a little dirty (and making a positive impact on the planet), plant a tree. There are tons of organizations that support tree planting activities in different cities, so you can plant a tree on your own, adopt a street or park tree, or attend a volunteer planting event. A great option for couples who want to bring life into the world and care for it, but who aren't quite ready for puppies or babies.
10. Adopt An Animal
For lovers who are also animal lovers, Valentine's Day is the perfect time to gift an adoption kit from the World Wildlife Fund. You can choose from over 100 different species, and each adoption kit comes with a certificate, species fact sheet, photo, and plush animal.
Species Adoption, $55, World Wildlife Fund
11. Take A Cooking Class
Instead of dining out for the big night, sign up for a cooking class with your partner. At the end of it you'll still be sitting down to a delicious meal, but you'll have the pleasure of knowing you cooked it up as a team while gaining valuable skills in the kitchen with first-hand instruction from a pro.
12. Bake Your Own Treats
When it comes time for dessert, concoct your own with this roundup of Valentine's Day treats to bake at home. Half the fun will be baking together and sneaking morsels of chocolate and candy along the way.
13. Indulge In A Couple's Massage
For a treat of a different variety, unwind from the day with a couple's massage. You can sign up for a spa day package for two, or simply take a time out for some relaxation at home.
14. Present It All In Something They Can Use Again
Whatever you decide to give that special someone this year, bring it to them in an adorable bag they can reuse again and again. Baggu's reusable shopping bag is available in a rainbow array of colors and patterns, perfect for finding just the right one for that special someone.
Baggu Compact Reusable Shopping Bag, $10, Baggu
For more ideas, check out Bustle on YouTube.
Images: Pexels (4), Dacy Knight (2), Etsy (2), Eco Artware, Project Repat, Unsplash (3), My Baking Addiction, Baggu