The One Body Positive Trend You Should Try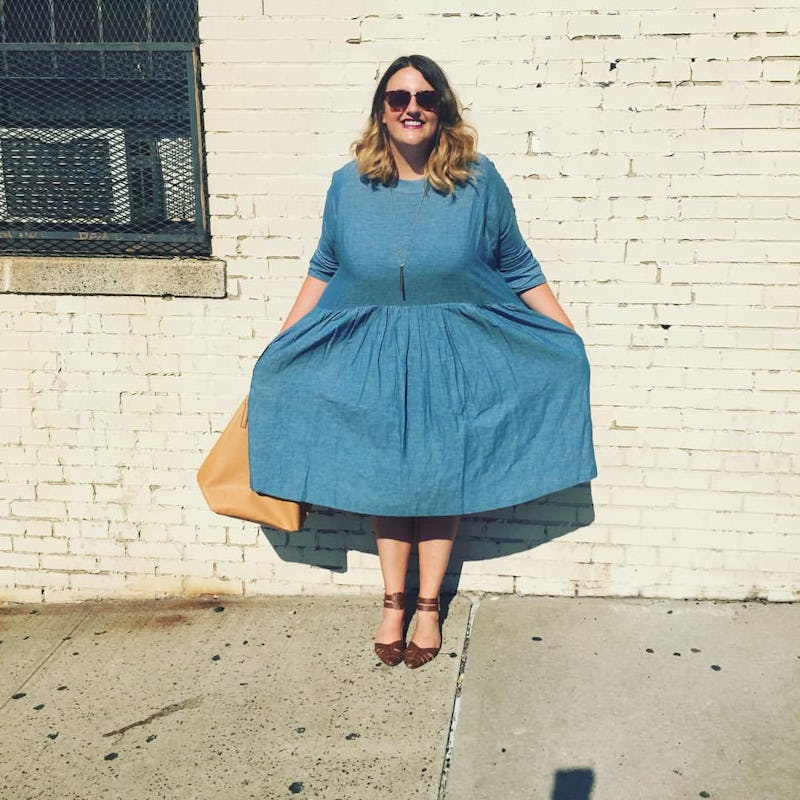 I would be remiss to tell you the one body positive trend you should try this year without also mentioning that I might be a little bit biased, as it comprises about 70 percent of my closet. That said, I also feel like my experience with the aesthetic has given me the time and insight needed to fully appreciate the look, despite the fact that society tells me that I shouldn't. So with that, I offer you the one trend you should try out immediately: the shapeless garment.
I know, I know. What an odd and titillating sensation it is to be told that you should wear something shapeless, after so many years of having those exact garments cast as the villains in the woefully tiresome tome of how women should show off their bodies at all costs. This, of course, only applies to those of us who have an "ideal" body shape, for which figure-hugging dresses are deemed "acceptable." However, for those of us who don't, a paradox is presented: Wear figure-hugging dresses and get chastised for showing off our bodies. Try to "hide" them with shapeless attire and get chastised for being ashamed.
At this point in my life, I've finally figured out the answer to said paradox: It doesn't fucking matter. Wear what you like, how you like, when you like — and don't let anyone tell you otherwise.
Despite the fact that I enjoy scandalizing the masses with tight clothing on my size 22 body from time to time, there's a very specific power that comes with wearing shapeless clothing. To me, shapeless garments drive home the idea that when it comes to dressing, showing off your body to an unnamed, endlessly scrutinizing entity isn't the part that counts; it's your love of the silhouette and how the clothes feel on your body that do.
And I'm not the only one who feels that way. Kelly Augustine, a popular plus size clothing blogger, has embraced the trend as well — but like me, it wasn't always easy to choose clothes that she wanted to wear versus clothes she thought she should wear.
"I wasn't always interested in the shapeless look," Augustine tells me in an email. "There was actually a point in time where I put a wide belt on literally every dress or skirt I wore. It was so silly, but at that time all of the 'rules' were different and there was an 'acceptable' fat silhouette that got more attention. I'm naturally an hourglass, but felt like I really needed to accentuate it."
And the "rules" don't just apply to plus size women, either. I've read countless articles on dressing for all sizes that toss phrases like "waist-cinching" and "figure-flattering" around as if they were the only solution to a problem we don't actually have in the first place. Magazines like Cosmopolitan suggest belting billowy garments at the waist to "look less frumpy," while Oprah opines that figure-hugging garments are the only way to "look thinner in clothes." The underlying message is that we shouldn't be choosing a garment because we love it: We should be choosing it to make us look thinner, and by virtue of that, more acceptable as human beings.
Beyond my own style preferences and aesthetic, that presents a huge problem for me. I'm not thin, and I refuse to accept that the clothes I wear should be forced to make a constant apology for that. Dressing to show off your body is absolutely wonderful when it's your choice to do so, but "figure-flattering" is far too often used as a weapon — a condescending demand that we dress to please the standards set by others instead of ourselves.
"I think the [shapeless] aesthetic can be so empowering for women," Augustine says. "We've been told to tuck, suck it in, waist train, Spanx it up, and wear corsets with painful hooks forever. It's such an antiquated notion. To be free of all of this, imagine how liberating it is! To think I once used to wear shapewear every single day of my life is absurd. I was wearing them with my jeans!"
Now, Augustine has become a known commodity in shapeless fashion blogging, and says it's pretty representative of her overall aesthetic. Luckily, there are also plenty of options available for both straight and plus size fashion lovers alike. "For the shapeless look, my go-to [plus size] brands are Universal Standard and Carmakoma, hands down," Augustine says. "ASOS has great, cheaper options and Mei Smith is an aggregate for brands that represent the aesthetic."
For even more options in more sizes, try typing "oversized" in the search bar of brands like MimuMaxi, Monki, Missguided, and Forever 21.
Now that you've got the tools you need and the enthusiastic support of yours truly, there's absolutely no reason to sleep on this culture-smashing, status-quo-crushing body positive trend. If you're down to eschew everything you've ever been told about "flattering" garments to get the body you're supposed to want, and ready embrace the power of fabric that flows over the body you have, definitely give shapeless dressing a try. Once you do, you'll realize how little "flattering" factors in to enjoyment of your wardrobe. Turns out, you can actually derive pleasure from dressing yourself however you want.
Imagine that.
Images: Amanda Richards; Courtesy Kelly Augustine