The 7 Matte Lipstick Hacks You Need To Know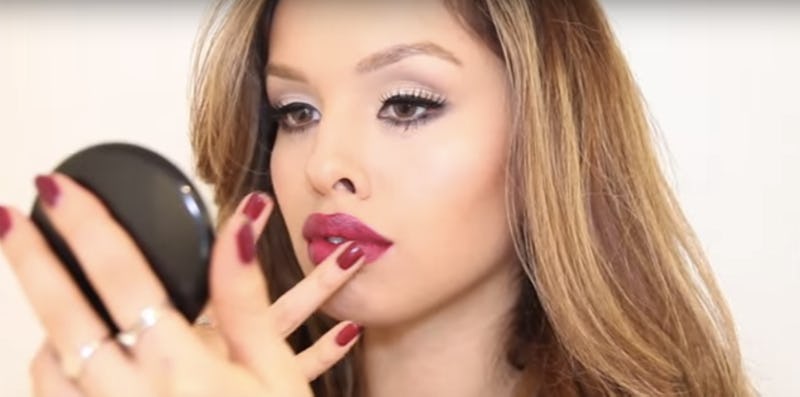 Does any other lip product dry out your lips like matte lipstick? Nope, but every makeup hoarder has at lease one they're willing to suffer chapped lips for. If you're determined to rock this classic lip look as I am, these matte lipstick hacks are guaranteed to keep your lipstick in place and your kisser moisturized, because while it was easy to rock the look in the fall, it's a lot harder in the middle of winter when your lips are chapping and this matte lipstick is just not helping.
Despite its status as a classic finish, matte lipstick is definitely trending at the moment — just take a look at the eternally sold-out Kylie Jenner Lip Kit, which offers three matte brown shades. Really, though, it's no wonder matte lipstick is so popular: it's like the grown up cool sister to pearl and frosted finishes, which will be forever associated with mid-90's teenyboppers. According to Marie Claire, Marilyn Monroe herself was a fan of matte lip products, using them in her legendary lip contouring routine. Other major stars, such as Dita Von Teese, Taylor Swift, and, of course, Kylie Jenner and company, are all known for sporting the sophisticated finish on their pouts.
So, if celebrities can wear matte lipstick all winter long, I say we can too. Here are the best hacks to keep your lips colorful and comfortable all day long.
1. For Very Dry Lips, Consider A Cream(ier) Formula
Urban Decay Matte Revolution, $22, Check It Out
Part of the appeal of matte lipstick is it's, well, matte finish, but if you're struggling with very dry, cracked lips (and at this time of year, who isn't?), a creamier formula could be more comfortable for you to wear. According to Refinery 29, some great moisturizing mattes to try include Chanel's Rouge Allure Velvet Luminous Matte Lip Colour; NYX Cosmetics Matte Lipstick; and Urban Decay's Matte Revolution Lipstick, as seen above.
2. Make Any Lipstick Matte
Got a shade you're dying to try as a matte? A liberal application of translucent powder is all you need to take away the sheen of a satin finish. Keep in mind this technique will lighten the shade of your lipstick, so it wouldn't hurt to go darker than you normally would.
Maybelline New York Fit Me Translucent Powder, $5.59, Amazon
3. Exfoliate Your Lips
e.l.f. Lip Exfoliator, $3, Check It Out
One of the biggest drawbacks of wearing matte lipstick is its tendency to find dry spots on your lips and rudely highlight them for all the world to see. Matte lipstick can't cling on to dry spots that aren't there, so exfoliate your lips before applying. e.l.f.'s lip exfoliator is my go-to, but you can easily make a DIY scrub that does exactly the same thing
4. Moisturize, Moisturize, Moisturize
Matte lipstick doesn't draw the line at just clinging dry patches on your lips — some formulas can be majorly drying, adding more dry patches. It's like a snake eating its own tail, but with red lips. Break the cycle by applying a moisturizing lip balm (you can even make one of your own) after exfoliating. Give it a few minutes to absorb, and your pout is ready for some matte action.
Juice Beauty Organic Lip Moisturizer, $15, Amazon
5. Maximize Longevity With Lip Primer
Too Faced Lip Insurance Lip Primer, $20, Check It Out
I love a good lip product, but I'm suffering primer fatigue and haven't made the foray into lip primers just yet. Apparently that needs to change, because as Huffington Post points out, lip primer works with your exfoliator and moisturizer to ensure even, long-lasting wear from your lipstick. Maybe that's what we need to get through the day with a dark lip.
6. Prevent Unholy Smudging
Nothing is going to prevent smudging if you, say, inadvertently wipe the back of your hand across your lips, but a few precautions will keep your lipstick locked in place for daily wear. The first line of defense? Good ol' lip liner. As makeup artist Ivy Boyd tells Divine Caroline, lip liner is drier than lipstick and creates something for the product to grab on to. Another tip she has to offer? Outline your lips with concealer. "If you're wearing a bold lip color," she advises, "outlining the outer edge of your lip line with concealer or the NYX Wonder Pencil will create a barrier to prevent bleeding. It's basically like installing a fence for your lipstick!" If that fence prevents smudging, I'm on it.
NYX Wonder Pencil, $6.40, Amazon
7. Lock It Down
Meet powder, your new favorite multi-use product. The folks over at Into The Gloss recommend using translucent powder to set lipstick, and it's a totally useful trick. Simply take a sheet of tissue paper and pull it apart so you're left with two single ply sheets. Rest a sheet across your lips and dust a light layer of powder across your lips and voila, your lips are ready to take on a coffee mug.
BareMinerals Ready Touch Up Veil Powder, $23, Check It Out
Want more beauty tips? Check out the video below, and be sure to subscribe to Bustle's YouTube page for more hacks and tricks!
Images: AlexandrasGirlyTalk/YouTube, Giphy (4), Courtesy Brands