8 Secrets For The Perfect Cover Letter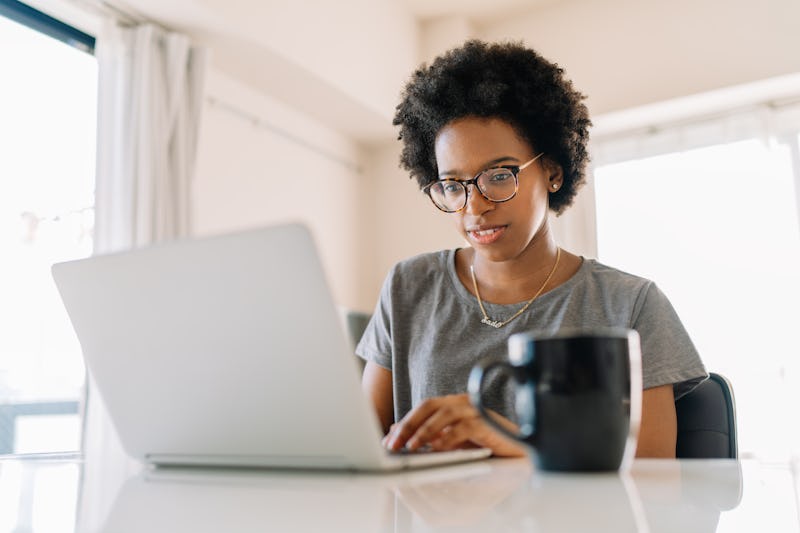 recep-bg/E+/Getty Images
In the wake of the New Year it's natural to start considering your next career move, and start milling around sites looking for resume formats and cover letter tips. After the holidays, our lives slow down socially and we finally have time to reflect on our goals and start setting objectives for the next twelve months. Companies and businesses are doing the same. In January and February, once year end reports have been filed and budgets have been set (and hiring freezes have ended), human resources et al turn to the hard work of staffing up. If you have been thinking of branching out work-wise, now is the time to spruce up the old resume, and beef-up a tired cover letter.
The only issue is that applying for jobs is the last way anyone wants to spend their free-time. Most would rather have dental surgery than go through the stressful application process. Job-search depression is a real thing, and sitting at a laptop one can feel like they're staring into a blackhole of sadness rather than an exciting world of opportunities. Writing a cover letter can make you feel like the biggest imposter ever. Describing and touting your accomplishments seems unnatural. Especially when you don't even know who is reading the letter, and what exactly they are looking for from a candidate. You are attempting to convince a stranger of your worth, without saying outright, "I'm great! Give me dat money!" The whole situation is just... awkward.
A good cover letter, however, will help you stand out from other applicants. It allows you to explain your experience and show your excitement for the position. In best-case scenarios, it transforms you from another paper on a desk into a flesh and blood person— giving the recruiter a sense of your voice and personality. A good letter helps them imagine you working for the company and succeeding. The last thing you want to do is not utilize your CV opportunity. So how do you do write one without imploding into a pile of stress? Follow a few helpful tips and you'll be shooting off a brilliant CV in no time!
1. Set Yourself Apart In The Intro-Paragraph
The job recruiters are looking at possibly hundreds of resumes, so being too formulaic will backfire. Of course, each letter must meet certain general requirements, so think of how you can tweak the formatting to give yours a more unique spin. How can you say "I am applying for X position" in a more interesting way? Try communicating interest and introducing yourself in the first sentence. For example: "I am so excited to hear about X position at [company's name], and I would like to put my name forward as a candidate." Writing in an overly formal tone will make the reader tune out, however you don't want to be too casual and all like "Yo, what's up?"
In the first paragraph you want to state the basics of why you would be a great fit for the position. However, phrasing it "I would make a good candidate because X" sounds like you didn't put thought into it. Affect a tone that is respectful but easy-going — also, you never have to say "My name is X," give them the credit that they already know whose app they are reading.
2. Don't Recycle CVs Mindlessly
It seems self-evident, but the CV has to match the job to which you are applying. It's easy to copy-and-paste from past CVs, but recruiters will be able to tell if the graphs are vague and unspecific. Though it is time consuming, you have to cater each one to the job and put thought into it. A rule of thumb is that recruiters and HR types will only touch-base if you meet 75 percent of requirements. They will look first at your current job and skill-set, so it is important to put the directly relating skills first, and transferable skills later. Every company and even job has its own tone, so make sure your cover letter is reflective of that.
3. Quantify Your Achievements
You are a badass. Do not be afraid to brag. What was your greatest recent success? How have you changed things in your former job? What awesome skills do you have that could help grow the company you are applying to? You are an asset — make sure the recruiter knows that.
4. Research The Company Before Writing Your CV
Even if you think you are familiar with the brand or company you are applying to, you will want to google them before writing your CV. You should give specific reasons why you are applying to work there. You want to be sure you are able to state cogently what makes them special, what they do that is unique, and how you would fit into that equation and support it. Most applications have a blurb about the company, but copying what they say about themselves in your CV will not help you. If you are not really that interested in the job, they can probably hear it in the tone of your CV.
5. Do Not Mention Your Education
Unless you have absolutely zero work experience, or are fresh out of a graduate program, your education should not be part of your CV. CVs should cover real-life skills and applicable work experience, and mentioning your schooling will make you seem inexperienced. If the recruiter is interested in what college you attended and what honors you earned, they can find it listed at the bottom of your resume.
6. Keep It Short
Some people recommend a three paragraph format and some say it should be five. While nobody will be counting your 'graphs, you definitely do not want a letter that is over a full page. Include the information that is pertinent, cut back on flowery language, and try not to over-write or pad it. A long resume or cover letter alas do not prove that you are the right candidate.
7. Watch Out For Repetitive, Overused Words
Once I was proofreading a draft of my cover letter and noticed that I used the word "passion" and "passionate" five times. When describing work experience you don't have to break out the thesaurus, however there are key-words to look out for. Linkedin even made a list of buzzwords to avoid. So when giving your letter that final read, don't only watch out for spelling and punctuation.
8. Finish Strong
To finish strong in your last paragraph, restate what you would add to the company and how your skill set would make it a better place. You can reiterate your excitement and interest, but keep your language strong and try not to use any needy language such as, "I really hope to hear from you." Sign off with something neutral and respectful — I like "best regards." Now, go get 'em tiger!
Images: recep-bg/E+/Getty Images, giphy (9)