JoJo Could Make A Good 'Bachelorette,' Just Sayin'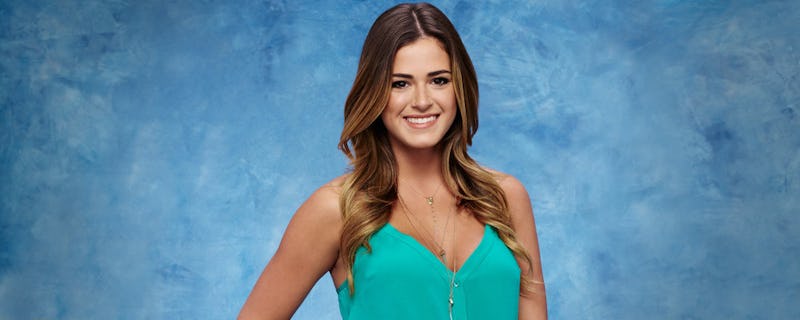 Call me crazy, but we need to start talking about who will be the 2016 Bachelorette. I know, But it's only Week 4 and I don't have the Laurens figured out, yet. By now, though, the standouts of The Bachelor are becoming obvious. You can read Ben like an open book, and that book has listed the names of who he is falling in love with in big, bold letters. But, only one can survive — sorry, that's The Hunger Games — only one can win his heart, which makes me think that one of the current frontrunners, specifically JoJo, will be the 2016 Bachelorette.
JoJo is a top contender for The Bachelorette and none of them are because her name would be fun to say for an entire season. (Although, it would.) On this week's episode of Bustle's Will You Accept This Podcast?, Kelsea Stahler and I discuss JoJo's potential new gig, and if she's currently being shaped to take on the role this summer. That doesn't mean JoJo couldn't win this thing — she received my metaphorical "first impression rose" after Episode 1 — but all the signs seem to point to her becoming the next Bachelorette, even at this stage of the game.
Here's why JoJo would be a great Bachelorette.
She's Fun & Energetic
While it's great to have such a nice guy leading the show for The Bachelor, it's important to have someone who has the energy to keep an audience interested for an entire season. JoJo would definitely keep people watching.
Fans Love Her
ABC likely listens to these social media pleas, so if you're dedicated to JoJo being the next Bachelorette — and she and Ben aren't engaged right now — then tweet ABC, Chris Harrison, your local congressmen. Tell everyone!
She Opened Up About Her Insecurities
Every future Bachelorette/Bachelor has to reveal their vulnerable side to the current Bachelor/Bachelorette to become the next star of the franchise. Ben told Kaitlyn he felt unlovable, and JoJo recently told Ben she had trust issues because of previous relationships.
She's Obviously Going To Go Far
She might not go far in geography class, but unless JoJo does something that totally throws the game for a loop, it is pretty obvious that she'll be going far this season. She and Ben have great chemistry, which should take her to at least the final three spot, right where the future Bachelorette is usually let go.
Images: Giphy (3)