13 Times 'Sabrina's Salem Totally Understood You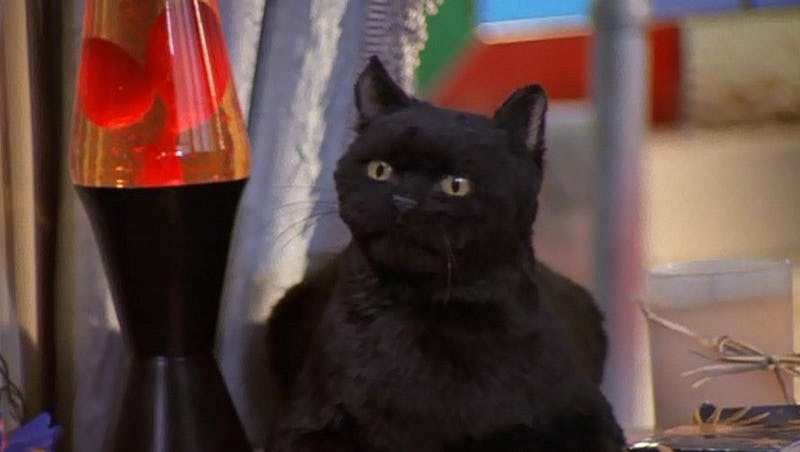 Though the beloved black cat Salem from Sabrina The Teenage Witch was, well, just an animal (albeit a talking one), there were times that he seemed to really be my soulmate. The family pet (who was actually a human trapped in a cat's body) seemed to know just the right thing to say to represent my feelings at any given time. His constant wise-cracking and lust for snack foods were things I could truly identify with, and I know I'm not alone in feeling like Salem totally got me.
Sure, the other characters from the '90s show were all wonderful: Sabrina (Melissa Joan Hart) was the teen sister many never had, her aunts Hilda and Zelda were quirky and fun, and her boyfriend Harvey (Nate Richert) was adorable. But still, it's the man-cat, Salem, who completes me. With his weird puppet buddy and dry tone, Salem was the one who really got it, time and time again. But don't just take my word for it — allow me to present to you proof of Salem's greatness during Sabrina's run. The black cat was the furthest thing from unlucky, and his underrated wisdom during the 13 times below will prevail throughout the ages and dregs of time.
1. When He Had A Bad Hair Day
Salem knows what a humid day is like for you, and he feels your pain.
2. When He Admitted His Method Of Stress Relief
In my home, ice cream is the way to detox. Salem feels that.
3. When He Was A Slob
All that cake has its downsides, though, ones we have all experienced at one point or another. Salem understands.
4.When He Got Into Dress-Up
Now isn't the time to pretend that you haven't snuck into your roommate's room when she was gone and tried on at least one or two of her outfits. Salem's been there, and he won't judge you.
5. When He Took Pleasure In Someone Else's Pain
It's not something to be proud of, but Salem won't say anything to you if you do it. In fact, he'll support the behavior.
6. When He Was Honest With Himself
Salem is a self-aware cat. He knows that he, like many of us, has very little self-control, but he's not letting that stop him. And neither should you.
7. When He Understood The Real Meaning Of Christmas
Doughnuts. Duh.
8. When He Got A Little Judgey
It's not your best characteristic, but you probably get a little judgmental now and then. Salem is known to pass judgement also, and he understands your need to be correct, always.
9. When He Felt Bad About His Weight
There's nothing like not being able to fit into something you were once able to. This cat feels your pain.
10. When He Knew The Value Of Pancakes
Get those 'cakes, Salem. Get 'em good.
11. When He Played the Accordion
Whether you love the accordion like him or something more traditional like the guitar, Salem's musical talents will certainly resonate.
12. When He Was Super Needy
I've been there too, Salem.
13. When He Was A Sass Monster
Everybody needs that sassy friend to keep them grounded. Salem is King of The Sass.
That's all the proof you need that Salem from Sabrina The Teenage Witch looked into your soul and knew you. And don't worry — it's totally OK that you have a soulmate who is a man-cat. Trust me on this, you're certainly not alone.
Images: Giphy