Fans Liked Their Wedding More Than Ashley and JP's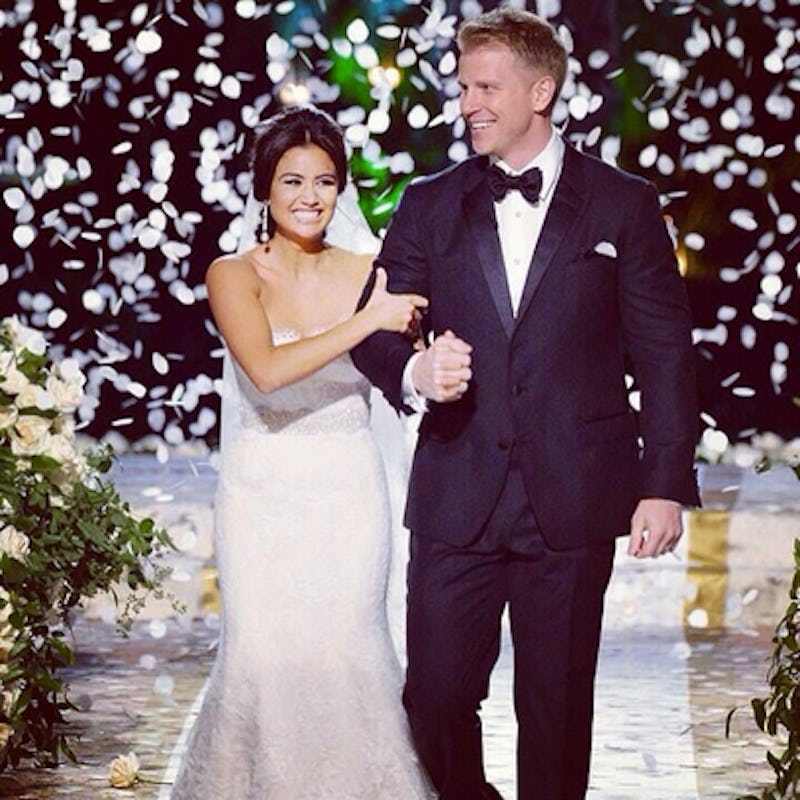 The latest televised Bachelor wedding was that stuff that dreams are made of — to cable execs. Bachelor stars Sean Lowe and Catherine Giudici's Jan. 27 televised wedding attracted a large number of viewers — so much so, that it was worth comparing to Bachelorette Ashley Hebert and J.P. Rosenbaum's Dec. 16 televised wedding in 2012. According to a press release from ABC, The Bachelor: Sean and Catherine's Wedding, was up 60 percent from The Bachelorette: Ashley and J.P.'s Wedding.
Lowe and Giudice attracted 6.1 million viewers, and Hebert and Rosenbaum attracted 4.0 million. Did Lowe and Giudice attract more viewers because it was better-advertised, because social media wasn't what it was in 2012 compared to today, or simply because viewers found it more appealing from the get-go?
Let's compare vows:
Catherine's vows to Sean included:
"Sometimes I think I might explode with how much I love you... I promise to love you even after we can no longer remember each other's names."
Cute, but throwing dementia into your wedding vows is always kind of a buzzkill.
Ashley's vows to J.P. included:
"From the first time we met, my heart has been drawn to you. Your sparkly smile enhances my life, no matter what."
Cringe. Sparkly smile? I would have flipped to True Blood instantly.
Let's compare guest lists:
At Ashley and J.P's wedding, Chris Harrison, Jason Mesnick, Jillian Harris, Ali Fedotowsky, and Trista and Ryan Sutter were present. All from the Bachelor/Bachelorette family.
At Sean and Catherine's wedding, Jason Mesnick, Ashley Hebert and J.P. Rosenbaum, Trista and Ryan Sutter, Desiree Hartsock, Ali Fedotowsky, and show producer, Cassie Lambert were present. All from the Bachelor/Bachelorette family, plus Ashley and J.P and the newest addition, Desiree. If anything, this indicates that these weddings are more like family reunions for the cast members.
Let's talk about sex:
Sean and Catherine were extremely vocal (i.e. People magazine cover vocal) about waiting until marriage to have sex. Ashley and J.P. also told People their views about not having sex before marriage, and said they were "not interested" in waiting. Tuning in to see the pent-up sexual desire between Sean and Catherine may have made up the difference in viewers alone, since Ashley and J.P.'s fans already knew they were gettin' it on.
We're not sure if Hebert knows the viewer tidbit or not, but judging from her picture on Twitter with the caption, "My seat at #thebachelorwedding. I'll take it!!!", she may not care too much. Either way, ratings are only going up, so we can probably expect to see more made-for-TV weddings in the future.
Images: BachelorABC/AshleyHebert Twitter