Watch the Touching Trailer for 'A Long Way Down'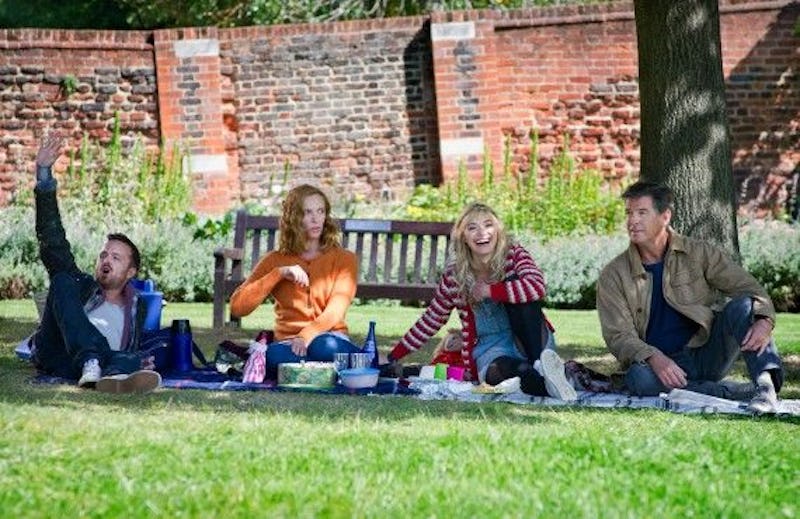 Not many authors can say that they've gotten to see even one of their books turn into a movie, but Nick Hornby, author of About a Boy (soon to be a TV show), High Fidelity, and Fever Pitch, among others, has seen three — and once the film adaptation of A Long Way Down hits theaters this year, he'll be able to add another to the list. The upcoming film, based off the fifth of Hornby's seven novels, is set to premiere in late March, and judging from the just-released first trailer for A Long Way Down , it should be yet another big success for the author.
Like nearly all of Hornby's books, A Long Way Down focuses on the aimless, drifting lives of its protagonists, who, in this case, are four strangers who meet on a building rooftop on New Year's Eve with the shared intent of committing suicide. They temporarily forget their plans and begin a friendship, making a pact to forgo more suicide attempts until Valentine's Day. Written by any other author, that plot could be too odd or sentimental, but in the master hands of Hornby, it works beautifully.
And there's no reason to think that it shouldn't make a smooth translation to film. The movie adaptation, starring Pierce Brosnan, Toni Collette, Aaron Paul and Imogen Poots, looks to be just as quirky and compelling as the book that it's based on. And with Johnny Depp (!) producing, it should have traces of the actor's trademark mixture of lovely and weird. The trailer, released on Monday, features some great British accents, a motorcycle-driving Aaron Paul (who, pleasantly, is calmer and more focused here than in Breaking Bad), and a mention of a naked Matt Damon; what more could you want in a movie?
Check out the trailer below:
Image: BBC Films