All-Female Rowing Crew Crossed The Pacific Ocean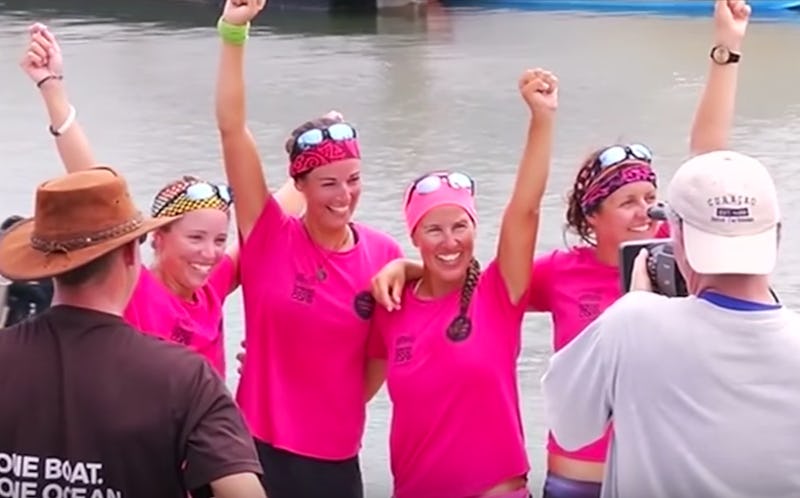 On Monday, an exhausted crew of female rowers landed on the coast of Australia, at the end of a history-making journey. The British team was the first all-female rowing crew to cross the Pacific Ocean, and the first crew to cross the ocean rowing four at a time. Throughout its voyage, the six-person team rowed for 257 days and crossed more than 8,400 miles, traveling through treacherous waters in a pink 29-foot boat named "Doris."
The rowers — who go by the name the "Coxless Crew" — started in San Francisco last April and broke their journey into three parts, with stops in Hawaii and Samoa before finally landing in Cairns, Australia. Three members — Emma Mitchell, Laura Penhaul, and Natalia Cohen — completed all three legs, with Meg Dyos, Isabel Burnham, Lizanne van Vuuren each rowing one.
The women rowed in pairs around the clock (including in the pitch-dark) in two-hour shifts. Sleep was limited to 90-minute stints, and took place inside a small cabin, which Emma Mitchell described as "very hot and very sweaty," according to the Guardian. She added, "It's kind of like being in a two-man tent-sized sauna." The BBC reports that each crewmember kept going by eating 5,000 calories a day, mostly in the form of protein bars, freeze-dried meals, fruit, nuts, and chocolate. The rowers also grappled with storms, gigantic waves, and encounters with whales and sharks.
The crew shared their experiences throughout the journey in a blog (which is fascinating, btw — you can read it here). In one of their final entries before arriving in Australia, after 76 consecutive days of rowing, they write,
It's fair to say that with physical exhaustion, sleep deprivation and a lack of savoury food we are being tested to our limits. However this is where we draw on our SPIRIT, row hard, row strong, row together.
Video from CNN shows the team coming off the boat in Cairns on shaky legs, to be greeted by loved ones and some well-deserved beers.
The Coxless Crew is helping to raise money for two charities, Breast Cancer Care and Walking With the Wounded. Filmmaker Sarah Moshman filmed the crew's epic journey for a documentary titled Losing Sight of Shore.
Images: YouTube (3)