#OnTinderAtTinder Is Important For Online Daters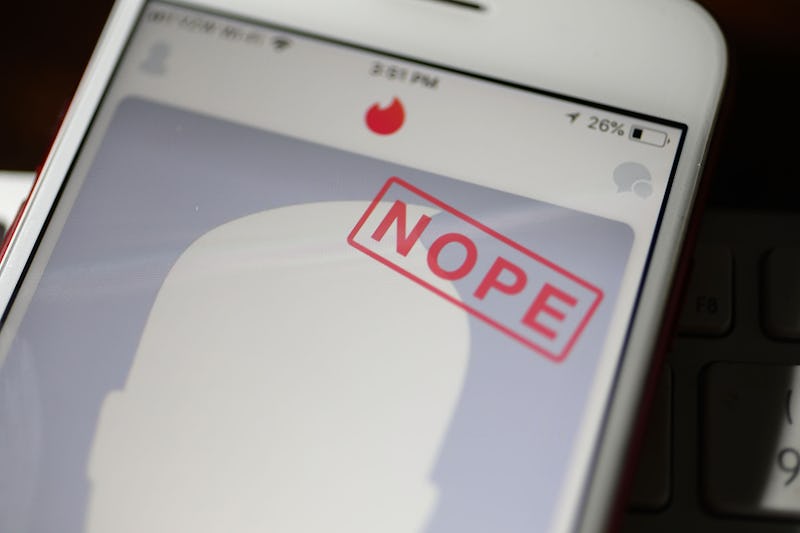 Joe Raedle/Getty Images News/Getty Images
Do you ever see someone's social media or dating app pictures and think they're far from the best photos that truly convey who they are? Recently, Someecards asked audiences to post images of their Tinder profile pictures alongside a selfie of how they look when they're swiping and include the hashtag #OnTinderAtTinder. To the website's surprise, men and women have been submitting these contrasting images in droves with intentions to expose the not-so-secret truth behind how we look on dating apps versus how we look IRL, along with our collective vanity on dating apps and websites. The hashtag has, as the kids say, gone viral. And for good reason. We all put forth the best, most swipe-able versions of ourselves online.
Some users proved to be more genuine in their submissions, while others were less so, choosing instead to make an ugly face, proving yet again that we don't want to look genuinely ugly, but intentionally. These users were, unbeknownst to them, harming the hashtag's impact, ultimately taking away from its more genuine, original purpose.
"It's honest. It pokes fun at the way we don't show our true selves online, versus in reality," 28-year-old pre-school teacher Kash Baloch told The Toronto Star of the hashtag (his own v-necked submission can be found below). "It really plays up on superficiality and vanity, because you're just looking at people deciding whether you like them based on their face."
And Baloch is right. Tinder at its very core has a superficial premise. You're looking at somebody's images and, based on these images, ultimately deciding if you'd like to get to know this person better.
That being said, the #OnTinderAtTinder hashtag pokes fun at the superficial premise and, if taken seriously, could actually be enlightening for dating site/app users – though it doesn't look like it's heading in that direction. Humor is proving to trump purpose.
Below, you'll see some of the best #OnTinderAtTinder examples I've come across so far. And you'll find through these examples that lot of people seem to swipe in bed. This is something I didn't expect. What I did expect was a lot of people using Tinder on the toilet, like I did. This is the romantic story I can tell my kids some day, as I've personally met somebody on the app.
So deceptive or not, Tinder can be a very effective dating tool, as it has demonstrated through making well over 26 million matches since November 7, 2015.
Want more of Bustle's Sex and Relationships coverage? Check out our new podcast, I Want It That Way, which delves into the difficult and downright dirty parts of a relationship, and find more on our Soundcloud page.
Images: Joe Raedle/Getty Images; Twitter