7 Things That Make Your Office Desk Sophisticated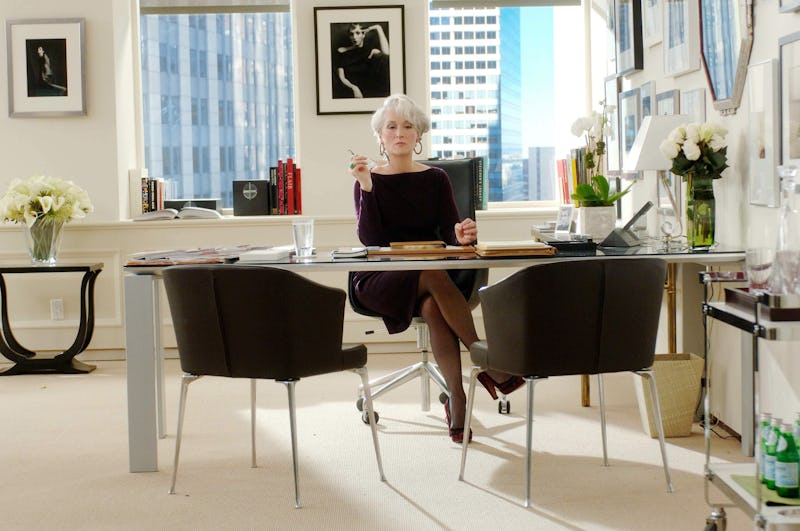 We're all adults here, right? And as such we should have adult desk spaces. That means fewer empty food containers and more delightful, design-y things that make us look like we're in control of our lives. The first step to achieving desk nirvana is decluttering — getting rid of anything that's not either immediately necessary or adorably decorating the area. Stacks of paper you never use, old magazines, dirty plates, weird tchotchkes that you've collected along the way and have just wound up covering dust: it's all gotta go. Once you've swept your desk clean and buffered it (get rid of that dust!) you can start worrying about making it look like the sophisticated professional you are.
Keep the mantra "less is more" in mind when you're putting your work space together. You don't need a lot to look put together, nor do you need some elaborate theme or color scheme. Keep it as neutral as possible for sophisticated chic, and let your personality shine through with small details, rather than in a chaotic mish-mash of things. You might love pink (which is my weakness), but a desk full of pink fluffy pens and another stationery doesn't really say "Sleek Nordic design". Here are some things that will help you make your desk look sophisticated and professional, no matter what your style.
1. A Vase With Fresh Flowers
Having fresh flowers on your desk is a great way of brightening up your own day, but also projecting the image that you care enough about your space to decorate it just so. It also gives you the opportunity to bring different colors into your scheme on a rotating basis.
Dodecahedron Concrete Vase, $35.85, Etsy
2. A Beautiful Chair
Sure, a swivel chair is great, but a really beautiful chair will make you feel like the King/Queen of your professional domain every time you sit behind your desk and is definitely worth the investment.
LexMod Aegis Accent Chair, $153.19, Amazon
3. Cable Clips
Remember what I was saying earlier about clutter? The most unsightly thing on your desk is probably the mess of cables to all your electronics. Spend time installing cable clips and running unsightly cords down the legs of your desk rather than having them dangling.
Bluelounge Design CableDrop Cable Management System, $9.95, Amazon
4. Lovely Coffee Table Books
A few glossy coffee table books about interesting design topics (or if you like something more related to your work) gives an air of sophistication. And also great reading material for your down time, or if you have to leave a client waiting.
Chanel: Fashion/ Fine Jewellery/ Perfume (Set of 3 Books), by Francois Baudot, $49.31, Amazon
5. A Beautiful Mug And Coasters
Don't be the person with paper cups everywhere. Invest in a sleek to go cup, and a beautiful mug for your desk, and coasters too. It's more environmentally friendly, and will give you a sense of permanency in your work space.
Moroccan Tealeidoscope Iced Tall Blue Cup & Saucer, $29, T2
6. Matching Pens
This is where it gets fun (and where you can let your inner teenage girl go wild). Matching pens — minimal, delicate, Muji pens — rather than a mishmash of pens (some with your banks name etched into the side, others with chewed ends), will instantly make you look more professional and put together.
Hexagonal Polycarbonate Gel-ink Ballpoint Pen, $1.75, Muji
7. A Chic Desk Organizer
Now that you've got all your gorgeous pens and professional desk gear, you'll need something chic to store them in. Rather than leaving everything laying about or cramming it in draws to be lost and forgotten, find a lovely desk organizer to both store and show off your beautiful stationery.
Wood Desktop Organizer, $184.87, Etsy
Images: 20th Century Fox