Smart Backpacks Are Coming to 'Shark Tank'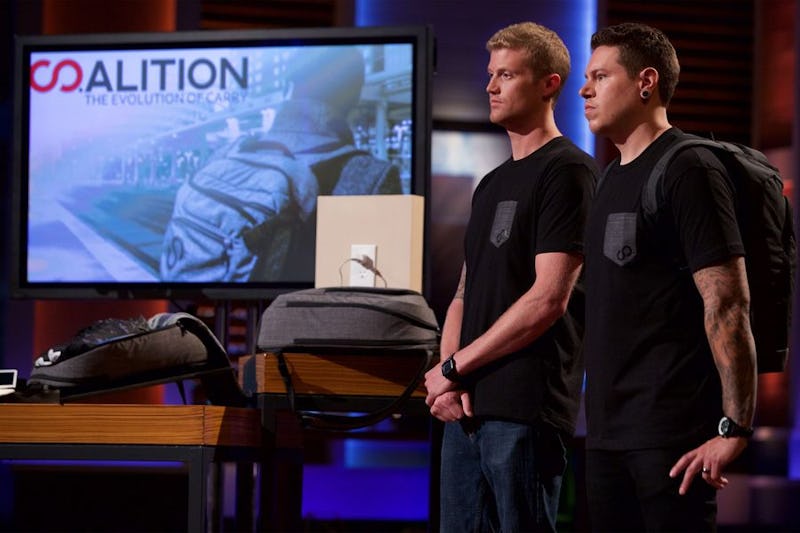 Represented by Jeff Popp and Casey Lorenzen, the Colorado-based entrepreneurial team behind Co.alition is headed to Shark Tank this week, and they come bearing smart backpacks. But what exactly is a smart backpack? Well, in this case, it's a sleekly stylish backpack that comes equipped with outlets and hard drive storage.
Co.alition's backpacks are especially smart, because their chargers automatically sense which device needs the most power, and distributes the charge accordingly. As co-founder Popp explained to FastCompany, "The power supply is able to calculate how much power it can send to the device to safely charge it as fast and safely as possible and any leftover power will go to charge the power supply itself." Plus, the accompanying external hard-drive is capable of creating its own wifi network — which is pretty darn cool.
So, where can you get one of these smartpacks for yourself? The Co.alition online store (as well as Amazon) has got you covered, with two different backpacks. You can also customize the bag of your choice to best suit your needs — for example, you can select how much storage and charging power you want (as well as the color, of course). The "smartest" backpack of all (which holds three whole phone charges and can generate its own wifi network) will run you $499, while the most basic model (which comes sans the aforementioned bells and whistles) is a more palatable $179.
Marketed as a sleekly urbane new product, Co.alition's smartpacks are definitely intriguing. The question remains, though, will the Sharks decide to invest? It's worth noting that the company has a few crowdfunding campaigns under its belt — Co.alition first launched in 2012 after a fully-funded campaign and has run similarly successful campaigns since.
Another interesting tidbit? Popp and Lorenzen (along with Michelle Hodulik, who is self-described on their website as the "designer/customer relations guru") have a second backpack company, MHM — though instead of tech-focused packs, MHM focuses on products designed for the great outdoors. According to the Shark Tank episode's press release, Popp and Lorenzen will pitch Co.alition to the Sharks — but they want to keep the "lucrative" MHM to themselves. Success with MHM works to prove the Co.alition team's business savvy and know-how, but will the second business end up being a sticking point with the Sharks?
At any rate, it's definitely a product worth looking out for — especially for anyone who cares about style as much as they do having a fully charged phone.
Images: Beth Dubber/ABC (2)