9 New Ways To Wash Your Face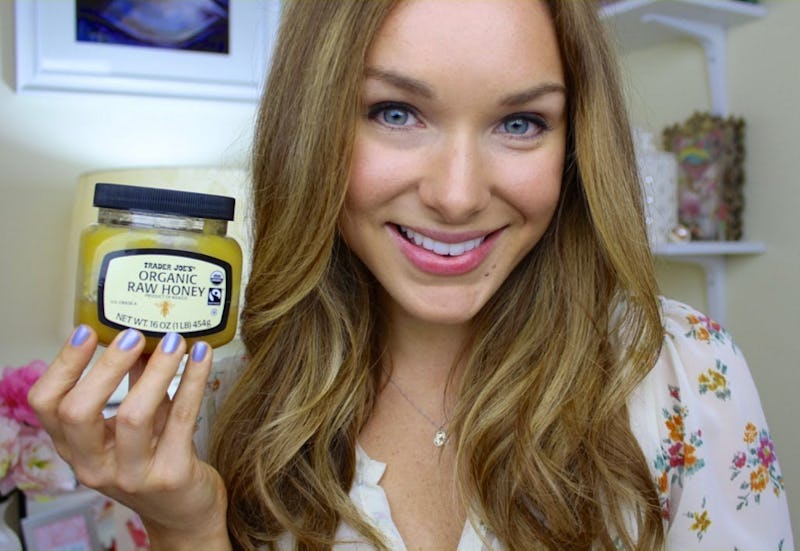 Take a trip to your local drugstore and you'll notice there's usually an entire aisle devoted just to face wash; there's a thousand brands making a thousand different claims (or sometimes the exact same claims, just for different prices). However, there are actually several face cleansing alternatives that don't require traditional soap-based washes that could work just as well for our skin — and perhaps even better.
We've all gotten used to the feeling of squeaky-clean skin after washing our faces once or twice a day, and some of us have even gotten used to the slightly skin-tightening feel of our usual store-bought cleansers. And while we may associate these feelings with cleanliness, they might not actually be good for our skin. In an article for Everyday Health, dermatologist Hema Sundaram said, "Many people have the concept that skin needs to be squeaky clean. But that means it's been stripped of its protective barrier. We must recondition ourselves on what clean skin means, which is dewy but not tight."
Similarly, in an article for the Huffington Post style section on things your dermatologist wishes you would stop doing, Assistant Dermatology Professor Ellen Marmur noted that, "Squeaky-clean skin is over cleansed, meaning it's stripped of its priceless lipids. Your skin should feel supple, not like plastic. Use gentle cleansers with a low lather for the healthiest skin barrier."
Basically, a lot of us go about our face cleansing routine all wrong, and our skin might be paying the price. If you've been noticing that your skin feels dry and irritated, here are nine alternatives to foaming face wash that just could be the key to your new routine:
La Tourangelle Extra Virgin Oil, $12, Amazon
Olive oil is part of the the "oil cleansing" movement and is essentially exactly what it sounds like — you use olive oil to remove the dirt and grime of the day, and nothing else except a very warm towel to wipe it off. YouTube beauty vlogger Amena highly recommended olive oil mixed with a little castor oil for the perfect cleansing combination. She noted it might not be best for those with naturally very oily skin, but for those with combination, or especially dry skin, it can make a huge difference.
Viva Labs Organic Coconut Oil, $10, Amazon
Sherri Griffin, natural lifestyle advocate and founder of the blog Overthrow Martha, also recommended coconut oil as an alternative to olive oil cleansing, as different types of oils will work differently for different people. "It's been shown to work for all skin types although some people may be more prone to breakouts using only coconut oil. If you break out then you can mix it with other oils like castor oil or jojoba oil," she said, and she also noted the importance of using high quality oil. The rest is extremely similar to the above olive oil routine, but here's a full tutorial from Griffin's site.
Vitamin E Gentle Cleansing Face Wipes, $15, The Body Shop
The American Academy of Dermatology recommended disposable face wipes, especially for those of us with dryer skin who might also need to cleanse more often. In a lecture given at the Academy, Zoe D. Draelos, M.D., said, "The recent addition of humectants and emollients to these cloths can decrease the damage to the skin's natural barrier that occurs during cleansing and help smooth." Plus, they are crazy convenient and portable. I definitely personally recommend them to anyone who has trouble sticking to a routine.
Advanced Skin Detoxifying Clay Mask , $19, Amazon
Professional aesthetician and YouTuber Veronica Gorgeois has a two-week clay mask boot camp that she prescribes for clients suffering from large pores and blackheads, and said you should ideally be able to bring this down to once a week once the problem is under control (although you'll need to supplement with a cleanser for the other six days a week at that point). She noted that clay masks are excellent for getting skin blockages and oily skin under control, but noted the importance of using a moisturizer once your daily treatment is complete.
Nature Nate's 100% Pure, Raw & Unfiltered Honey, $10, Amazon
Gorgeois has also sung the praises of raw organic honey for our skin due to its antibacterial and moisturizing properties. The awesome Wellness Mama also has a how-to honey cleansing post on her site here, and it basically just comes down to rubbing a teaspoon of raw honey on your face and rinsing with warm water. How simple is that?
Soap Bark and Chamomile Deep Cleansing Cream, $7, Amazon
While cream cleansers are store-bought, they're conceptually much different than the lathering cleansers often associated with drying out your skin. Instead they're known for keeping skin moisturized. In an article for Forbes on alternatives to traditional face wash, beauty contributor Sarah Wu lists cream cleansers as one of the top expert picks for skin-cleansing alternatives.
7. Micellar Water
Simple Cleansing Micellar Water, $5, Amazon
According to dermatologist Debra Luftman in an article for Elle, miscellar water is made from micelles, which are tiny oil molecules suspended in soft water. "Micelles are attracted to dirt, grime, and oil, and they draw out impurities without drying out your skin," she said, noting it's suited to all skin types and is especially good for dry or sensitive complexions. To use, you simply apply the colorless, odorless liquid to your face, and you're done. How have I never heard of this before??
Fage Plain Yogurt (12 Pk), $21, Vita Digest
According to BeautyMunsta.com, yogurt naturally contains alpha-hydroxy-acid, which is a great gentle exfoliant for your skin. Plus, it won't strip away any of your skin's natural oils. This means it's actually a pretty great ingredient for facial washes and masks. You can find a super simple yogurt-based recipe here.
9. Just Water
That's right — this may go against every single thing you've ever heard, but in a piece for BeautyEditor.com, several dermatologists actually admitted to the fact that a rigorous cleansing ritual on your skin isn't necessarily all its hyped up to be in the first place. "It's nice to wash, because we feel cleaner," said Dr. Mark Lupin, "but I have nothing terrible to say about the trend of not washing at all. Just water itself is cleaning without adding anything to it."
In the same piece, dermotologist Beatrice Wang added, "[Washing your face] is not a bad idea. But I don't think you have to be vigorous about skin cleansing. Most of us are not doing manual labour, so we're not getting that dirty." So if your skin seems to be getting irritated by all the various lotions and potions you're trying, try doing nothing at all for a while — there's a real chance it will help.
There's a lot of varied information out there about what's good and bad for your face, so the best rule of thumb is just making sure you're in tune with how a product or ingredient makes your skin feel. Try a few things out, and most importantly, have fun with it!
Images: Shannon Sullivan/YouTube; Giphy (1)