'Masterchef Junior' Is Inspiring For Female Chefs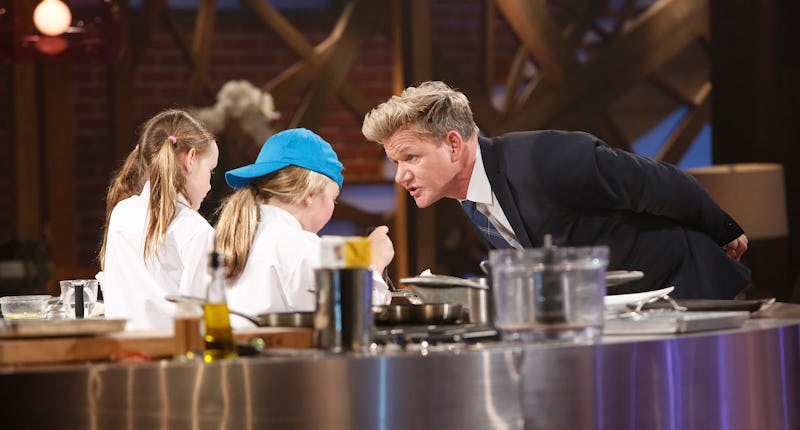 Two children are at the precipice of greatness, but only one will emerge victorious. If you have no idea what I'm talking about you're at a loss, because it's almost time for the Season 4 finale of MasterChef Junior. Gordon Ramsey, Graham Elliot, and my BFF in my head, Christina Tosi, are about to crown a new winner — the first female winner, too — of the show. Frankly, I'm so excited about it that I can only do one thing: Ready myself for a new season. But, will MasterChef Junior return for Season 5?
The easy answer? No one is quite sure yet. FOX hasn't said a word about renewing the show, but since it does fairly well in the ratings (I could be skewing the Nielsen ratings because I DVR it and watch it three times), I can't imagine it would be canceled. Additionally, the website already has casting open for Season 5, leading me to believe it will be renewed shortly. The show usually commences new seasons in the late fall, so perhaps the end of 2016 will bring a new cast of adorable kids who more than know their way around a gastrique.
One change for Season 5, should it happen, is that the judges will get another shakeup. Just like Christina Tosi replaced Joe Bastianich in Season 4, Variety reported that Graham Elliot won't be around for a potential Season 5. New season, new contestants, new judges.
But, before that happens, Season 4 still has to end, and this year's finale is so important. In the previous three seasons of MasterChef Junior, a boy has won every single time. Season 4 is guaranteed to have the show's first female winner because the two finalists are both girls. Avery Kyle and Addison Osta Smith have different cooking styles, but damn, they know how to whip up a meal. When I'm on the couch eating takeout while watching MasterChef Junior they make me feel like a right loser. They're nine years old and cooking on TV, and I'm 28 and I can't get out of my pajamas. But, who will win? I'm partial to Addison, because I love her backwards hats, sassy nature, and the fact that she's won more challenges than anyone else in the whole competition.
But, no matter who takes the top prize, the fact that there will now be a female winner is important because, as Fortune reported in October 2015, women are often underrepresented in the restaurant business, especially in the higher paying leadership roles. This is something restaurateur Jen Agg agreed with when she recently wrote an article on food industry sexism for The New York Times. "High-end kitchens have long been regarded as a male domain, with culinary students worshiping brutal but allegedly brilliant men," Agg wrote. "[This is] what society has decided is the ideal head chef: Aggressive, abusive, and, above all, male."
That perceived ideal could make it hard for women to break into the industry, or perhaps keep them from even wanting to try. Fortunately, Masterchef Junior could help change that tide. Little girls who watch the show will see someone who is just like them take the top prize, and that coud help inspire a new generation of badass female chefs.
At its core, Masterchef Junior may be a cooking competition show full of children, yummy food, and laughs — but it's also helping encourage America's future chefs that they can achieve their dreams no matter their gender. So, here's hoping Season 5 is right around the corner.
Images: Greg Gayne/FOX; Giphy (2)