The New Barbie Dolls Are Already Available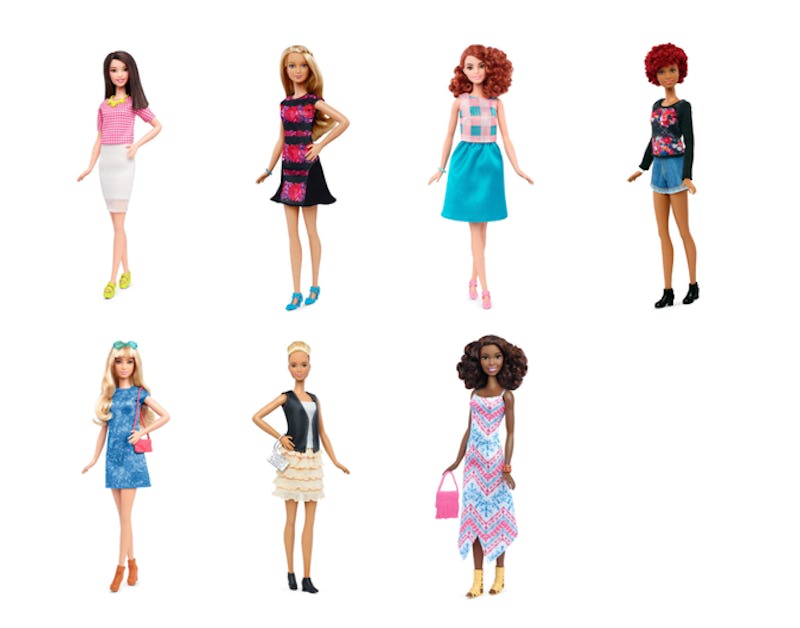 In case you live under a rock and haven't yet heard, Barbie is getting three new body types as part of a major makeover for 2016. The new petite, tall, and curvy shapes will come in addition to a wider variety of skin tones and even hair textures. Looks like the people at Mattel, the company behind the iconic doll, are finally making strides towards body positivity and inclusivity. Let #TheDollEvolves movement commence.
Now that Barbie is finally getting realistic body proportions and will hopefully be closer to emulating real-world women, you are probably wondering — when do the new barbies come out? If you can hardly wait to get your hands on these newly diversified dolls, I have good news for you. According to Time magazine, the new line of barbies, titled Barbie Fashionistas, will be available starting January 28th on Barbie.com. Though not all styles are available just yet, some are available for preorder exclusively at Mattel shop, as for the rest, well you can expect those sometime later this year. According to the brand's website, the dolls will be "releasing over time throughout the year," and even though that statement is pretty vague, it's safe to say you can own the full range of Barbie Fashionistas in 2016.
According to the Mattel Shop, here are the Barbies in the new body types that available to order now.
Barbie Fashionistas Sweetheart Stripes Curvy, $9.99, mattel.com
Barbie Fashionistas Chambray Chic Curvy, $9.99, mattel.com
Barbie Fashionistas Blue Brocade Petite, $9.99, mattel.com
Barbie Fashionistas White & Pink Pizzazz Tall, $9.99, mattel.com
#TheDollEvolves
Want more body positivity? Check out the video below, and be sure to subscribe to Bustle's YouTube page for beauty hacks and tricks!
Images: Mattel.com (4); Barbie (1)