7 Super Bowl Party Ideas For Panthers Fans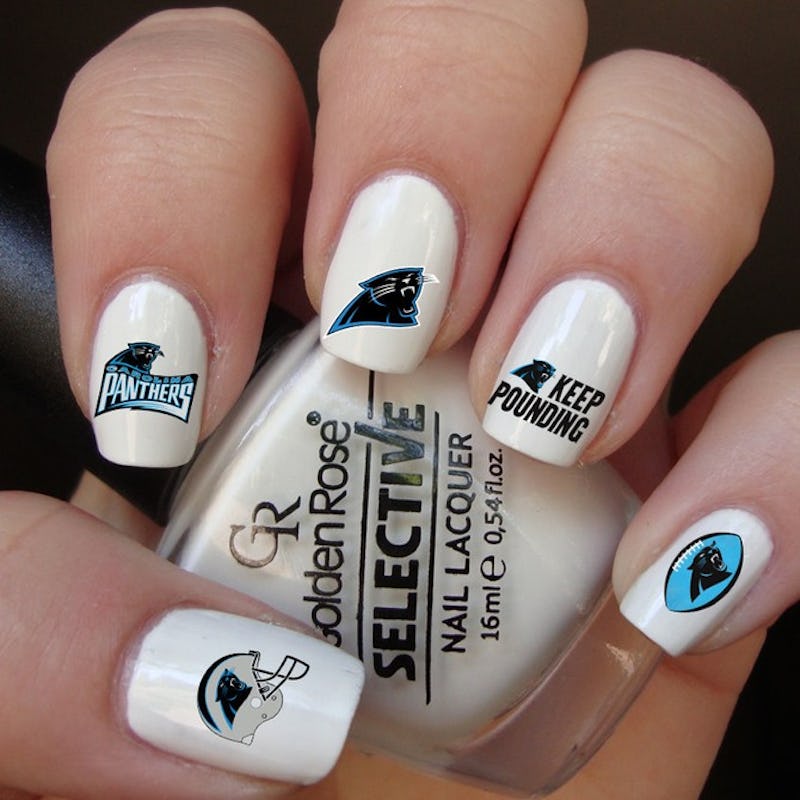 The Panthers are going to Super Bowl 50 and, no matter your current geography, you are bound by the will of the football gods to celebrate this fact on Feb. 7. Win or lose, it's not like you're going to not watch, so you might as well have fun with it and invite a few people over. I know you already have your menu all sorted out and Texas Pete hot sauce at the ready, so here are some Super Bowl party ideas for Panthers fans that will keep everyone interested without being terribly disruptive during the game.
You planned the menu, made your grocery list, and even washed all of your blue laundry. So now all you need are a few trimmings and fun activities to keep the party alive and create those all-important photo opportunities for posterity/Instagram. And this is the Super Bowl, so there will be no delving into the wedding-shower-cheesy playbook. All party activities should be firmly rooted in the main objective of the day — winning the Super Bowl… or on Beyoncé, because Queen Bey will be there.
So, let's get this party started with some Super Bowl party ideas that are perfect for the Panthers faithful.
1. Carolina Cornhole
Cornhole is an essential part of any North Carolina-themed party, so obviously you should have an appropriately decorated cornhole set on your front lawn to welcome your guests. Etsy has a bunch of these awesome Panthers Cornhole decals available for less than $30.
QuickPhixCreation/Etsy, Carolina Panthers Cornhole Board Decal Kit, $24.99
2. Panthers Nail Art And Tattoo Station
Set up a station in your house where your friends can deck out their nails and skin with Panthers colors, logos, and slogans. Once everyone is rocking the war paint, your guests will be ready to cheer on the Panthers appropriately. Party City is understandably sold out, but you can score these awesome stickers on Ebay.
NW Nails/Ebay, Carolina Panthers Logo Nail Art Decal Stickers, $3.99
3. Barbecue Sauce Contest
Challenge your guests to bring their favorite homemade barbecue sauce with them to your Super Bowl party, then have a blind taste test to decide the victor. Southern people love to argue about barbecue sauce, so this is a great way to keep things interactive before the game starts.
4. Photo Booth With Life-Sized Football Players
Set up a photo booth with life-sized cardboard cutouts of your favorite Panthers. This will create loads of photo ops that will be fun for kids and adults. I can picture my Instagram feed now!
Fathead, Cam Newton Life Sized Cutout, $119.99
5. Come Up With Carolina Panthers-Themed Drinks
Beer may be standard game-day fare, but liven up your celebration with a few Panthers-approved drinks. This brilliantly blue cocktail by Pass The Sushi is made with blue curacao, rum, and pineapple juice, and is sure to get you in the spirit of things.
6. Crazy Cookout Milkshake Station
Anyone who has ever visited any state remotely close to Panthers territory knows that Cookout has about a billion milkshake flavor combinations that are truly delicious. From watermelon to banana pudding and, my personal favorite, peanut butter fudge, Cookout keeps the milkshake dream alive with its simple but infinitely customizable shakes. Borrow a friend's blender and create a millshake making station just like the one at the Cookout where you spent so many days of your youth. Shoutout to the Durham Cookout on Hillsborough Road. Bull City for life!
7. Beyoncé Halftime Live Tweet Contest
It is now a widely publicized fact that Queen Bey will be performing at the Super Bowl 50 halftime show, so, as a loyal subject to the crown, enjoy a friendly competition to see who can get the most likes and retweets for commentary on the halftime show.
Watching the big game? Well here's 6 things you should never say to a female football fan:
Images: QuickPhixCreation/Etsy; NW Nails/Ebay; foodiecrush; Fathead; Pass The Sushi; Cookout/Facebook; Getty Images