Channing's New Role Channels Gene Kelly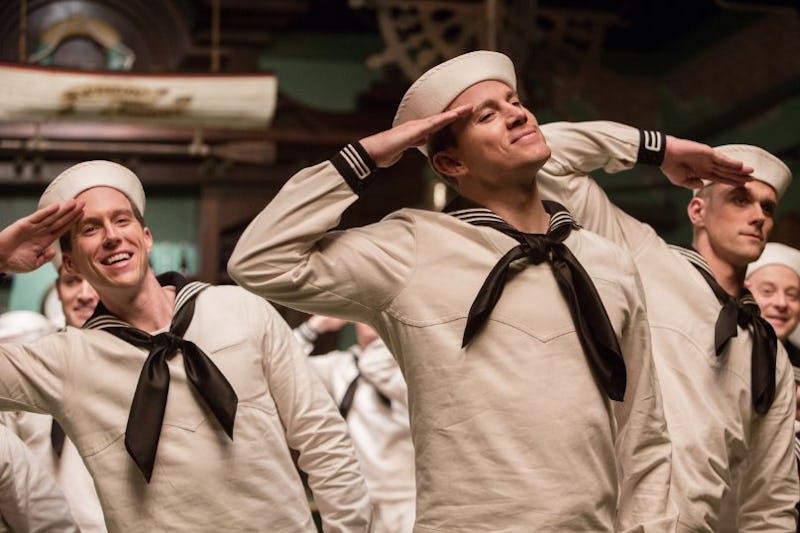 In 1947, at the zenith of the perceived communist threat against the United States, the House Commitee on Un-American Activities compiled the infamous Hollywood Blacklist — a list of writers, actors, directors, and studio executives thought to be communist (read: Soviet) collaborators. The list included names like Dalton Trumbo, whose confrontation with the committee formed the basis for last year's Trumbo with Bryan Cranston. And, were he a real person, it's likely that Burt Gurney, Channing Tatum's Hail, Caesar! character, would have been among the Hollywood elite targeted by the Blacklist. For Gurney, the tap-dancing, muscle-bound MGM actor of Hail, Caesar!, is an unabashed communist sympathizer who considers defecting — because he likes the uniforms. But is Channing Tatum's Hail, Caesar! character based on a real person?
It turns out, no such person rose to fame in 1950s Hollywood — but Burt Gurney is inspired by individuals who did populate the postwar entertainment landscape. Chief among them is Gene Kelly, the multihyphenate singer-choreographer-actor-director-producer who rose to fame with movie-musicals like Singin' in the Rain and Anchors Aweigh in the early '50s. Early discussions of Hail, Caesar! haven't been able to avoid the comparison (though Tatum himself hasn't been the one to make it).
From Rolling Stone ("a Gene Kelly-ish hoofer," the magazine wrote in October 2015) to the Ellen DeGeneres Show, Kelly has been name-dropped as much as the Coens themselves. And Gurney-Kelly is a compelling comparison — both are tap-dancing musical heroes (and heartthrobs) — but given the popularity of movie-musicals in the time during which Hail, Caesar! is set, there are a few more names to pull from.
"We were trying to figure out when the last big tap number had been done in a movie," Tatum told DeGeneres when he appeared on the show to discuss his role — and his recent Lip-Sync Battle appearance alongside Beyoncé. The host had an even broader pool of old-Hollywood names to draw from: She mentioned Kelly in addition to Fred Astaire and Danny Kaye, all acclaimed dancer-actors who rose to fame in that movie-musical era, commenting on the pressure of filming a long tap sequence in a single take. Tatum reportedly had no tap dancing experience when he took the role, unlike his musical forebears, and though his table-dance scene was initially written as just a brief interlude, it quickly developed into a six-minute-long virtuoso performance.
Kelly was never threatened by the Blacklist overlords, though — at least, not as far as the surviving historical record shows. So it might be that Tatum's character Burt Gurney plays roles that have more in common with the roles Kelly once played, rather than there being any specific parallel between Gurney and Kelly themselves. However, Kelly's wife Betsy Blair was blacklisted, according to her obituary in the New York Times. She appeared in numerous films throughout the '40s and early '50s, and was even nominated for a Best Supporting Actress Oscar in 1955 for her role in Marty before her career was felled by communist suspicions. Given the relationship, perhaps Gurney is an collage of influences rather than a stand-in for any individual.
Fictionalized versions of real-life Hollywood players like Eddie Mannix (Josh Brolin) and Hedda Hopper (Tilda Swinton) make it tempting for us to draw links between characters in Hail, Caesar! and possible real-life counterparts, even if their names have been changed. For example, Scarlett Johansson's character Deanna Moran looks a whole lot like swimming champion-turned-actress Esther Williams. Slate broke down the references for each character, annotating the trailer, showing that the titular Hail, Caesar! (the film in which George Clooney's character stars before he's kidnapped) might be a Ben Hur adaptation. All signs point to Gene Kelly as an inspiration for Burt Gurney. But '50s Hollywood saw an enormous expansion in movie-musicals, so Tatum's character might just be in keeping with the period. And, hey, it's not the first time Tatum has been compared to Gene Kelly, so let's go with it.
Images: Universal Pictures (2)