The Woman In "Pillowtalk" Is An Actress To Watch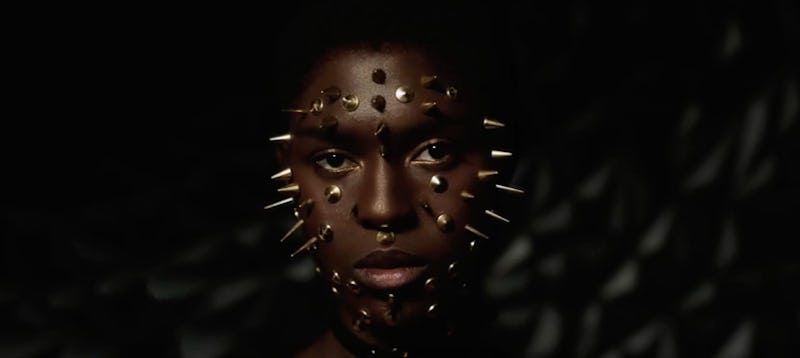 I don't know about you, but, after my first viewing of the new single, all I could think to myself was, who is the woman in "Pillowtalk?" I'm sure I was supposed to be watching Zayn Malik and real-life girlfriend Gigi Hadid explore each other's mouths with their tongues, but I found it pretty hard to tear my eyes away from this mysterious newcomer with the spikes bursting out of her face and the... um... strategically placed flower. But vadge bouquets aside, who is that woman? I've never seen her before, as far as I remember, and now I will stop at nothing to figure out who she is and if she's done anything else I should be aware of. (And also if she can teach me some beauty secrets, because, spike-faced girl, you are glowing.)
It turned out to be a bigger job than I realized, because even my good friend the Internet, upon whom I can usually rely in hard times, didn't seem to know who she was. There were no articles about her, no credit listed on the "Pillowtalk" video. It was a mystery. Then, luckily for us all, I stumbled upon a little tweet from a guy who claims to have cast the young woman in question in the video, and it was my first clue.
He refers to her as Jodie Smith, which is also the name she uses on Twitter, but it appears that, professionally, she also goes by Jodie Turner-Smith. Turner-Smith identifies herself in her Instagram profile as Jamaican and British, although she appears to live in Los Angeles, and she is starting to build up quite a resume for herself over at IMDb. She's had a few small appearances on True Blood in 2013, a few shorts since then, and then, recently, the announcement that she'll be playing Grace Jones in Sexual Healing, a film about Marvin Gaye's life. Is it just me, or is everything coming up Jodie Turner-Smith right now?
Keep killing it, lady. Now that we've seen her totally pull focus from the likes of Malik and Hadid in this video, here's to seeing her appear in many more projects in the future. Check out the video below.
Images: ZaynVEVO/YouTube (2)