The 'Galavant' Finale Emoji Spoilers Are Intense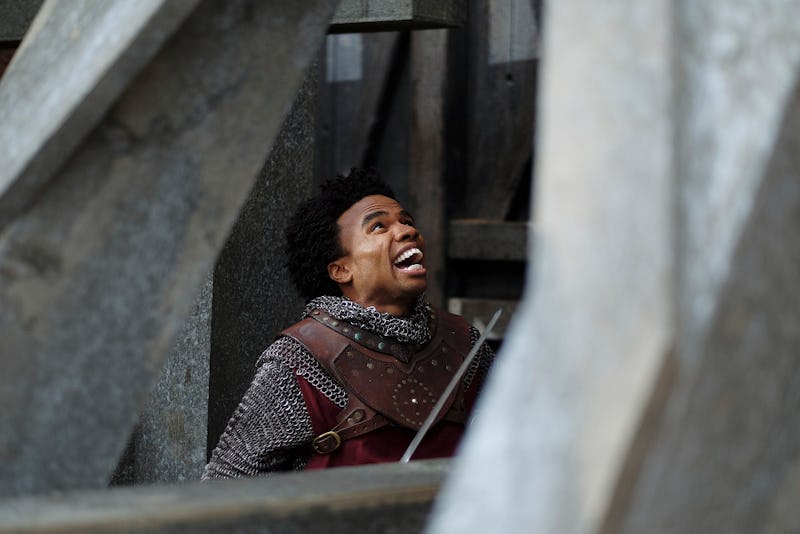 ABC's midseason musical fantasy is coming to a close on Sunday. In order to prepare for the epic, toe-tapping, and possibly ironic battle to come, here are your official emoji spoilers for the Galavant Season 2 finale from actor Luke Youngblood, who plays Sid. Season 1 ended with a multitude of cliffhangers, and we should expect nothing less this time around.
Will Sid, who is on his own hero's journey by way of redemption, finally have good news to write home to his family? This poor squire can not catch a break. "I think he feels pretty bad about accidentally killing Galavant," Youngblood says, "which I have to say was a complete accident. He always throws Galavant his sword and Galavant was distracted and didn't catch it. It wasn't his fault! Anyway, knowing Sid, I don't think that's he's gonna come back with bad news or anything I think he'll do the job. But we'll have to wait and see. It's definitely not gonna end there."
As we approach Sunday's finale, Galavant has risen from the dead and is leading an army of the dead behind him — like Aragorn meets Rick Grimes with a little Princess Bride thrown in there. All of our characters, who started Season 2 so far apart, are finally converging. All of our heroes and villains (and whatever Gareth is) are about to have their big moment. In that spirit, Youngblood chose seven emojis to tease the Galavant finale, one per character. Here are Sid, Madalena, King Richard, Princess Isabella, Gareth, Galavant, and Roberta respectively.
King Richard's unicorn emoji is not so much of a spoiler anymore, if you've been keeping up with Galavant, but it's kind of too perfect to pass up, right? Also, I should say that the heart eyes on Roberta's cat emoji was my own executive decision — the cat is the only essential bit there. Based on these spoilers, it looks like Madalena might suffer some interesting consequences from the dark magic she's delving into. All in all and as for everyone else, we're going to have an exciting battle on our hands and, since it's Galavant, plenty of hilarious twists and turns along the way.
Images: Angus Young/ABC; Leah Thomas