11 Alternative Sunglasses To Rock This Spring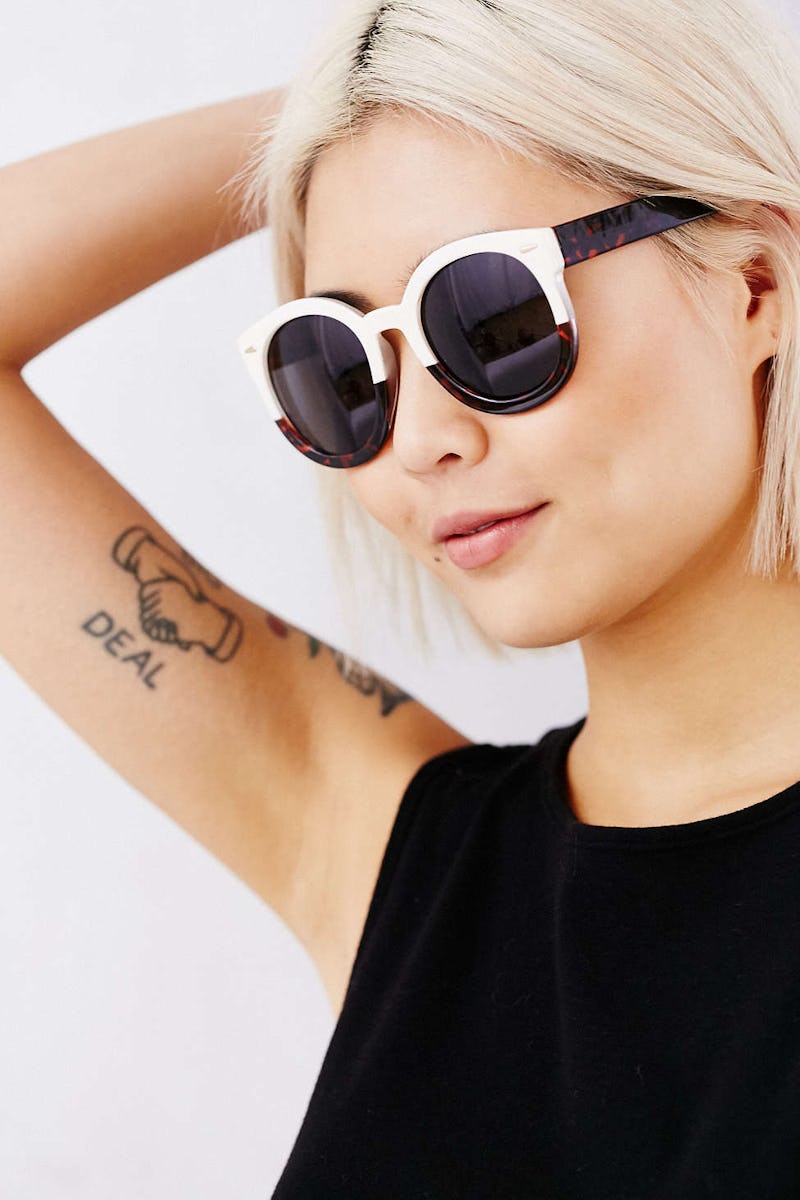 It still might be end of January, but I'm always looking forward to better times: I'm talking spring. And nothing says warmer weather more than sunnies. This season, alternative sunglasses are the ultimate accessory that every cool girl will be rocking. Don't get me wrong — A classic never goes out of style, but if you're looking to mix it up, a fresh pair of shades will do the trick.
We can thank the weather gods this week for giving us a milder take on winter. And just last week, I noticed that the sun was setting later. I mean, I had left work and it was still light outside! I felt my mood instantly lift. But as any New Yorker (and New Englander) knows, the weather can change its fickle mind at any time. Never get too comfortable in that leather jacket and your favorite tennis shoes — Soon, you'll have to pull your Timbs and parkas out just as quickly as you had put them away.
For now, let's relish in this weather heaven for a moment. I won't be pulling out my cutoffs or tank tops anytime soon, but you can bet that I'm already online shopping for sunglasses. While 2015 was the year of super chic, Western style Dior sunnies, I predict that we'll still be seeing these well into 2016, along with funkier, chunkier acetate styles that'll make you the master of cool girl style.
If you're looking for a pair to add a unique spin to any ensemble this spring, get inspired by some of my favorites, below.
Quay Australia Life in Xanadu Round Clear Frame Sunglasses, $25, Asos
Love at first sight. Literally.
Emma Sunglasses, $16, U rban Outfitters
Why choose one color, when you can go with two?
Dovima Cat Eye Sunglasses, $510, N eiman Marcus
These are definitely a splurge, but if you're looking for a pair that'll last you a lifetime and will always be in style, these are your go-tos.
Unisex Round Sunglasses With UV400 Protected Mirrored Lens, $16, O pen Sky
Never going to say no to a unisex pair!
Madewell Indio Sunglasses, $55, M adewell
Bright yellow frames call for bright sunny days.
Dior Abstract 58mm Sunglasses, $475, N ordstrom
Practically every celeb was rocking Dior sunnies in 2015 — But these square-shaped frames are even cooler than the originals.
Bonnie In Gradient Brown, $46, N eed Supply
Don't be a square.
Metal Me Tonight Plated Shades, $20, Shopper Board
These are so cool, they don't even look real!
Thierry Lasry Cheeky Cat Eye Acetate Sunglasses, $475, N et-A-Porter
I'm sorry, but could these be any chicer?
Cortina Tortoise With Grey Clip On Lenses, $260, I llesteva
This is my favorite sunglass trend thus far. How cool are these flip clips?
Zebra Sunglasses, $22, & Other Stories
We all need a little animal print in our lives.
Spring's knocking (loudly) on our doors. Let's answer, shall we?