7 Things Good Hairstylists Would Never Do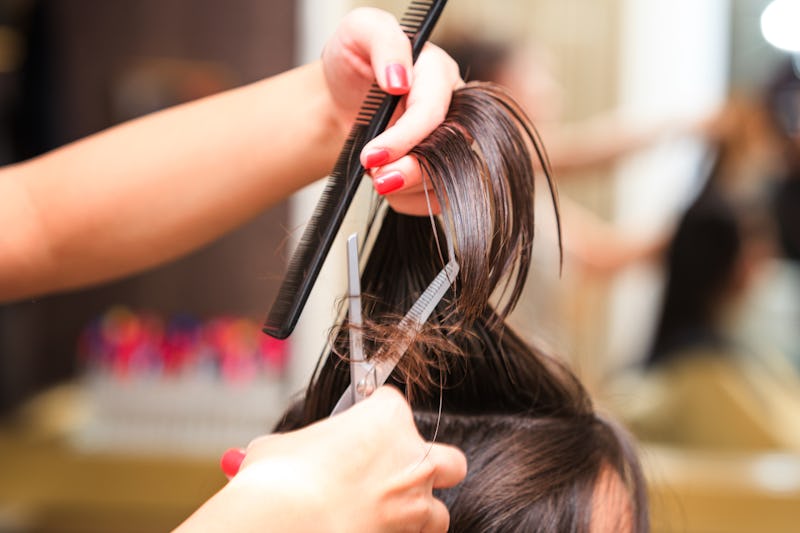 There's a particular kind of trust you build with a good hairstylist that has legitimate similarities to a serious relationship. Think about it — your stylist sees the best in you, understands what to not try and change, and watches you grow. But in the unfortunate event you have to find a new hairstylist for whatever reason, this list of things hairstylists would never do to someone's hair can help you scout out the best new stylist to commit to. I promise another good one is out there.
To get the scoop on just what to keep an eye out for when trying to pick a new stylist, I reached out to Mirza Botanavic, Eufora Global Educator and stylist. He broke down all of the major things a good hairstylist would never do so you can feel extra prepared at a consultation with someone new.
If you've encountered any of the things below with your current stylist, you might really want to consider seeking out a new one. You deserve a stylist that is on top of their game 24/7 and knows exactly how to make your hair look and feel healthy and fabulous. Here are seven things a good hairstylist would never do:
1. Ignore Your Length Requests
Botanavic shares, that any truly good stylist "would never cut more than you tell them to." If someone is getting scissor happy, call them out on it.
2. Not Teach You How To Style Your Cut
"[A stylist should] never let a client leave without the instruction and products to recreate the look at home." #Truth. I'd be lost if my stylist hadn't told me how to style my pixie!
3. Carelessly Damage Your Hair
No skilled stylist will "damage your hair on purpose. Even when you demand to 'go blonder," says Botanavic. If your stylist doesn't think your hair can safely take on more bleach, you should trust them!
4. Disregard Your Individual Look
Botanavic "would never let you do something that doesn't suit your face (cut) or skin tone (color) no matter how much you think 'it would look good," and your stylist should feel the same way. Let go of being set on "that one celebrity haircut," and find a stylist who can incorporate elements of it into what will really suit you.
5. Skip The Consultation
A cardinal hair stylist sin, your appointment should "never start your hair without a proper consultation." If a stylist is reaching for a pair of scissors without so much as saying hello, get out of that chair.
6. Use Harmful Chemicals
Any good stylist will be in the know on what chemicals to always avoid before coloring or chemical straightening your hair, says Botanavic. If they sound nervous or unknowledgeable, find someone else.
7. Not Stay Up To Date With New Methods & Trends
Lastly, Botanavic claims one of the biggest red flags in a stylist is if they don't continue their education. Asking the last training session they've been to isn't rude as long as you do it without any condescension in your tone.
Want more style tips? Check out the video below, and be sure to subscribe to Bustle's YouTube page for more hacks and tricks!
Images: Fotolia; Eli DeFaria, Gabriel Nunes, Rachael Crowe, Roksolana Zasiadko, Devan Freeman, Ly Gia Phu, Micah. H; Author's Own