I Made A Bet To Hook Up At Sundance Film Festival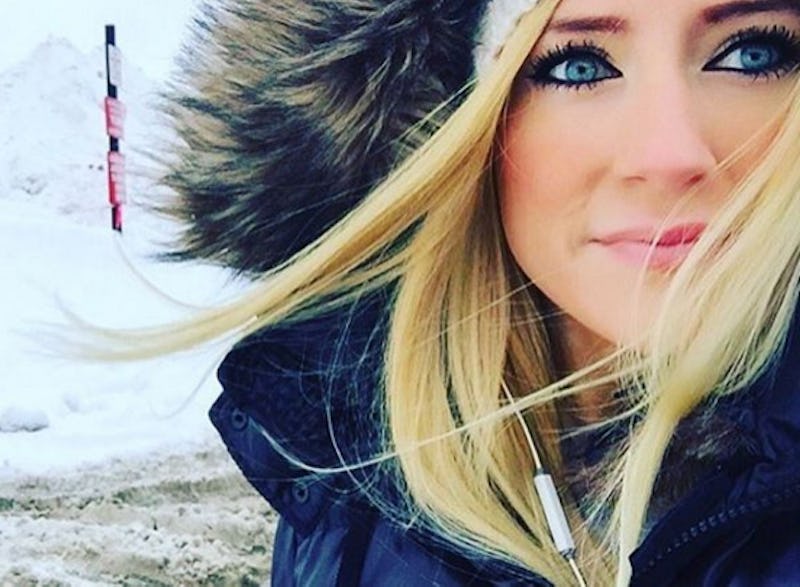 Before I left Los Angeles for Sundance Film Festival in Park City, Utah, I made a bet with a friend — let's call her Julia. If I hooked up with someone during the 10 day fest, Julia would download a dating app — something she'd never done — and use it. The wager came on the heels of about a month of me trying to convince her to join a dating app, any dating app, to meet guys. She's always been hesitant, she's a fairly old fashioned gal when it comes to love and sex, and her passive, wait-for-it-to-happen mentality doesn't fly in LA. At the same time, I had been blabbering to her about a guy I met at Sundance in 2015. I hardly knew him, but found him very attractive, and we had loosely stayed in contact over the course of the year.
It was a win-win: She wanted me to get some in Park City, and I wanted her to get over her no dating apps rule. And Julia was willing to give me the leg up. Although she's reluctant to swipe across random faces on her phone screen, she had hooked up with strangers both years she went to Sundance. I'm all ears.
"I have a perfect record." Julia says. "The first time was at a closing night party. I was talking to this guy and he just started kissing me. In my defense, we just kissed! But for like, a long time. The second time, also at a closing night party, me and my friends met this guy, a director, on our way home after a party. His phone was dead and some of my friends had seen his movie, so that was apparently enough of a background check to invite him into our condo to charge his phone. We hooked up back in the condo. It was so unexpected. He just innocently needed a phone charger!"
As she regales me with tales of her back-to-back Sundance hookups, I'm a little jealous. How romantic would it be to fall into the arms of a fellow parka-clad cinephile? I imagine it: He invites me back to his place, we warm up by the fire, maybe share a cup of hot chocolate before he throws me over his shoulder and onto the bearskin rug at the foot of his rustic, four-post wooden bed. Sure, it sounds like a cheesy passage from a shitty romance novel, but I was looking for cheesy. And what better place than the idyllic, snow-covered mountains of Utah?
"The altitude does something to you," Julia jokes. "Actually, in all seriousness, it does make you get drunk faster.
And there's a strong sense of camaraderie. Being there is a special experience, and you're highly aware of sharing it with other people. Everyone's trapped in this little town in the mountains, you're all watching the same movies, and you automatically have something to talk about with every single person that you meet," she says. "We're all wearing festival goggles, so to speak. Add free liquor and boom, you're making out in someone else's Airbnb."
I had been to Sundance once before, and after attending other festivals like Coachella, SXSW, LA Film Fest, and Toronto International Film Festival, had deemed it my favorite of the lot. It boasts the best cinematic offerings and seems to be the most sophisticated and cultured of the bunch. Sundance is the biggest independent film festival in the country, home to hundreds of domestic and international films, and it's set in gorgeous, wintery Park City. While bikinis, dust-covered flower crowns, and inflatable pool toys worn as pants are the norm at warm-weathered Coachella and SXSW, these spring break-ish accessories aren't found at Sundance. The streets are dotted with snow, not red solo cups. In a word: it's romantic. But will I get lucky?
Before I leave for the festival, I define the terms of my bet with Julia. What does a hook up really entail? "Does making out count?" I ask. She hesitates. "Like, if we make out for a really long time and there's... touching," I add. She hesitates again, then answers. "I guess so. But it has to be for a long time." OK, kissing for an undisclosed but "long" period of time counts. And all other sexual acts — hand jobs, fingering, oral sex, anal sex, vaginal sex, and so forth — are just icing on the cake.
Diana Drumm, a 26-year-old freelancer based in NYC who attended Sundance in 2014 and 2015, explains what I have to look forward to. "It's like a boozy, cinephile mountain camp," she says. "It's very romantic and breath-taking. I'm surprised no one's done a cringey rom-com about it yet. If I had a special someone, I'd drag him to Sundance. He'd be skiing most of the day, I'd be watching awe-inspiring independent cinema and typing to deadline. We'd meet for a party-crawl and cozily wind up in front of the fire with a cheap bottle of something from a gifting suite. That's the dream, right?"
Diana did end up finding temporary romance at the 2015 festival, but it didn't look quite like her vision. "We met at a party in the kitchen of the house I was staying in," she says. "There was red wine and hummus. He was so out of my league, but he started the conversation and went on to critique my Instagram. Somehow we wound up back in my room, but there's really only so much you can do when you're sharing with three other people."
I feel my balloon begin to burst. That doesn't sound as quixotic and snow-capped as I would've hoped.
To gain further insight on what I might be getting myself into, I bring up the topic of hooking up at Sundance on a private Facebook group for girls living in my area. I asked women to share their stories. One woman writes: "My friend actually got married to a guy she met at Sundance!" I bug her further details, but she goes silent. Still, maybe this means the festival is good for more than a short fling. At the very least I'd be able to find someone to kiss, fulfilling the bet. I'd kissed random guys in bars I'd just met in Los Angeles, so with a full 10 days to pursue a hook up, surely I'd be in business.
I arrive at Sundance and wait for my 2015 Sundance guy to text, checking my phone in between screenings and interviews, but a few days into the festival and he still hasn't contacted me. Did he change his mind? I alert Julia. "Ugh," she writes. "If he only knew he didn't even have to try." A few more days pass and I finally hear from him. Apparently he never made it to Sundance at all, thanks to a cancelled flight due to bad weather. Damn.
OK, no worries, I would just need to regroup. There are other people game to get down, surely. I just need to find them.
Michelle Toglia, Bustle's Sex and Relationships editor, is at Sundance, too. She decided to break her no Tinder rule for the festival. "I had heard that Sundance was a great place to meet people and that there was a big hook up culture, so I was like 'you know what? I'm just gonna try it out. Maybe I'll see a celebrity on here.'"
Michelle matched with around 20 guys on both Tinder and Bumble over her weekend-long stay, and says all the guys she chatted with were eager to meet up right away. "I think people who are at the festival want to make the most of it," she reasons. "It's easy for people to want to mix work and pleasure. I don't think this is the case at other conferences or festivals. Coachella is about fashion and dressing to impress people, but Sundance is a really relaxed vibe, and the party scene is huge."
She's right: It's huge. But the parties aren't all full of muscular men rocking cute winter hats, cozy sweaters, and just-off-the-slopes rosy cheeks.
I attend two parties with Michelle and our fellow co-worker Rachel Simon that night. At the first party, one man approaches me and explains that he stars in a film premiering at Sundance. When I don't seem quite as impressed as he might like, he puffs up his chest and repeats the information: He's starring in a film at Sundance — in case I didn't hear him the first time. "I play the villain," he says. "Can I but you a drink?" I remind him the drinks are free, and he laughs and asks my name. "Bridget," I say, my go-to fake name, inspired by Bridget Jones herself, and quickly make my exit. Sure, I'm impressed he's in a film at Sundance, but not so impressed — or surprised — that hes hammering the point home in an attempt to score chicks. I thought this was going to be easier.
The next party is worse. Way worse. Hosted by a popular nightclub, the jam-packed venue offers screamingly loud house music, nauseating strobe lights, and a plethora of overly eager bros. While Michelle has to stay and mingle, Rachel and I quickly decide we want to leave, but as we head for the door one guy puts his arms around me and pulls me onto him. I attempt to push him off, but his grip tightens. "Dude. Get off!" I say sternly. "What? You're not gonna dance with me?" He says, feigning outrage. "No, get the fuck off!" I say, and push him away with force. As Rachel and I shove through the sea of sweat and testosterone, I slam into a guy wearing a t-shirt reading, "Face Down, Ass Up." Get me out of here.
So maybe parties aren't the best place to meet decent dudes at Sundance. I turn to the digital dating reliability of my iPhone. No matter if dating apps are a curse or a luxury of modern romance, one thing is certain: There is never a shortage of potential mates in arms reach. I begin swiping and rack up a few options. One of them is the brother of a famous actor (I know this because I follow him, the famous brother, on Instagram). We begin chatting. He is dull, uninteresting, and uses zero punctuation. My profile reads "Oxford comma enthusiast," so you can imagine how quickly I lost interest. Next.
I swipe some more and soon land on a promising candidate. He's a reality TV star, known for his boyish charm, good family values, and charity work. I'm intrigued. Because the app requires women make the first move, I message him. We begin a rather standard, introductory discourse, and eventually he says we should meet up before we both take off. (For the record, we both live in LA, so there was no real urgency to get together.) I wait a day to respond — because dating is a terrible and cruel game — and then respond that sure, if he's free on this day, I'm down. And then I wait. And wait. And wait. My suggested meet up date passes.
I didn't end up hooking up with anyone at Sundance. Maybe I set my expectations too high. I certainly had chances to rub body parts with several different dudes, but I didn't want to do that with any of them. Maybe I was lusting after the wrong scenario: I couldn't have bearskin-rug sex, but I probably could have had sweaty-basement-sex. Julia never expected to hook up at the festival, and perhaps that was in her favor. "In all honestly, I was genuinely surprised both times, which is part of why they were exciting. I seriously had no intention or expectation of anything like this." she says. I, on the other hand, certainly had.
I head home on Friday and finally get a response from reality TV guy on Sunday night. "Hey! Come out tonight!" he writes, suggesting we meet at a spot two hours away from where I live. I translate that to mean: "Hey! It's already late, so come hang out, stay over, and have sex with me." Hard pass.
At this point, after exploring every conceivable avenue, I didn't really want to hook up anymore. I was exhausted from trying. The magic of what I thought Sundance would bring (hearty, bright-eyed mountain men with cinephile sensibilities) had faded into the reality that was a blizzard of fist-bumping bros. The guy I had been flirting with never showed up, the reality TV star seemed a little sleazy, and Sundance parties offered nothing for me. So for me, Sundance wasn't hot chocolate and a roaring fireplace, it was a horny frat boy wearing a sexually offensive t-shirt.
Julia never downloaded a dating app — after all, I lost the bet. Michelle never met up with her dating app matches due to time constraints — though she did get more than one guy begging her to cancel her flight in order to see them. And Diana didn't attend Sundance 2016, partly for financial reasons, partly because she didn't want to deal with the scene.
Professionally, Sundance was a success. It offered a plethora of opportunities — red carpet interviews, celebrity meet ups, networking with publicists — but when it came to my personal life, I failed to hold up my end of the bargain. I left without a hookup. Who knows, maybe if I hadn't had high expectations nor put a stupid amount of pressure on myself, I probably could have added notches to my Airbnb's bedpost.
Now that I'm back in LA, I don't have such high-stakes goals. There are no time constraints nor wagers surrounding my next romance, and I swipe as I please. As I write this article at an LA coffee shop, a cute guy approaches and asks if he can take the seat next to mine. "What are you working on?" he asks. I tell him I'm writing an article about Sundance. "No way! I love Sundance. What was your favorite film this year?"
Maybe finding a handsome, like-minded cinephile will be easier than I thought.
Images: Instagram; Anna Klassen; Anna Klassen