These "Super Bowl Babies" Are Hilarious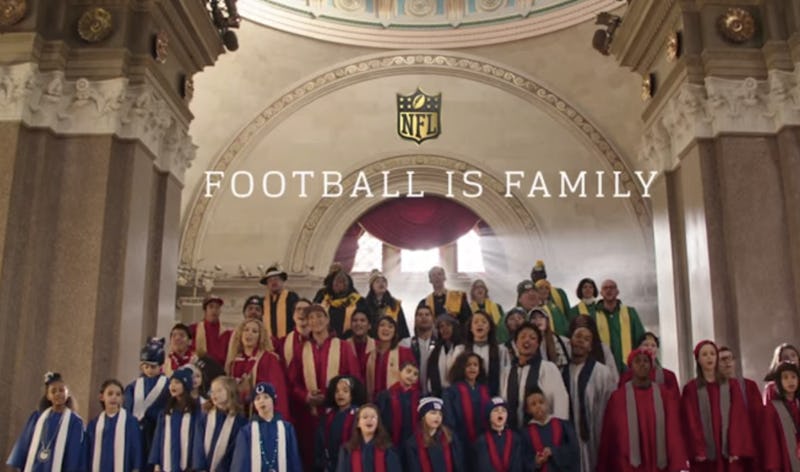 Sometimes, when mommies and daddies love each other — and football — very much, and their home team wins the Super Bowl, they celebrate that love by calling an audible for a very special running play all the way into the end zone. That's right, data suggests that you may need to add something rather surprising to your birds and the bees talk — like football. The NFL has released a hilarious "Super Bowl Babies Choir" video celebrating babies born nine months after their hometown football team won the championship.
It seems like common sense when you think about it. Sports are awesome, winning is awesome, and I can't think of a better way to celebrate a freshly won championship than by running the blitz behind the line of scrimmage if you know what I mean. And to make this commercial even more amazing, the original king of the middle school slow dance, Seal, didn't just license "Kissed From A Rose," he also plays along with the new (and, I honestly can't believe I'm saying this, improved!) lyrics by serenading the known universe from a field with a view of the Golden Gate Bridge.
Keep your eyes peeled for a winning performance from the little crooner in the New York Giants hat. And a major shoutout to the back-to-back Dallas Cowboys babies born in '93 and '94 for delivering the greatest foreplay innuendo lyric in the history of music with, "There were no more jalapeño chili bacon chicken wings."
And if you can get through this video once without having to pause and rewind to laugh hysterically, you should probably seek medical attention immediately.
So, why might this phenomenon ring true in so many cities with winning NFL franchises? Here are some ideas I came up with for why Super Bowl and Chill is leading to so many November babies going home in tiny football jerseys.
The Lombardi Trophy is a fertility totem
Every wonder why Tom Brady has so many kids? It must be because the Lombardi Trophy is secretly a fertility totem. Any team that wins the Super Bowl is granted 48 hours of extreme virility. This includes fans. Panthers and Broncos fans may want to consult Ava Kay Jones, the real life voodoo priestess of the NFL, for specifics on the effects of said totem.
The romance of Valentine's Day is Super Bowl spill-over
Fifty years ago, the Super Bowl was scheduled for the beginning of February to prop up the aging Valentine's Day institution. Now that everybody knows that the Super Bowl puts the champ in champagne, it makes perfect sense why the candy lobby would support the big game with all of those Skittles commercials. The freakier football fans get after the fourth quarter, the more chocolate will be flying off shelves the following week. That's just math.
There's something about those chicken wings
Something about Super Bowl chow just turns people on in a way that's amplified when victory is added to the equation. My money is on the chicken wings.
Babies, it's cold outside
If you look at the Super Bowl victors, the cities with winning teams are frequently places that have ridiculously cold winters. That may be why we see so many Super Bowl babies conceived in the frigid Boston, Pittsburg, and Green Bay Februaries and no such reports of miniature baby booms in Los Angeles every March following a Lakers championship.
Can't get enough football? Check out Bustle on Youtube!
Images: NFL/Youtube; Getty Images (2); Pexels; I Am A Food Blog