These Movies Are Perfect For A Downer Feb. 14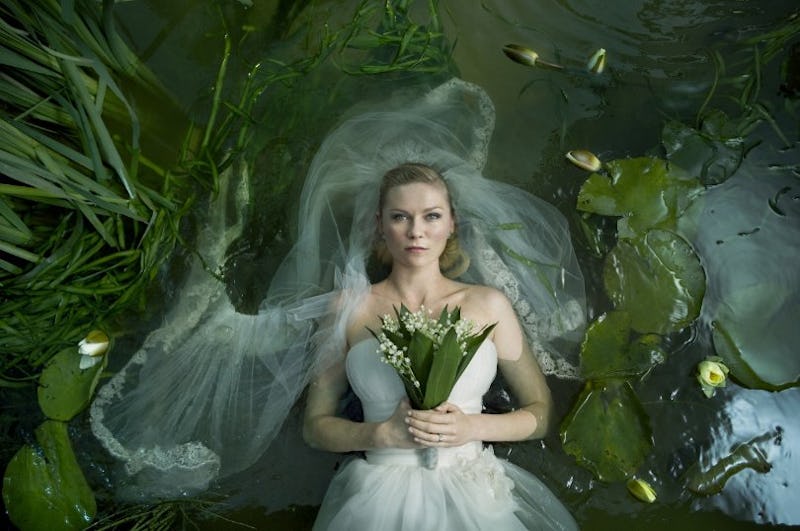 There are a few telling signs that Valentine's Day is fast approaching: New aisles crop up in CVS and Duane Reade, filled with heart-shaped chocolates in deep reds and purples; advertisements and shop promotions start mentioning buzzwords "steamy" and "romantic"; your favorite restaurant books up a bit faster than usual. The pressure only mounts as Feb. 14 draws closer and closer. Do you have any plans? friends might start asking. But for some — whether single or just a bit of a cynic — Valentine's Day is a shell of a holiday, marked by Hallmark cards and excessive chocolate consumption and not much else. These 11 anti-Valentine's Day movies defy the treacly sweetness of the holiday, and they're perfect for the most bitter and anti-Valentine's lovers among us.
Why spend a premium on Valentine's candy when cherry cordial Hershey's Kisses will be on sale just a few days later? Shouldn't a person buy himself or herself or themselves flowers at any time of year, not just when it's socially dictated? And even if you're happily in a relationship, why should celebrating it be relegated to a single day a year? So break out the popcorn, queue up your Netflix, and experience all the downsides of romance along with these 11 movies.
1. Melancholia
Kirsten Dunst, Charlotte Gainsbourg, Alexander Skarsgard, and Kiefer Sutherland co-star in this utter downer of a Lars Von Trier film. It starts from the end — of the earth, that is — and then rewinds to depict a tangled web of relationships slowly unraveling as a nearby planet turns on a collision course towards earth. Spoiler alert: Everything falls apart and they all die. The title alone says it all. Melancholia is available to stream on Netflix.
2. The One I Love
At the behest of their marriage counselor (Ted Danson), Ethan and Sophie (Mark Duplass and Elizabeth Moss) plan a weekend getaway to a remote mansion in an attempt to rekindle their romance. But their getaway quickly turns supernatural, and The One I Love rapidly moves from understated drama to taut psychological thriller complete with mistaken identity and uncanny doppelgangers. It's currently available on Netflix.
3. 6 Years
A once idyllic relationship between two teenagers (Taissa Farmiga and Ben Rosenfeld) turns violent as they approach a new chapter in their lives. Mel and Dan grew up together and began dating when she was 14, he 15. They go to college together, but as Dan nears graduation, they start to grow apart — and neither is quite sure who he or she is without the other. 6 Years is up for streaming on Netflix.
4. Blue is the Warmest Color
Don't go looking for a happy ending with Blue is the Warmest Color, the stunning French film that won near-universal acclaim beginning with its Cannes debut. Adèle Exarchopoulos plays Adèle, a young woman who falls for Emma (Léa Seydoux), an art student she meets one night at a lesbian bar and then finds herself inexorably drawn towards. But as heated as their relationship becomes, it's also radically unstable, and the three-hour odyssey that is Blue is the Warmest Color doesn't shy away from even its most difficult scenes. This one, too, is available on Netflix.
Stream Blue is the Warmest Color here.
5. American Beauty
American Beauty affirms that Alan Ball, the mastermind behind Six Feet Under and True Blood, can do no wrong. Kevin Spacey plays Lester Burnham, a middle-aged suburban dad on the cusp of midlife crisis who becomes obsessed with his teenage daughter's best friend Angela. It's funny and tragic with a touch of Philip Roth and excellent performances from Spacey, Annette Bening, and Allison Janney.
6. Beginners
Beginners might actually be the perfect movie for both the romantically attached and the cynically single. It depicts the fraught relationship between Oliver (Ewan McGregor) and Anna (Mélanie Laurent), a young couple each with their own commitment-phobic baggage. And behind their relationship is Oliver's elderly father, who's recently come out as gay with the death of his wife. It's a quiet movie with an ambiguous ending that allows you to take from it what you will. Again, Netflix it.
7. Eyes Wide Shut
A dysfunctional marriage sets off the sexual odyssey that occupies the bulk of Eyes Wide Shut. Stanley Kubrick's last film stars Tom Cruise and Nicole Kidman as a doctor and his wife with a troubled relationship. Cruise's character sets off on an exploration of a cultish underworld where passwords and costumes protect the identities of the elite party-goers at a ritualistic orgy. Eyes Wide Shut is currently on Netflix.
8. Ex Machina
Though Alicia Vikander didn't receive as much recognition for her performance in Ex Machina as The Danish Girl in 2015, the artificial-intelligence drama was arguably the best thing she did last year. Oscar Isaac plays a brilliant, muscle-bound programmer who spends his days in seclusion, building increasingly intelligent android women. He brings in Domhnall Gleeson to administer the Turing Test, a gauge of artificial intelligence that tests whether the subject is self-aware, on his most recent creation — a cyborg played by Alicia Vikander. Ex Machina deserves a spot on this anti-Valentine's list for the way it subverts the sexy-AI trope. Though there's a touch of romance at the center of the film, in the end, it's all about survival instincts. Ex Machina is available on Amazon Prime.
9. Skeleton Twins
Twins (Kristen Wiig and Bill Hader) attempt suicide on the same day, and are reunited in the process. The boy-girl relationship at the heart of Skeleton Twins is that between siblings, rather than romantic interests, so it's the perfect antidote to Valentine's Day while still remaining quite sweet and heartfelt. It's got a biting edge, too. Skeleton Twins can be streamed on Amazon Prime.
10. Romeo and Juliet
You know how this ends, right? The most recent iteration of Romeo and Juliet stars Condola Rashad and Orlando Bloom, and it's now available on Hulu.
11. Blue Valentine
Though Blue Valentine isn't currently available on any of the big three streaming services — Netflix, Amazon Prime, or Hulu — it's impossible to celebrate anti-Valentine's without the most bleak romance to grace the screen in the past decade. The ill-fated relationship between Ryan Gosling and Michelle Williams' characters breaks down in slow-motion over the course of the movie. It juxtaposes their early blissful days with their final attempts to reconcile, with heartbreaking results.
A solid 24 hours of movie-watching later, you will have escaped February 14 entirely, accompanied by a few of the darkest cinematic relationships in recent history. And then it's February 15, and all the chocolate goes on sale.
Image: Magnolia Pictures