7 Feminist Valentine's Day Date Ideas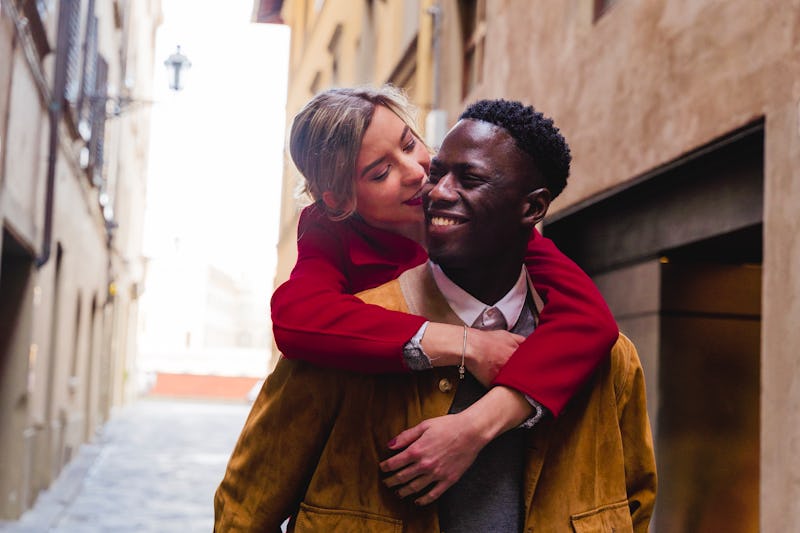 Westend61/Westend61/Getty Images
When you think of Valentine's Day, you likely think of chocolates, roses, and a standard candlelit dinner date with your sweetheart. But, why not do something a little different this year and celebrate with some feminist Valentine's Day date ideas?
Let's get one thing straight first: at its core, feminism is really the quest for equal rights for both sexes. In fact, anybody who desires equal rights (which, uhhh, should be all of us) is a feminist. So as long as you're celebrating love this Valentine's Day, celebrate your love for equality, too. Valentine's Day is pretty much the occasion to get out and enjoy some romance with your special someone. But, this year, why not give the day a little more meaning by skipping the old standards, and enjoying a feminist date or celebration?
Don't know where to get started? I don't blame you. Feminism and Valentine's Day — a commercial holiday that typically reinforces all of those age-old gender stereotypes — is a combination that likely makes you go, "Huh?" at first glance. But, hear me out! I have pulled together seven feminist Valentine's Day date ideas for you and your partner to have your most meaningful holiday yet.
1. Recognize V-Day
If you're anything like me, you likely always thought that the "V" in "V-Day" was just shorthand for Valentine's. And, that's true in some cases. However, there's another V-Day that has a much more serious meaning. It's actually the global activist movement to end violence against women and girls.
What can you do to get involved? Find a V-Day event in your area. If there's nothing near you, you can also volunteer with your significant other at a local women's shelter. A date that involves together time and a good deed? It's sure to be your best date ever.
2. Put together a Galentine's Day
Why not skip the standard date all together, and instead make Leslie Knope proud by planning your very own Galentine's Day for you and all of your girlfriends? An afternoon or evening spent with all of your favorite ladies surely won't disappoint. In fact, it might just become your new favorite Valentine's Day tradition.
3. Write a love letter
Love letters on Valentine's Day sound pretty standard — particularly if they're complemented by tons of red and pink glitter. But, this Valentine's Day, put a new twist on that lovey dovey tradition. Sit down with your partner and decide who or what you'd each like to write a love letter to — other than each other.
Maybe you want to give yourself a nice confidence boost and write a love letter to yourself. Or, perhaps you want to write a love letter to equality. Pick something different, and get to it.
4. Switch roles
Here's the thing — we can't be all for equality only when it involves good things. As the iconic Dolly Parton once said, "If you want the rainbow, you gotta put up with the rain." So, this Valentine's Day, participate in a little role reversal with your partner.
Is your significant other typically the one who makes the dinner reservation, drives to the restaurant, and picks up the check? Well, now that's your job this year. Doing this is not only a great way to switch things up and give your partner a break. But, if you're a heterosexual couple, it's also an effective way to challenge the gender stereotypes of what society thinks men and women should do on dates.
5. See a showing of the The Vagina Monologues
As a show that addresses women's sexuality and the social stigma around rape and abuse, The Vagina Monologues is basically the most feminist thing you could go see on Valentine's Day. Plus, remember how I mentioned the V-Day movement up above? That was actually started by Eve Ensler, The Vagina Monologues' playwright. So, check to see if you can find a showing in your local area.
6. Make your own Valentine's Day cards
It's time to get a little crafty with your partner. Dig out all of that untouched supplies, and sit down for some good, ol' fashioned arts and crafts. Put together some Valentine's Day cards not only for each other, but for the other people you love in your life — Valentine's Day is a celebration of love (and not just the romantic kind), after all. Of course, you should be sure to make a few feminist Valentine's cards as well.
7. Curl up on the couch
There's nothing better than snuggling on the couch with your beloved. This year, grab some of your favorite feminist literature or films, and enjoy those with your partner. Whether you want to watch Fried Green Tomatoes or G.I. Jane or you want to dig in to some Virginia Woolf or bell hooks, it's sure to be an educational and inspirational ending to your Valentine's Day together.
Images: Westend61/Westend61/Getty Images; Giphy (7)