How I Reintegrated This Act Into My Sex Life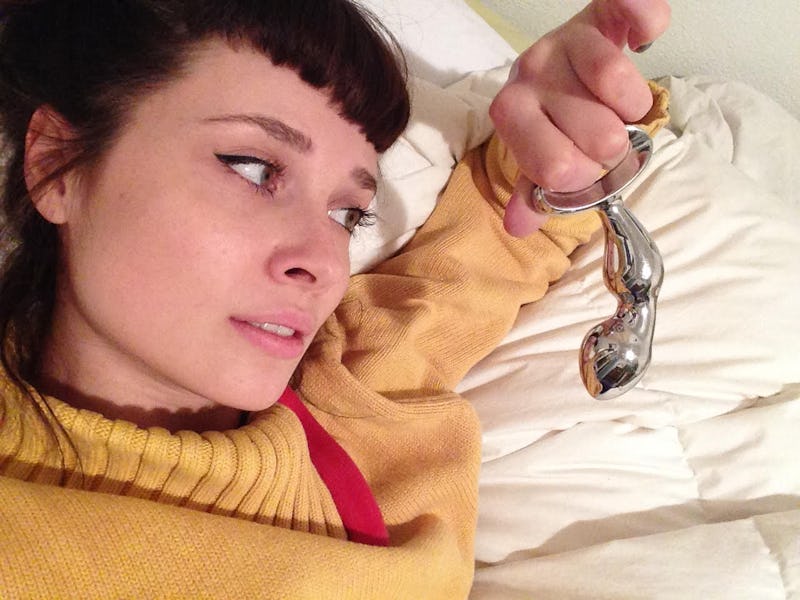 Anal sex used to be a familiar friend of mine. The first time I ever did it was with my first boyfriend when I was 15 — I found it unpleasant when I was young, but in my late teens I began to actually enjoy a little butt play. I purchased an anal dilator set and lube, and lowered myself down onto each increasingly larger toy. I'd proudly sext guys I barely knew pictures of my ass with the base of a butt plug peeking out from between my cheeks. I fancied myself a real anal champ.
I loved anal sex for many reasons. I was able to have orgasms because my g-spot was indirectly stimulated through the lining between the vaginal and anal canals. I also liked the fact that it was a bit more difficult than vaginal intercourse, and when I succeeded in having pleasurable anal sex, it felt like I'd completed an expert level SuDoKu puzzle. And even though I hate to admit it, I liked the fact that anal sex was not something everyone was interested in receiving, which made me feel like I was an extra-special treat for the men who craved it.
Almost two years ago, I had a relationship where my partner and I exclusively had butt sex. This was mostly because he had a smaller penis, and it just felt better for both of us when we did it that way. But while I'd experienced the occasional discomfort that rougher anal sex left behind, I had never previously felt the horrible and agonizing pain that is an anal fissure. Our frequent anal sex eventually created a tear in my anal canal, and it was unable to heal because bacteria from the area was irritating it. I'll never forget the pain. The day after the tear, I was at an off-Broadway show with my mom and spent half the duration of the play in the bathroom massaging my anus as it slowly bled. I stopped having anal sex after that.
In the year and a half since then, I'd used some small butt plugs a few times, but I always wound up pulling them out quickly. It's hard to believe that one little tear caused me to cease my anal enthusiasm entirely. But even though I knew that it was entirely possible it could happen again, I wanted to rediscover my love of butt play, and slowly work my way back to having anal sex again.
So, I prescribed myself a full week of butt play while I was on vacation to get me back on track. There were no rules, the only requirement was that I HAD to play with my butt every day. Anal sex with a penis was not my goal for the week, even though I was hoping I'd be ready by the end. The butt is ever so sensitive, and needs to be wined and dined before you can take the plunge, so I figured a good week of butt play would be a great way to progressively get my ass back in action.
Day 1: I don't wanna!
Even though I was rearing to go initially, my excitement quickly vanished when I got ready to actually get down to business. I still wanted to go forward with it, but butt play just seemed like a chore when I thought about it. I wasn't afraid of getting injured so much as I just wanted to play with my pussy instead. I had to remind myself that I really wanted this, my week-long butt experiment was for no one other than me, and I knew I'd regret it if I didn't at least make an attempt. This was going to be fun, after all!
I decided to get started with a warm bath, and after I'd gotten in my boyfriend entered the bathroom with my favorite waterproof vibrator and some silicone lube. "Are you READY?!" he asked with cheerleader levels of enthusiasm. I nodded that yes, I was ready, and he sat down on the floor next to me. He wasn't particularly eager to get into my butt, but he was fully supportive of my experiment and happy to help.
He wound up helping me feel much more relaxed than I would have otherwise, starting out by slowly massaging my thighs and butt. I could have fallen asleep right there. After a few minutes passed, he made his way to my butt hole and started making slow, firm circles around it, eventually making his way to the center. The lube made everything easy. His finger slid in without too much effort, and I focused my intention on relaxing internally, but it couldn't have been more than five minutes before I was calling it quits. I wasn't in any pain, but it wasn't particularly pleasurable either. My body was buzzing, but my butt began to feel quite lovely after I rested a few moments. With all the blood rushing to my butt, it actually felt like I'd given myself a nice healthy wake-up in that area.
Day 2: Time to start using a toy
I got back very late that night, way past my usual bedtime of 2 a.m., and was beyond exhausted. I have to play with my butt! I reminded myself, matter-of-factly. I reached into my box of sex toys and unearthed a stainless steel plug that I used to use quite frequently. It wasn't the smallest plug I had, but it was the first one I managed to find, and I remembered loving it.
The warm water had really helped me out the night before, so I plopped myself back into the bathtub. I used my vibrator again, and then just my fingers. I only let a few minutes pass before I decided to go for the butt plug. It felt a bit uncomfortable, and I could feel my body internally shifting around to accommodate the new shape. I wiggled it around, looking for a sweet spot, but ultimately ditched the toy and returned to using my finger. After using the toy for a moment, my fingers suddenly felt divine.
At some point, I felt myself let go of the tension I was holding in my chest and stomach. Relaxing took more than mindfulness, it was like an autonomic release within my body. The sensation felt as though there was a tight cord running from the top of my head all the way down to my butt though the center of my body, and that cord had suddenly been cut. I noticed this happening, but kept gently moving my finger as I experienced it. The whole session lasted 10, maybe 15 minutes, but afterward I felt more excited and motivated to explore my butt than ever before.
Day 3: Reaching a breaking point
I'd had a long, frustrating night, and I was a very crabby girl. My boyfriend, desperate to cheer me up, offered to eat my butt out, so we spread my special water-resistant sex blanket over my bed and I laid on my back, ready for action. While it felt really nice, it mostly just tickled and didn't really give me any sexual pleasure. Ass eating gradually turned into him putting two fingers in my ass, which suddenly inspired me to grab a slim dildo and just go for it. It went quite well — I was able to move the toy in and out a bit instead of leaving it in like a plug, and I began to recall what anal sex felt like. I even thought I might have been able to orgasm if I hadn't been so cranky earlier in the evening.
After a good 15-20 minutes of butt play, I grabbed my Magic Wand vibrator and a larger dildo I use vaginally so that I could finally have an orgasm. (I hadn't had one for a few days.) Maybe it was my mood, or maybe it was the fact that my butt had been the center of attention for a few days, but masturbating felt kind of shitty. It was as though all the focus I'd put on my butt was making me struggle to put my attention on my vaginal muscles and sensations. Out of sheer frustration, I removed my dildo, threw it across the room as I let out a whine, and watched it bounce and roll around until it hit a stopping point. What the fuck! I always know how to make myself come, and that just felt like… nothing.
Day 4: Considering giving up
After my outburst the night before, I decided to pay attention to my butt a little earlier in the day instead of waiting until the last minute. This time, I moved too quickly. I hastily inserted one finger, then two fingers, but quickly felt a twinge of pain once I went in past my knuckles. I figured I'd gone a little too hard with that dildo the night before.
That night, my boyfriend and I had vaginal intercourse for the first time since my butt experiment began. We tend to stick to the same routine when have sex because we know that it works for both of us. This butt experiment was definitely out of my usual repertoire, and I felt like it was taking a toll on the other aspects of my sex life.
Day 5: Finally, a reward
After essentially having a day off from butt play, I approached day five with an open mind. I warmed myself up with my fingers, but decided to opt for a vibrating butt plug AND an external vibrator so that all my muscles could let go and relax. The plug had a typical shape, with a pointed tip, wide bulbed body, and small neck around the base. I positioned the tip comfortably at the center of my anus, and placed my boyfriend's hand against the base and told him to press it in slowly and firmly.
We maneuvered the toy in and out of me slowly, inching closer and closer to full insertion with every stroke. I had trouble taking the toy at it's widest point, however, so we continued to bob the toy in and out halfway until… a random wave of orgasmic sensations washed all over my body! It didn't feel exactly the same as my vaginal orgasms, but it definitely originated from my G-spot. The tip of the plug must have been vibrating up against my G-spot even though it had barely made it in my body. I was totally flushed and joyous, but very caught off guard by this orgasm since I can usually feel them coming ahead of time.
Day 6: The home stretch
Despite my successful butt orgasm the night before, I was quite sick of playing with my ass. It wasn't that I didn't enjoy it, I just knew it wasn't a thing my body could handle on a regular basis. Maybe this was the sort of thing I could only enjoy every once in a while when I was truly excited about it. Everything felt "meh" by day six, so I lazily got back in the bathtub and fingered my butt lazily until I'd had my fill.
Day 7: The grand finale
I had originally told myself to not push for butt sex on the final day of my experiment, but as I lay in bed warming myself up, I easily managed to fit three fingers in at the same time. When my fingers were inside, I could wiggle the tips of all three fingers around with ease. At the opening of my anus, it felt like a tight rubber band cinching my index, middle, and ring fingers together into a bundle, but inside it was soft and fleshy, like reaching inside of a melon. "Wanna fuck my ass?" I propositioned my boyfriend. He wasn't sure I was serious at first, but when I assured him I was for real, he reached for a condom and some lube.
I lay on my side and he lay down behind me in a spooning position. When I used to have butt sex frequently, it was always on my back, but I thought this position would give me more room to maneuver his dick in at the right angle. After slathering both him and my butt in lube, I reached behind my back and poised him for entry. And guess what? It went in easily! Most importantly, it was also pain-free. He was careful to not hurt me, and did exactly as I said so that it never became too intense.
* * *
Moving forward, I think that I'd like to incorporate butt play into my life by using it as a supplementary add-on to vaginal intercourse. Do I recommend a full week of butt play? Hell no. The butt really isn't designed to be marathoned like that, which is why I had to take it easy on some days. I do think that everyone ought to explore their ass in some capacity, just not the way that I did. Instead, I invite you to learn from my anal mistakes.
This week reinforced two anal rules I already knew; that there is no such thing as too much lube or moving too slowly. I also learned some more subtle lessons about the nature of the butt. My butt has moods that seem to wax and wane without any predictable pattern. Sometimes it's happy, open, and receptive, but it's just as likely to be tense and uncooperative. I can't just play with it whenever I want to like it's my pussy, and that's what I find the most confusing part about anal pleasure. Ultimately, I know that it's worth listening to what my butt wants because it will reward me with lovely butt orgasms and varied sexual adventures.