& Other Stories Same-Sex Couple Ads Are Gorgeous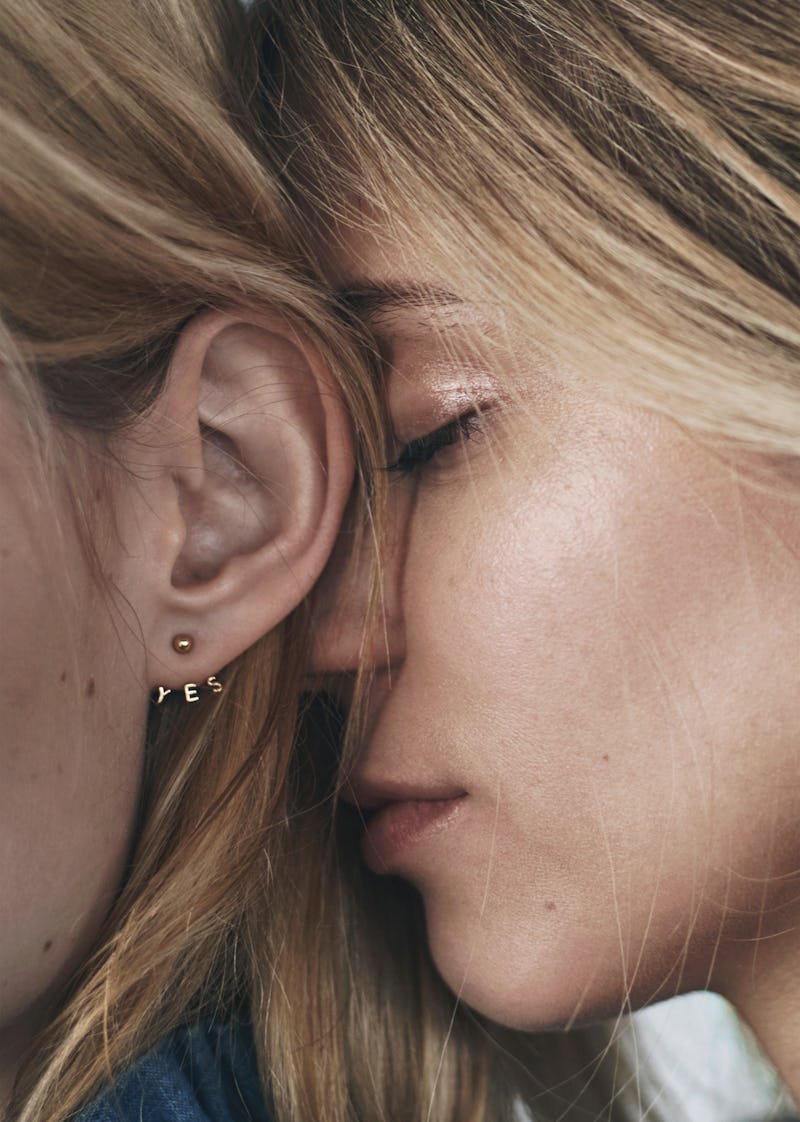 If you're super turned off by all of the lovey, dovey Valentine's Day ads out there, then you're going to love this. & Other Stories most recent ad campaign features a same-sex couple with some killer tattoos, because love doesn't have to look a certain way. The campaign is showcasing the brand's jewelry collaboration with FAUX/real and it's everything you could want, in terms of advertising and accessory design.
These ads may have come out just in time for V-Day, but they're not about portraying a classic love story. "Through this collection FAUX/real is telling a story to show a new modern way of love-chasing through jewelry pieces that attract and lure," the founders of FAUX/real, Mari Ouchi and Louis DeCicco, said in a press release. If you're more into subtle, yet beautiful gold pieces, then this is just the kind of thing you're hoping to get from your SO this year (feel free to send a link to this article to them, btw). These simplistic wares are just as beautiful as the photography itself, and it's so nice to see a fresh take from the fashion world, especially during a time of flower arrangements and teddy bear overload.
Check out & Other Stories' ads along with nine other ground-breaking moments from the fashion and beauty industry. There's still a long way to go in terms of diversity in the fashion world, but these advertisements remind us just how far we've come.
This is my idea of a modern love story.
Those rings (and those tattoos) are so cool.
Simple necklaces, bangles and rings are exactly the kind of thing I'd like to receive on V-Day.
If that's not a chic take on cupid's arrow, then I don't know what is.
Now, see some of the other major moments fashion and beauty have had:
1. Banana Republic
This brand has been known to feature same-sex couples in it's dapper men's ads.
2. Calvin Klein
This classic brand is no stranger to modern advertising.
3. Tiffany & Co.
Because love triumphs all, and Tiffany & Co. gets it.
4. MAC Cosmetics
MAC proved beauty comes in all shapes and sizes.
5. H&M
Finally, a woman wearing a hijab was featured in an ad campaign for H&M.
6. Aerie
Aerie ran a series of ads without retouching to prove that no-photoshop is sexy, too.
7. Forever 21
Forever 21 snagged the body positive Ashley Graham to show off their first-ever plus-size activewear line.
8. Obsessive Compulsive Cosmetics
A brand that's known for being gender-inclusive? How awesome is that?
New and different looks are an exciting part of fashion, and it's the best when the advertising reflects that spirit, too.
Images: Courtesy of & Other Stories (5)