OCC Is Using A Different Kind Of Model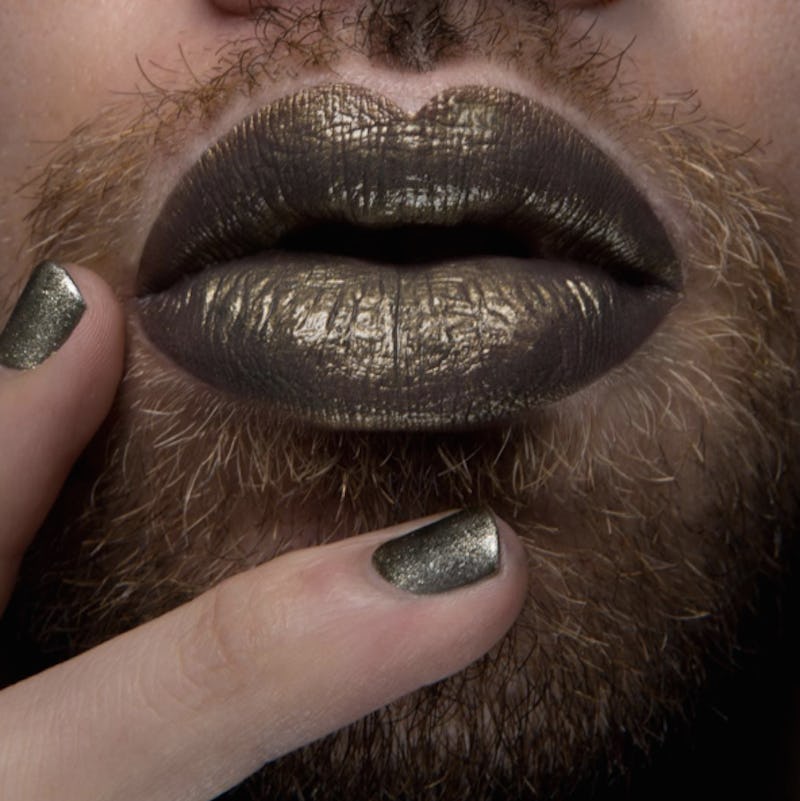 On Dec. 16, Obsessive Compulsive Cosmetics' loyal fan and follower base was going off in the comments section of Instagram regarding the beauty brand's latest post. As part of its regular "Lip Of The Day" series on IG, this photo showcased OCC's Lip Tar in "Derelict" and its matching Nail Lacquer from the Asphalt World Collection. However, the captivating camo green color with a gold, shimmery finish was not the cause for all the stir. Much of the attention and resulting comments focused on the model who was rocking these done-up lips and nails — and who happened to have a beard.
This isn't the first time OCC had used a model assigned male at birth in its beauty ads, but it is the first time I've come across commenters becoming this invested — be it in a positive or negative way — in this choice. Multiple followers expressed disgust in the comments with a simple "yuck," "nooo" or "ewwwwww." Other commenters expressed more complete (yet still frustrating) thoughts, like, "Why is this sexy?" or "Yuck, not pleasing to the eye." Or my personal favorite, "Why can't women just have makeup? Men have everything else."
Close-minded and arguably transphobic comments such as these, while sucky, are not altogether surprising in this day and age. Luckily, the overwhelming response of other followers firing back against the critics helped drown out a lot of the negativity and shaming. Supporters shut down the haters with remarks such as, "YAS @occmakeup fuck gender norms!" Clearly, the Internet isn't always the worst.
Despite the seemingly inevitable negative reactions, OCC has actually had a long history of being gender-inclusive.
"We've actually used male models several times on our Instagram and in campaigns dating back to 2011's Pretty Boy Collection," David Klasfeld, CEO and Creative Director of OCC, tells me via email.
This particular collection was inspired by androgynous rockers like David Bowie and Boy George, and was marketed toward all genders. Its campaign featured male models rocking the collection's colors, including Lip Tar shades "Butch," "Femme," and, of course, "Pretty Boy."
And, as Klasfeld confirms, the brand has posted multiple Lip Of The Day shots featuring bearded and masculine models, including a makeup look to commemorate Pride Day.
"OCC is thrilled to showcase diversity in all its forms and additionally also wants male customers to feel spoken to by our advertising as well," Klasfeld tells me. "Men are increasingly wearing more and more makeup as can be seen on MTV, Instagram certainly, and in the streets. We're happy to not only to address this growing demographic but to embrace them."
This isn't a brilliant move for men alone, though, but for trans individuals, genderqueer individuals, and individuals on every part of the gender spectrum. Personally, I applaud OCC's mission, and would love to see even more models assigned male at birth included in its brand advertising. It's essential for trans and gender nonconforming communities to be represented in all areas, including the beauty industry. And this includes representing bearded models with makeup, since rocking a beard (normally a masculine identifier) with lipstick is still too often looked down upon, and is therefore pretty subversive against beauty standards and gender norms.
It's incredibly useful for popular brands like OCC to embrace gender fluidity, and all gender identities. Not only for the purpose of being considerate to their entire customer base, but also to help de-stigmatize masculine people wearing makeup. The mixed comments attached to every one of the brand's posts featuring a male-presenting model, while revealing and at times disturbing, confirm the need for this inclusion even more.
Images: occmakeup/Instagram; Courtesy Obsessive Compulsive Cosmetics