6 Last-Minute Super Bowl Hacks And Recipes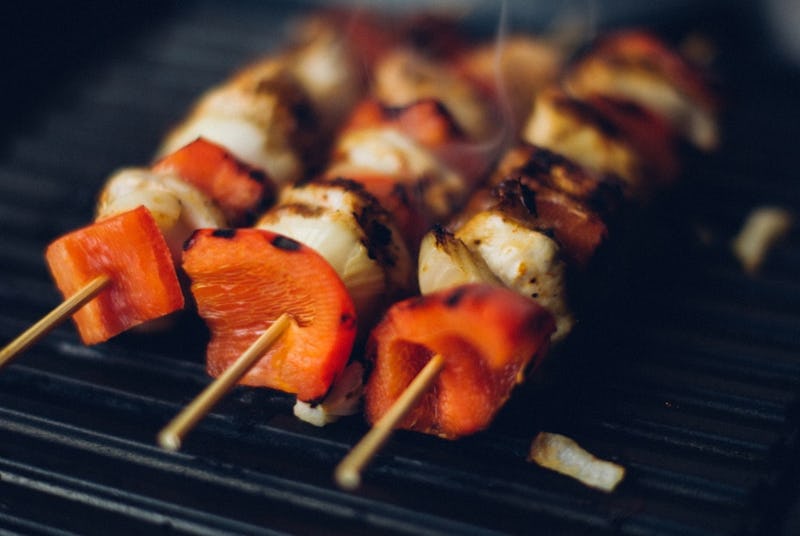 The Super Bowl is upon us and if you find yourself in the hot seat of hosting, you'll want to read up on these tips and tricks to ensure an enjoyable time for everyone involved. Chef Tim Love serves up some last-minute Super Bowl ideas (and a few of his signature football-friendly recipes) for first-time hosts and anyone looking for a stress-free get-together where the only drama happening is on the screen. His game day pointers will guarantee that all your guests get fed without missing any game time action, all while you avoid any unnecessary stress.
Texas-born Chef Tim Love is famous for his urban western cuisine and business savvy. He started his culinary career in Knoxville, Tennessee, working in the kitchen to earn extra money while at the University of Tennessee completing his degree in finance and marketing. His business education served him well — his culinary empire now spans from Seattle to his alma mater Knoxville, and he's the host of CNBC's Restaurant Startup. Still, the Lone Star State boasts some of Love's most emblematic outposts, like Love Shack, his classic burger joint, Woodshed Smokehouse, Queenie's Steakhouse, and The White Elephant Saloon, as well as his flagship restaurant Lonesome Dove Western Bistro. For good reason, Love has become something of a "de facto ambassador" for Texas.
For Super Bowl 50, Love, a dedicated sports fan and tailgate participant, says he'll be back on his ranch in Gordon, Texas, grilling up some delicious game day fare, figuring out who he's rooting for, and hanging out with his kids. His game day go-tos are straightforward and no-fuss, and get a little extra kick from Hellmann's Mayonnaise, for which he's a national spokesperson. Read on for the southern chef and seasoned host's best advice for a terrific game day experience, as well as a few of his very own recipes that are sure to score points with your guests.
1. Make Food That's Easy To Eat
When it comes to game day food, Love emphasizes the importance of serving up options that are easily eatable. As much as possible, avoid food that requires forks or plates. Opt instead for sandwiches or skewers — something guests can hold in one hand. You want guests to be able to focus on the big screen, not balancing a plate full of food, and the free hand will come in handy when they need another swig of their cold one. Burgers are Love's go-to, and he's remixed the game day favorite to be even easier to enjoy with his innovative "Burger Dog."
Tim Love's Burger Dog
Servings: Four
Ingredients:
10 ounces beef brisket, trimmed of fat and cut into small chunks
1/2 teaspoon ground black pepper
Hellmann's or Best Foods Real Mayonnaise
Instructions:
Heat the grill to medium-high, and lightly oil the grates.
In a food processor, combine the sirloin and brisket and pulse until ground.
Transfer the meat to a large bowl, add the salt and pepper, then gently mix.
Divide the meat and form into four equal portions, and shape the "burgers" into a hot dog shape.
Lightly toast hot dog buns, then set aside.
Sear them on all four sides for extra char flavor, about two and a half minutes per side for medium.
During the final minute of grilling, top each burger dog with a slice of cheese.
To assemble the burgers, top each bun bottom with a burger and top with pickles, and a squeeze of Hellmann's or Best Foods Real Mayonnaise.
2. Make Food That Can Sit Out And Still Be Delicious
On game day, it's key that your food options can sit out for three and a half hours and still be delicious. Guests will want to come back to the buffet and snack throughout the game, so make sure what you're serving up won't go bad between kickoff and overtime. Love says that meat skewers are always great. His go-to is pork tenderloin with a light dijonnaise. While he's an expert with meat, Love also knows how to deliver great vegetarian options. His non-meat version is still packed with full game day flavor, with grilled buffalo cauliflower skewers topped with blue cheese.
Veggie Buffalo Cauliflower Skewers
Ingredients:
1 whole head of cauliflower broken or cut into two-inch pieces
1/2 cup Hellmann's or Best Foods Real Mayonnaise
1/2 cup Frank's hot sauce
2 tablespoons crumbled blue cheese
1 tablespoon kosher salt and 1 tablespoon cracked black pepper
10 skewers soaked in water
Instructions:
Preheat oven to 450 degrees.
In a mixing bowl big enough to hold all of the cauliflower, add olive oil, salt, and pepper.
Add cauliflower and toss until all the cauliflower is coated in the salt, pepper, and oil.
Skewer the cauliflower.
In a small mixing bowl, mix the Hellmann's or Best Foods Real Mayonnaise and the hot sauce.
Place the skewers on a roasting rack, and place in the oven for 30 minutes.
Remove from the oven, and immediately paint them with the hot sauce mixture.
Top with the blue cheese and serve immediately.
3. Don't Underestimate The Power of Mayo
It's no surprise that Love's savory dishes call for Hellmann's, but his sweet dessert option gets a little extra something from mayo as well. The eggs, oil, and vinegar makeup of the mayo serve as an excellent substitute for eggs, adding some extra acidity and providing a great base for baking. The subtle tanginess adds a little zip, making for an awesome chocolate cupcake.
Super Moist Red Velvet Cupcakes
Makes 24 cupcakes
Ingredients:
1 box (16.5 oz.) yellow cake mix
Water as specified on cake mix box
1/2 cup unsweetened cocoa powder
3 large eggs
1/2 cup Hellmann's or Best Foods Real Mayonnaise
1 tablespoon red food coloring
8 ounces cream cheese, softened
1/2 cup I Can't Believe It's Not Butter! Spread
1 teaspoon vanilla extract
4 cups confectioners sugar
Instructions:
Preheat oven to 350 degrees. Line 24-cup muffin pan with paper cupcake liners; set aside.
Beat cake mix, water, cocoa powder, eggs, Hellmann's or Best Foods Real Mayonnaise, and food coloring in large bowl with electric mixer on low speed, 30 seconds. Beat on medium speed two minutes, scraping bowl occasionally. Spoon batter into prepared pans.
Bake 18 minutes or until toothpick inserted in centers comes out clean. Cool on wire rack for 10 minutes. Remove cupcakes from pan and cool completely before frosting.
Beat cream cheese, spread, and vanilla in large bowl with electric mixer until smooth for frosting. Beat in confectioners sugar on low speed until blended. Beat on high speed until light and fluffy, about one minute. Frost cupcakes.
4. If You're Cooking In A Small Apartment, Use A Cast Iron Grill
Assuming not everyone has access to an actual grill and might be serving up game day fare from their small studio kitchen, Love provided some advice for grill-less grilling. He assures that a cast iron grill pan can be just as effective as a real grill, and if used properly, can get an even better sear. Love recommends heating the pan for at least five to eight minutes to ensure it's brought up to the right temperature. After that, throw the meat and veggies on and the concentrated heat will provide a great sear.
5. Always Get Extra Ice
A rule of thumb Love insists you follow when hosting a party is to always get two extra bags of ice. Nothing's worse than running out of ice for your whiskey on the rocks or to cool your brew on game day. And trust me, you'll get no volunteers to go on an ice run once the game is underway. Everyone runs out of ice at parties, so avoid the dilemma by stocking up with a little extra.
6. Keep It Simple And Quick
Above all, once you've gotten yourself covered with some great game day go-tos and extra ice, what Tim Love recommends the most when it comes to hosting for your guests is keeping it simple and quick. Your guests will be craving classic snacks that satiate their appetites, so stick with fan favorites and make sure they're delicious. It's not the time to get exotic or overly adventurous, just make things that taste really good. Super Bowl Sunday is about the game, and while great food is a requisite to the action, it's not worth stressing over.
For more ideas, check out Bustle on YouTube.
Images: Pexels (2); Tim Love; Hellmann's (3); Unsplash