12 Last-Minute Super Bowl Party Ideas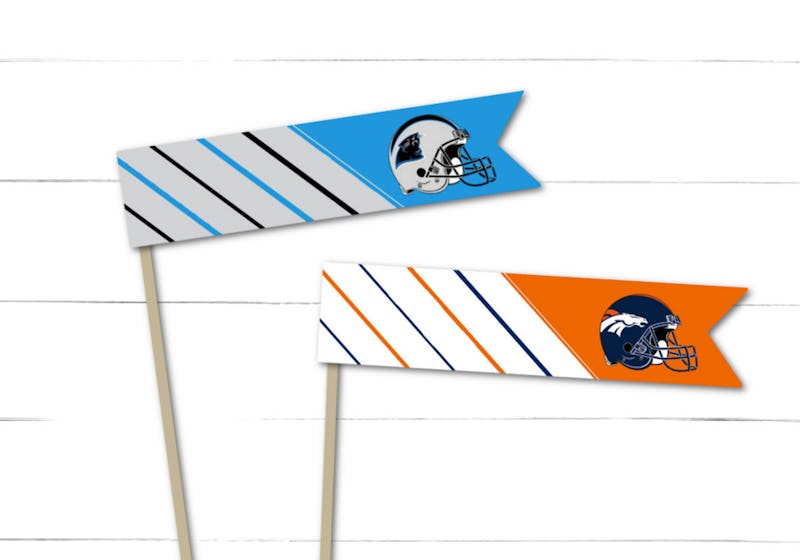 So you've decided to throw your own Super Bowl party this year, but it's the eleventh hour and time is limited for you to really showcase your hosting abilities. For everyone who finds themselves scrambling as game day approaches this weekend, here are 12 last-minute Super Bowl party ideas.
Super Bowl Party Hosting 101 states that if you have a big screen TV, you're off to a great start. Add in some cold alcoholic refreshments and greasy game day snacks, and your party is pretty much planned. But if providing the bare minimum isn't your style and you want your guests to feel like they're at an actual event, not just over to watch any other game on your flat screen, get party-ready with these super easy steps. It doesn't take much to transform your apartment into a Super Bowl sanctuary. A touch of football paraphernalia by way of simple printables and a dash of team colors here and there with balloons, streamers, and DIY garlands can give your pad an instant game day makeover. Heat up some flavorful apps in your oven, wait a couple of minutes for the brew to chill, and refreshments are served. After kickoff, you can let the magic of the Super Bowl do the rest.
1. Eye Black Stickers
When guests arrive in their varying degrees of sartorially expressed fandom, get everyone showing off their game day spirit with these eye black stickers as soon as they walk through the door.
Wilson Eye Black Stickers, $4.99, Kohls
2. Quick Balloons
Balloons are pretty much a requisite at any party, so buy balloons in an assortment of your favorite team's colors. Or represent both teams by having batches of balloons in Panthers colors on one side of the room and Broncos colors on the other for some fun, colorful rivalry. Then decorate with this tutorial for a completely on-theme finish.
Tutorial: Studio DIY
3. Printable Party Flags
Rev up the rivalry with these printable flags, letting each guest show their support. Designate various areas of the party, like the game viewing couch or the buffet table, to Team Panthers or Team Broncos.
Party Flags, $1.99, Etsy
4. Easy-To-Make Garlands
If it's too late to order anything online, whip up your own game day decorations with this garland tutorial.
Tutorial: A Beautiful Mess
5. Party Decoration Printables
Or cut out the DIY work with these instant printables.
Super Bowl Party Printables, $29.00, Etsy
6. Get Creative With Seating In Front Of The TV
Before guests arrive, make sure you have enough seating in front of the TV to accommodate everyone who plans on showing. Get creative with chairs from other rooms, cushions, and comforters. Once the game's underway and guests are satiated with snacks and drinks, no one will mind where they're sitting as long as they have a view of the big screen.
7. DIY Menu Balloon
Have your balloons pull double duty as menu signs for your buffet.
Tutorial: The Merrythought
8. Frozen Appetizers
If you find that it's crunch time, don't stress about slaving away in the kitchen to serve up a delicious spread. There's no shame in frozen appetizers that are infinitely easier to prepare and just as tasty. If you do feel like cooking, these last minute Super Bowl appetizers will be ready for guests to chow down on in no time.
9. Make It Potluck Style
If you're worried about having enough food to last through the game, take some of the stress off your shoulders by asking guests to bring a dish. Make sure you coordinate to have all game day cravings covered.
10. Chill Beers In Two Minutes
Get your brew down to drinking temp in just two minutes with this beer chilling hack.
11. Use Trash Cans As Coolers
Don't have a cooler? Line your trash cans in clean garbage bags, then fill with ice for the perfect sized bucket to accommodate all your booze. Then line your laundry hamper with a trash bag to transform it into a trash can.
12. Printable Photo Booth Paraphernalia
Just because you waited until the last minute to pull your party together doesn't mean you have to cut back on the fun. These fast and easy printables are all you need for an epic Super Bowl photo booth.
Printable Football Photo Booth Props, $5.00, Etsy
For more ideas, check out Bustle on YouTube.
Images: Etsy (3); Kohls; Studio DIY; A Beautiful Mess; Pexels (2); The Merrythought; The Kitchn; Epicbeer, Incase/Flickr