16 Sexy Audiobook Narrators For Valentine's Day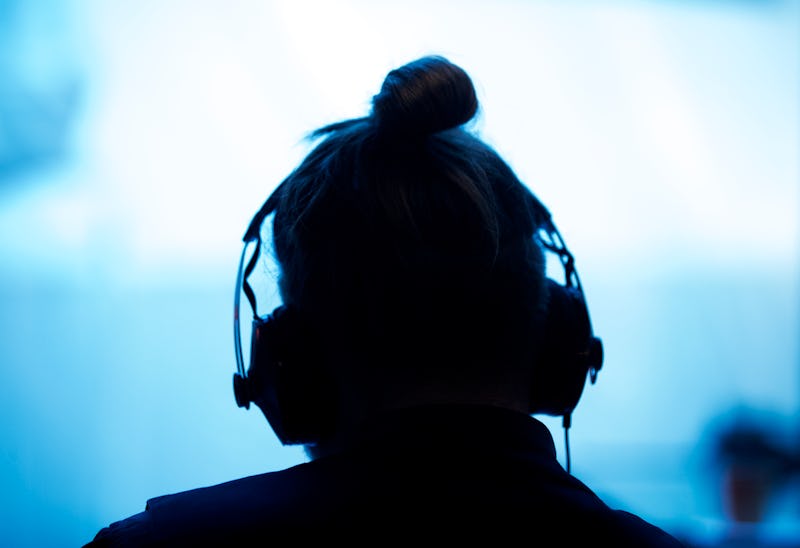 Nils Petter Nilsson/Ombrello/Getty Images News/Getty Images
Whether you're single or in a relationship, Valentine's Day can be pretty stressful. If you're single, it can feel like the world is shaming you; if you're coupled up, it can feel like an awful lot of pressure. Either way, the restaurants are all booked up, everything's made of chocolate, and they won't stop playing When Harry Met Sally on every channel. (Wait, is this supposed to be a bad thing?)
So if the stress of organizing a romantic date is bringing you down, I've got a way better idea. It's more exciting, it's sexier, and it's way more self-indulgent than anything you might do on your V-day date. And it involves books. That's right, all you need for the loveliest Valentine's night of your life is an audiobook to fall in love with.
And we have got you covered. We've teamed up with Audible to find the sexiest, smoothest, most swoon-worthy voices in their library, and we've found hours and hours of seductive narration to keep stars in your eyes all evening. These Valentine's dates are hot; they don't require any frantic last-minute Tinder swiping; and best of all, none of them will suggest you share a bowl of spaghetti under the misguided notion that it would be romantic.
1. David Copperfield by Charles Dickens, read by Richard Armitage
The David Copperfield audiobook is coming out on Feb 9, right on time for your evening of love. And it's all being read by Richard Armitage, who has a voice so deliciously smooth that the 30+ hours of it on this performance just doesn't seem like enough.
2. Pride and Prejudice by Jane Austen, read by Rosamund Pike
Once she terrified us all to death in Gone Girl, it was easy to forget that Rosamund Pike was first the gentle and beautiful Jane in 2005's Pride and Prejudice adaptation. But here she is to remind us, and after listening to the whole book read in her deep, romantic voice, I don't think we'll be forgetting again in a hurry.
3. High Rise by J.G. Ballard, read by Tom Hiddleston
Tom Hiddleston's voice almost has a bigger fan base than Tom Hiddleston himself at this point. J.G. Ballard's violent dystopia High Rise may never have made it onto a Valentine's Day list before — but T. Hiddles' sexy voice can make anything sound romantic.
4. The Great Gatsby by F. Scott Fitzgerald, read by Jake Gyllenhaal
Jake Gyllenhaal doesn't often do romance, but when he does — it's really something. Just look at Brokeback Mountain for crying out loud. I can't think of many things more V-day appropriate than curling up for a few hours with a glass of wine and Jake Gyllenhaal's luscious voice.
5. The End of the Affair by Graham Greene, read by Colin Firth
How many times have you wished into your pillow that you could have a Valentine's date with Mr Darcy? Well, all your dreams can now come true. Voices don't get much dreamier than Colin Firth's.
6. Frankenstein by Mary Wollstonecraft Shelley, read by Dan Stevens
Downton fans, steady your beating hearts: with this audiobook, Dan Stevens can be yours for the whole night. Close those curtains...
7. Love Life by Rob Lowe, read by the author
Love Life offers you the rare chance to listen to thoughts on love from the guy currently staring out from the life-size poster on your bedroom wall.
8. Modern Romance by Aziz Ansari, read by the author
I don't think there's anyone left alive who didn't fall in love with Aziz Ansari after binge-watching Master of None, so he must be pretty in-demand this Valentine's Day. Luckily, Audible have made it possible for us all to spend the night with him, and listen to his hilarious (and pretty fascinating) thoughts on modern dating.
9. Someday, Someday Maybe by Lauren Graham, read by the author
Never turn down the chance to date a Gilmore Girl. If Lorelai Gilmore (sorry, Lauren Graham) wants to read you her whole book on Feb 14, that's an opportunity you've got to seize. And it will help get you through the wait until Gilmore Girls hits our screens again!
10. If Someone Says "You Complete Me," RUN! by Whoopi Goldberg, read by the author
Whoopi Goldberg has one of the best voices in the biz. Her gravelly voice in the animated Rudolph the Red-Nosed Reindeer was enough to get me, as a Christmas-obsessed child, singing along with "I Hate Santa Clause" with glee. So an evening spent in with Whoopi and her gorgeous voice is a Valentine's Day well spent, if you ask me.
11. Beautiful Ruins by Jess Walter, read by Edoardo Ballerini
Seriously, I dare you not to swoon at this voice — and Beautiful Ruins is a wonderfully romantic (and laugh-out-loud funny) novel to boot.
12. The Handmaid's Tale by Margaret Atwood, read by Claire Danes
You can't get much more romantic than Juliet on Valentine's day. The Handmaid's Tale isn't your typical V-day read, but with Claire Danes' luscious voice, you're sure to have love on the mind. If only Leo DiCaprio was around for a cameo appearance...
13. Breakfast at Tiffany's by Truman Capote, read by Michael C. Hall
Michael C. Hall can make serial killing seem sexy, so you know he's doing something right. And when you pair his voice with the lovely Breakfast at Tiffany's story, you've got the perfect formula for a hot night in.
14. Macbeth: A Novel by A.J. Hartley and David Hewson, read by Alan Cumming
Macbeth's all about murder, madness, witches, and regret... Yep, that sounds about right for Valentine's Day. The main attraction here is of course Alan Cumming's delightful Scottish accent.
15. The Legend of Sleepy Hollow by Washington Irving, read by Tom Mison
And to finish the list, another spooky tale you wouldn't usually expect to see on the romance shelves. But it's read by Sleepy Hollow star Tom Mison, and hearing Mison reading out the phone book would get me in the Valentine's mood, if we're being honest.
Now, it's time to slip into something comfortable, pour a glass of something bubbly, and let one of these divine voices whisk you away for the Valentine's night of your life.
Image: Nils Petter Nilsson/Ombrello/Getty Images