Meet The Latest Insta Star, Hijab Barbie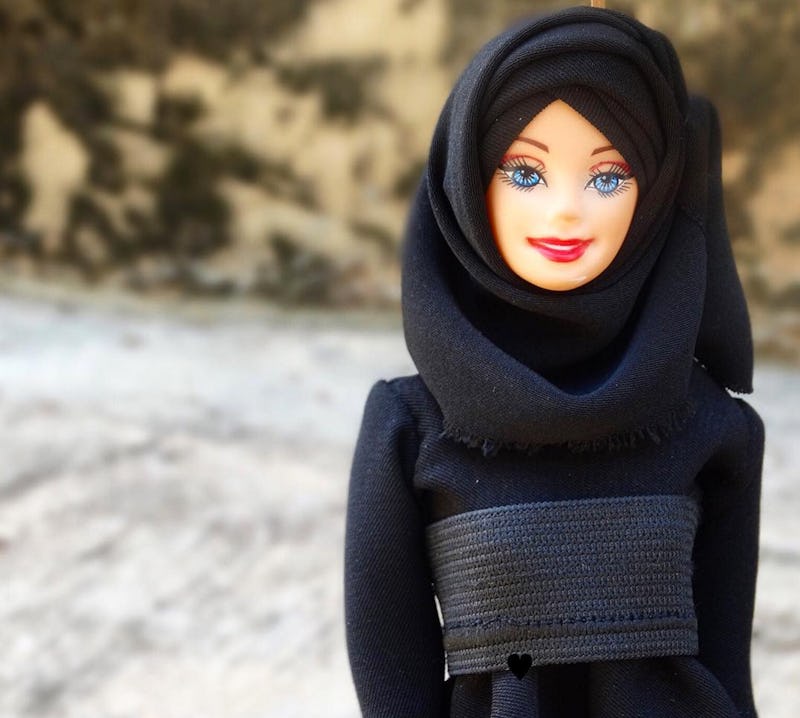 Last week, Mattel announced the launch of a new collection of Barbie dolls, featuring dolls with a wider variety of skin tones and body types. One creative Instagram user has come up with another great way that the iconic doll could be made to represent a more diverse group of women and girls: Meet Hijab Barbie. Created by Haneefa Adam, a 24-year-old based in Nigeria, this hijab-wearing fashionista (also known as "Hijarbie") is seriously chic.
Adam sews all of Hijarbie's "mini hijab fashions" herself. She told Bustle that she was inspired to create Hijarbie after seeing Barbie Style, Barbie's official, and very popular, Instagram style feed. She said, "It inspired me to dress a doll up and document it on an Instagram page, (@hijarbie) as I haven't personally come across [a hijab-wearing Barbie]. It helps me to explore my creativity as well!" She told MIC that recently she's also been inspired by fashion from popular Muslim instagrammers like Leena Asad and Habiba Da Silva.
In an Instagram post, Adam says that she's currently developing a website for Hijarbie and working on making the clothes her dolls wear available for purchase. "I'm hoping that by having a doll that is dressed as a Muslim girl child would dress, when she plays with them, its easier to identify with her cultural and religious roots," she told Bustle. "It's important to create a sense of value in the Muslim child, especially the girl child. They become more confident, more driven, they believe more in themselves which leads to an appreciation of herself and her modest lifestyle and upbringing."
You can see more of Adam's hijabi Barbies at @Hijarbie.
Images: @Hijarbie/Instagram